2018 Volunteer of the Year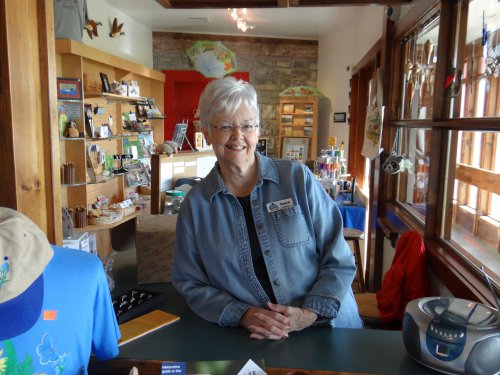 Each year, The Friends of Presqu'ile honour our Volunteer of the Year with the presentation of the John Cole Award. For 2018, the award was presented to Joyce Boucher.
Joyce is the force behind the Friends of Presqu'ile Gift Shop located in the Lighthouse Interpretive Centre. The gift shop is a major fund raiser for the Friends. Of equal importance is Joyce's role as the face of the Friends to many visitors to Presqu'ile Provincial Park. They know they can receive reliable advice about The Friends, The Park and the town of Brighton. They can buy a membership, make a donation or purchase a raffle ticket at the gift shop.
Joyce and her husband Don take care of purchasing the entire inventory, organizing the shop, training staff and volunteer helpers. Their involvement also includes picking up and sorting our mail and handling the phone answering service. This adds up to over 900 hours each year – a remarkable contribution!
Joyce served as co-chair of the Christmas @ Presqu'ile Craft Show for many years. Today, she runs the highly successful Art Show and Sale that is part of the craft show. She has served as the editor for several publications and still assists with staffing interviews.
Joyce tells us she fell in love with Presqu'ile when they visited with some good friends. They bought their own cottage and after retiring, purchased one of the oldest properties on Presqu'ile Point. Joyce had a very successful career as an educator. She was a principal, an author and instructor to aspiring teachers. Her love of learning and reading continues today.
The Volunteer of the Year Award is named in honour of John Cole who was the first Chairman of the Friends of Presqu'ile in 1988. Dr. Cole was a University of Toronto History Professor who retired to Castleton. He loved to visit the park to walk the trails. When the Park Superintendent put out a call for volunteers interested in forming a Friends group at Presqu'ile, John responded. By all accounts, John devoted countless hours to getting the Friends group up and running; he was known for his wonderful sense of humour – a handy trait when volunteering. Unfortunately Dr. Cole died suddenly while on vacation in England during his term in office. The Friends re-named the volunteer of the year award in his honour.