43rd Presqu'ile Waterfowl Weekend
March 16-17, 2019
43rd Annual
Presqu'ile Waterfowl Weekend
March 16-17, 2019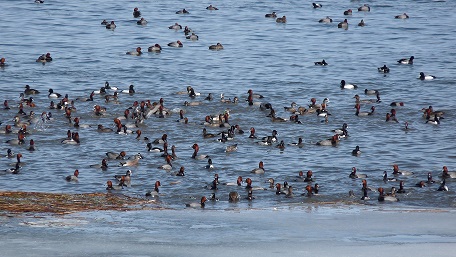 Thousand's of ducks collect in Presqu'ile Bay in March
The Friends of Presqu'ile Park are pleased to announce that after this up and down winter, spring truly is on the horizon. It is easy to see this at Presqu'ile because the ducks, geese and swans are starting to appear, as if from nowhere, with numbers building in Presqu'ile Bay. Waterfowl of up to 25 different species arrive each spring to rest and feed here before moving on to nesting areas further north and west. The Friends of Presqu'ile have been happy to sponsor the Presqu'ile Waterfowl Weekend in the past to celebrate this natural phenomenon and do so again with the 43rd annual weekend on March 16-17, from 10 am to 4 pm daily.
"This is truly a world-class natural spectacle" says Park Naturalist David Bree. "While ducks, geese and swans are present in March in numbers at various places along the Lake Ontario shoreline, Presqu'ile has some of the greatest concentrations, and has easy access to good viewing locations". Bree goes on to say. "The big advantage to coming to the park during this weekend is you have access to spotting scopes to look through and knowledgeable volunteers to help you find and identify the many species present, and of course we have some added attractions people can take advantage of at the Lighthouse Centre and Nature Centre".
The Nature Centre will feature children's activities and crafts, duck displays, and a taxidermy display from Feather and Down Taxidermy, with Steve Dingman there to answer your questions. Carver, Gary McPherson, will also be present to showcase the art of bird carving and bird photography. Sherrie Greig will be set up working on her nature art in the luminous light of the sunroom and loves to talk about what she is doing and how. Decoy Carver, Bob Comeau, will be doing a carving demonstration on Saturday.
At the Lighthouse Centre Linda Barber will be in all weekend to showcase her always popular art featuring Presqu'ile and area and is always happy to discuss art with you. And speaking of the Interpretive Centre there is a lot more going on there. Bushnell has generously donated a spotting scope and pair of binoculars for our annual raffle. Tickets are only sold between now and the May long weekend so odds are good for you. The centre is also the locations of The Friends Gift Shop and will be open with new stock.
The Friends will also host a fund-raising BBQ, where lunch, hot drinks and snacks can be purchased starting at 11 am. "The BBQ is always a great hit, a warm burger is just the thing come noon and I am glad we are able to offer this again this year" says Bree.
The Friends invite everyone out to share in this event. It makes a great outing for those that appreciate nature, families and individuals alike. The only cost involved is a $10.00/vehicle park entrance fee. Seasonal and Annual park passes also honoured for entry. Proceeds from this weekend will go towards The Friends' projects in the Park. We hope to see you there. For more information call 613 475-4324 ext. 225. or email david.bree@ontario.ca or check out our Facebook, Instagram and Twitter feeds "PresquilePP".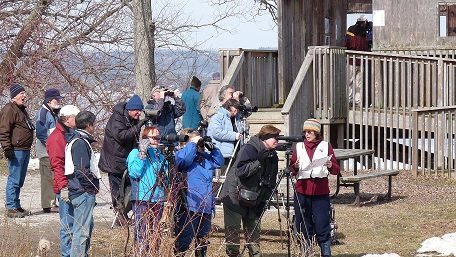 Volunteers helping visitors see ducks at Presqu'ile Waterfowl Weekend