Bumper Fungi Crop
Put twenty keen Fleming College students in the Presqu'ile Park habitat for two hours and the result is a stunning array of fruiting fungi found in the ground, on fallen logs, and up the trunks of trees.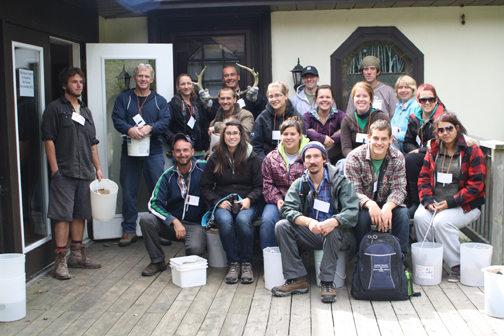 On Saturday, Sept 17, third-year students in Environmental Technology took part in NatureWorks Mushroom Madness all-day course, run by the Friends of Presqu'ile and hosted by Phil Careless, M.Sc., a Park Biodiversity specialist and long-time NHE staffer.
Foraging in mixed forest habitat, the students carefully selected, bagged and then identified a wide range of species with lovely name such as Chanterelle, Waxy Cap, Witch's Hat, Eyelash Cup, Scrambled-egg Slime Molds, Shaggy Mane, Big Laughing Gym, Dead Man's Fingers, Depressed Hedgehog, Artist's Conk, and Shaggy Parasol.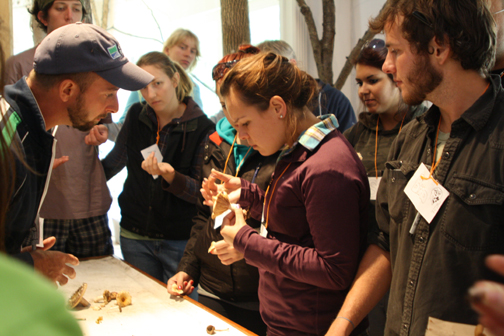 Name any other species list that is as delightful! Species were grouped into classes, each identified by gills, caps, stalks, veil and flesh. Some had, umm, err, ?distinct' odours too!
The day finished with mushroom plug spawns being inserted into host logs for fruiting in 2012. Hopefully the results will be edible, but as mycologists say ?You can eat any mushroom?once.'
NatureWorks are for the ?Naturally Curious' and present Presqu'ile's varied habitats and their biodiversity in one-day workshops throughout the year ?watch the NatureWorks listing on the Friends website for dates, topics and booking information.
The next NatureWorks will be our celebrated Soup Hike in the [not so] ?dead' of Winter on February 18, 2012.
Join us on this 90-minute guided walk, followed by a hot bowl of soup and a slide show. $2 person/$5 family. Registrations required - to make your booking please telephone 613 475 1688, ext 2.
Photos Sue Careless