News Archives
Choose from the drop down menu on the bottom right of this page for news articles from the following categories:
News from the Park and the Friends
Ecology
Raffle Winners
Click on "FULL STORY... " at the bottom of the article preview to see the entire article.
Click on "BACK TO NEWS" to return to the archives. Happy reading!
---
POSTED |
February 25, 2013 - Don Davis
Monarch Tags Recovered in Mexico
Presqu'ile Tags Recovered in Mexico
From a list of tags recently purchased by Diane Pruden at the Sierra Chincua and El Rosario sanctuaries in Michoacan, Mexico.
RAS 811 was a male, released on Sept. 1, 2012 at Presqu'ile Provincial Park near Brighton, Ontario, during the 28th Monarchs and Migrants Weekend.
RAT 047 and RAT 204 were also males, released September 2, 2012 at the same above location and during this same event.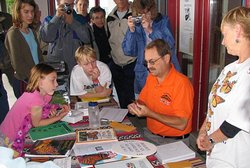 Don Davis has been tagging and releasing Monarchs in Presqu'ile Park for many years. It is a very informative event popular with all the family. This year it will be August 31 and September 1, check calendar for details.
Webmaster