Monday, February 06, 2017
PARK BLOG # 20 – OCTOBER 2016
What a perfect month October turned out to be at Presqu'ile Provincial Park. I was able to come to the Park most weeks enjoying sunshine, brisk winds off of Lake Ontario and nature at its finest.
I love to park my car at the Camp Office parking lot and wander over to the Camp Office Viewing Platform. I was able to spot two elegant Great Blue Herons, Black Ducks, and a few Green-winged Teals lazily preening their feathers. From there I doubled back and did a loop under the canopy of majestic Pines in the Maples Campground. A flash of bright red caught my eye and I heard the soft churr of a Red-bellied Woodpecker. Trying to get closer, I tread as lightly as possible on the thick blanket of crispy, crunchy leaves but was disappointed when it flew off.
Coming out into the sunshine of the open ampitheatre area I was startled by a large immature Red-tailed Hawk literally swooping down over my head. It flew into some shrubbery and I could see it hopping around. Now this was intriguing especially when an Eastern Chipmunk raced out with an awkwardly running Hawk in pursuit. Eventually unsuccessful, it flew up into a tree about six feet off of the ground…..a photographer's dream. I literally crept forward in inches, however this beautiful creature showed no fear – perhaps never having experience with a human before. I could clearly see the intensity of his eyes, the sharpness of the beak and those deadly talons curled around the tree limb.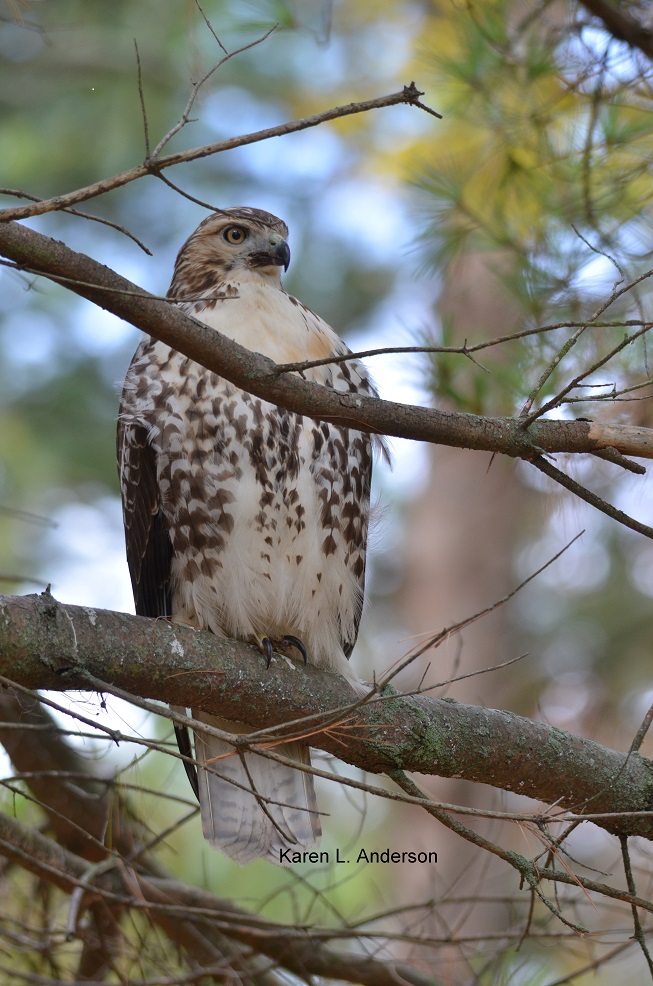 After that excitement I happily wandered down the road to the Woodchip Marsh and was pleased to see that after the drought like conditions of the summer, that recent rains had replenished parts of the Marsh. A few lingering Yellow-rumped Warblers were perched in the trees adding a splash of yellow. Gingerly making my way down the embankment, I spotted movement on one of the mud flats amongst the bright green vegetation. Three Wilson's Snipes were darting about digging their bills deep into the muck. In contrast, the Green Heron I spotted stood silently still waiting for the perfect moment to strike for food.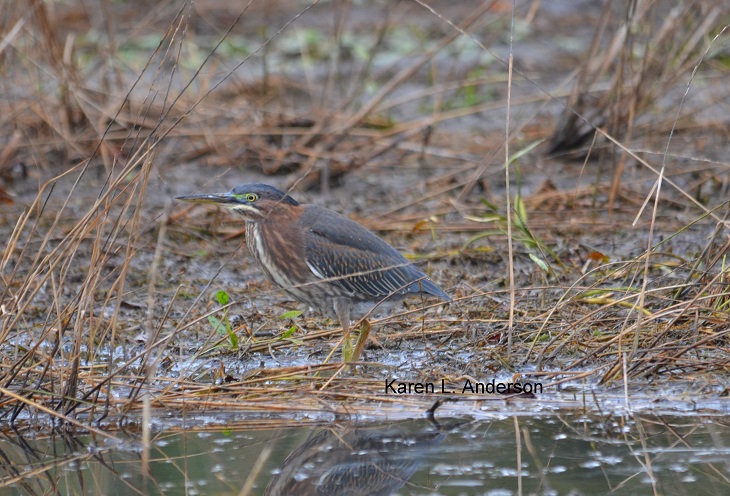 Lunchtime was had in the bright sunshine on a picnic bench by Lake Ontario in the Bluff's Campground. Munching on my sandwiches I was able to spot a rack of about 100 Red-breasted Mergansers bobbing up and down on the swells coming into the shoreline and a solitary Horned Grebe.
Grabbing my camera and binoculars I wound my way through the Campground looking for migrating Monarch and Eastern Comma butterflies that sometimes feed off of rotting apples. I surprised a Black Squirrel who discovered a tasty apple treat, and a little Red Squirrel with his harvested pinecone ready to be stored for the long winter months ahead.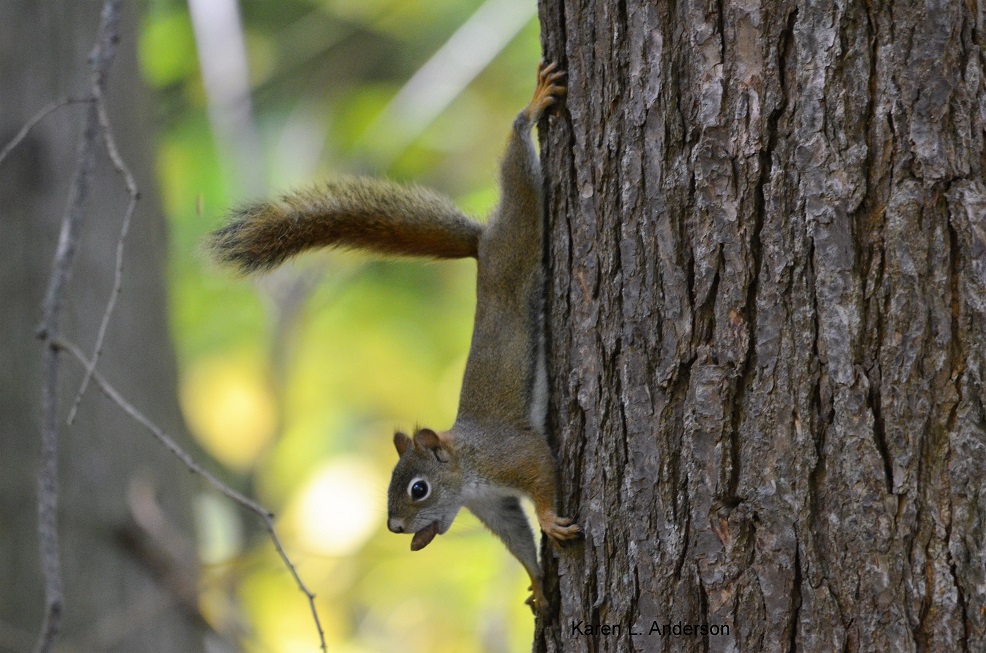 I followed the Beach Walking trail until I came to Owen's Point. A large bird tearing into a washed-up fish had me thinking Bald Eagle, but it turned out to be a Turkey Vulture. I watched him guard his dinner, intimidating the hungry Ring-billed Gulls who ventured too close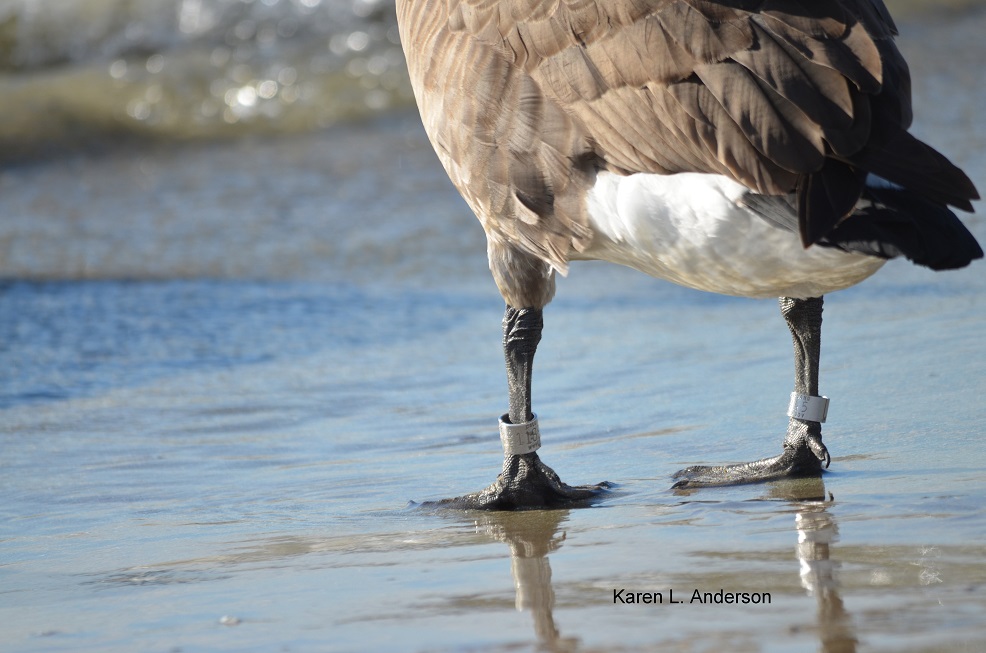 Eventually my walk took me to the natural shoreline of Beach Three. You can never tire of the endless waves, diverse bird population and the opportunity to photograph migrating Monarch Butterflies as they feed off of the delicate white blossoms of Stonecrop or vivid pink Bull Thistles. Today I had fun attempting to photograph banded Canada Geese and getting enough information so that later on I could report my findings to the North American Bird Banding Program. Can't say that the Geese were too cooperative, as most quickly waddled into the frigid waters despite my efforts to blend in with the sandy shoreline.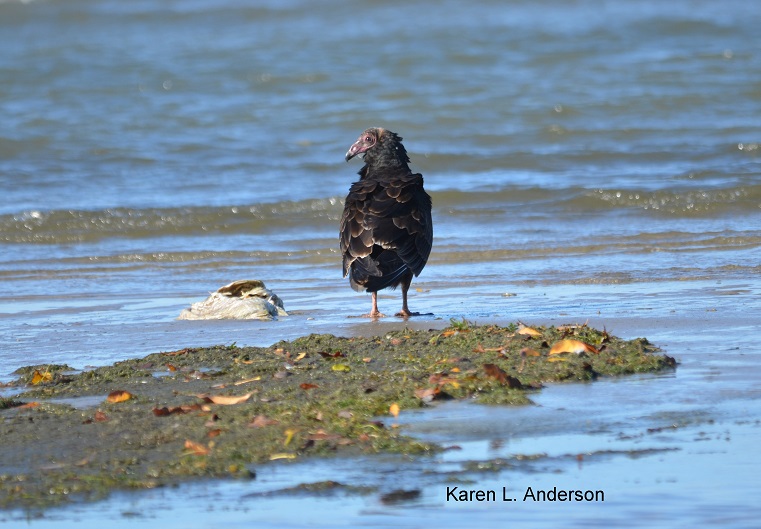 By this point, my feet were getting tired, and I still had a long drive home so I trekked back to my vehicle. Later that night over a steaming cup of tea I enjoyed viewing all of my "finds" of the day and planning my next visit to Presqu'ile Provincial Park.