Saturday, July 09, 2011
I went for a walk in the "fingers" last Sunday. That's the conifer forest area to the east of the main road beyond the sand dunes. Yes it's pretty buggy but there are a few trails in there (if you can get past the fallen trees) that let you explore a part of the park completely different from anything else at Presqu'ile. The northern feel of this area was exemplified by the fledgling Pine Warblers, White-throated Sparrows and Winter Wrens I saw. Unfortunately all in heavy shade and moving, so not even a bad picture to post. More cooperative was a Painted Skimmer in the meadow marsh in the other side of the trees. Painted Skimmers are a southern species of dragonfly that does not seem to breed this far north but a few have been showing up pretty much every June for the last 6 years, so maybe one day they will breed here.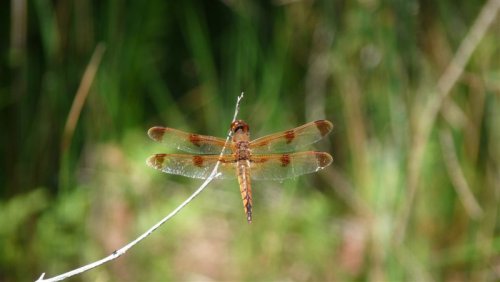 I also came across some nice flowers. There was Cowwheat growing in a little clearing in the pines trees. I associate this plant with dry conifer forests on the Canadian Shield, not forest covered sand dunes beside a marsh! But the little clearing was a little microclimate that must have been like home for this plant and there it was. Again not the most photogenic species, at least not by me. The flower
is very small (less than 2cm long) but here it is anyway
.
One other, much more photogenic flower seen was a lone Wood Lily in another clearing. A bit lonely looking but radiant in the sunlight all the same.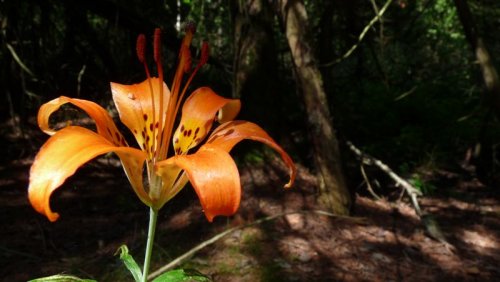 All in all a pleasant hour spent and well worth the bug bites.