Wednesday, September 28, 2011
by Karen Anderson
One of my favourite areas of the park in the autumn is the "Panne?, a flat, wet and largely open sandy area present on either side of the Park entrance. Many visitors who trek along the trail to the beaches may not realize the abundance of nature to be found here; from migrating Monarch butterflies tasting the sweetness of purple New England and Purple-stemmed Asters, gathering flocks of Northern Flickers, or to snakes of all types warming themselves in the sunshine.
The Comma Buckeye normally arrives at the Park from the south only every few years, but it has been almost annual these last five years. I was able to photograph a small number in 2010. They arrived back again this year, drawn by their favourite larval food source, a tiny pink flower called Gerardia. I was lucky enough to spot this Buckeye just at the Owen Point Comfort Station feeding on lush asters. In the same area I found a Monarch Butterfly having a drink, seemingly oblivious to the fact that his wings were in danger of becoming soaked.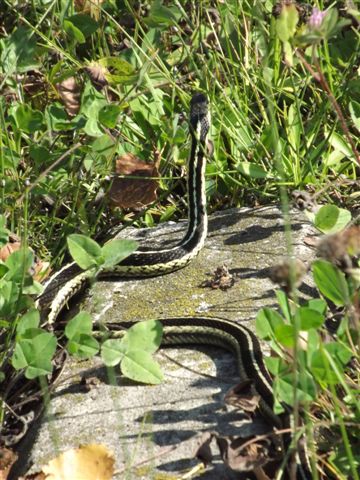 Snakes are not for everyone but once you get to know them, you will become hooked on "snake watching?. Presqu'ile has a large variety of snakes, from the tiny Red-bellied Snake to the larger and sleek Milk Snake. Once the weather starts cooling down, the Garter Snakes come out in large numbers, finding stones, asphalt and even like this Garter, a concrete barrier to warm themselves on. Please be careful driving around the park not to run over these fascinating creatures.
If you check out some of the smaller side paths of the Panne, some made by the White-tailed Deer population, you may catch sight of Fringed Gentians. This bright blue flower is rare in Ontario, but common throughout the Panne in September. I watched bumblebees dive down into the narrow tubes looking for nectar and then back themselves out to go onto the next bloom.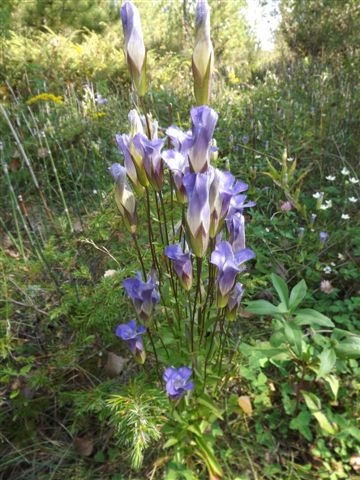 I can hardly wait to come back to the Park to sit on the shoreline at the first picnic area, watching the Monarchs flying off one by one, on the start of their migration over Lake Ontario.