Friday, November 04, 2011
by Karen Anderson
Recently I took a favourite walk that takes me about an hour to complete, covering both fields and forests. I parked my car at the start of the first picnic area then walked across the road, away from Lake Ontario to where the mowed grass meets the open fields. A few lingering Clouded Sulphur butterflies were flitting around while American Goldfinches and fall warblers moved constantly amongst the Bull Thistles feasting on the seeds.
A splash of red caught my eye and it was the ripened berries of a Rose hip plant so colourful that they reminded me of the decorations that I hang on my Christmas tree.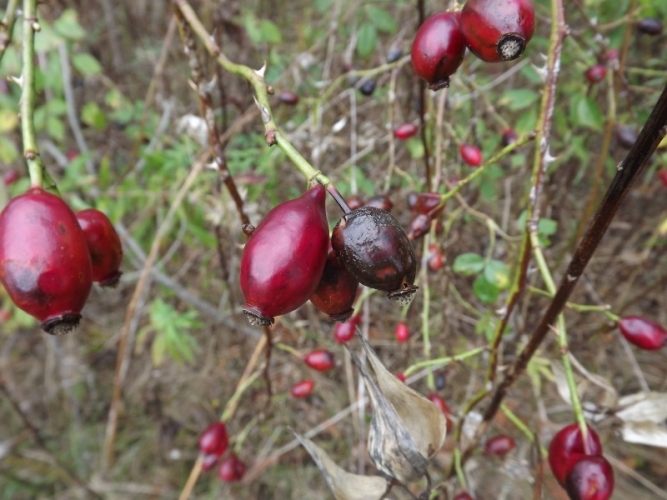 I continued along the open field until I turned left onto the group camping road. This stretch of road is stunning in the autumn and it never ceases to amaze me how many Chipmunks, Pileated Woodpeckers, and even Barred Owls you can find on this short stretch.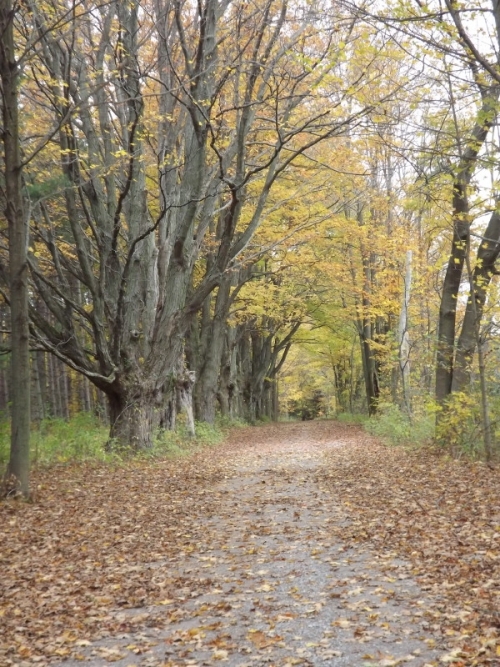 Walking the road until I reached the park bench and the markers for a Yellow (Pioneer) trail to the left, and an Orange (Newcastle) trail to the right, I stopped to
to call "pshhhhh pshhhhh? to see if any Red-breasted Nuthatches or Black-capped Chickadees would snack on the raw peanuts and raw sunflower seeds that I had brought along with me. The best time is when snow covers the ground, but I was lucky enough to have two Black-capped Chickadees land on my hand.
I turned left onto the Yellow Trail as it is perfect environment for finding Fall fungus. It didn't take long before I came across this fresh Sac Fungi nestled in amongst the fallen leaves.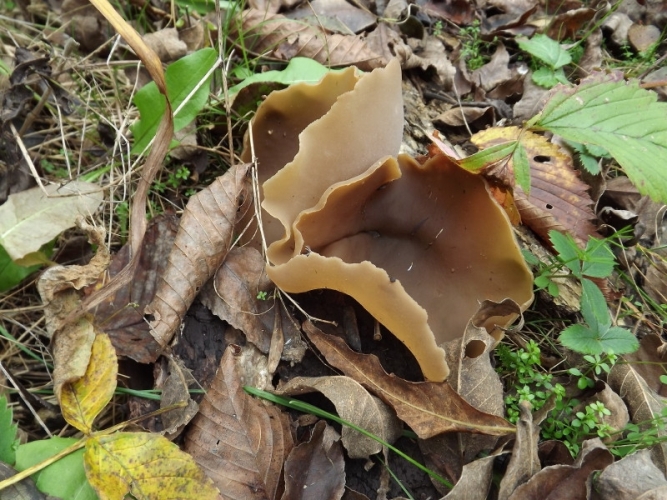 Soon after I discovered a large Tooth Fungi that reminded me of a waterfall cascading down the mossy log.
Vivid yellow slime moulds, puff balls and some late blooming Herb Robert wildflowers also dotted the trail until I came back to the main road.
From here I turned to the left which led me back to my vehicle.
Going down to the shoreline to have my lunch, I startled two huge Turkey Vultures that were feasting on a duck carcass but unfortunately they flew off before I could take their photo.
Looking forward to my next trip to Presqu'ile even if I have to bring along a thermos of hot chocolate to counter the icy winds coming off of Lake Ontario.