Wednesday, January 18, 2012
by Karen Anderson

We quite often start our walk along the beach shoreline and today was no different. It felt odd to be walking in the furrowed sand wearing our heavy winter boots with no snow in sight. The beach was strangely empty with only a lone Ring-billed Gull in sight. A scattering of large smoothed driftwood had washed up onto the shoreline from past storms. Bordering the edge of Lake Ontario were small chunks of ice crystals sparkling in the sun, forming intricate patterns on the sand.
It was warm enough today to eat our sandwiches outside at the first picnic area. A large gathering of Long-tailed Ducks bobbed in the waves making it difficult to get good photographs. We always meet interesting people, and today met a couple who were using their telescopes to count birds for a waterfowl bird count.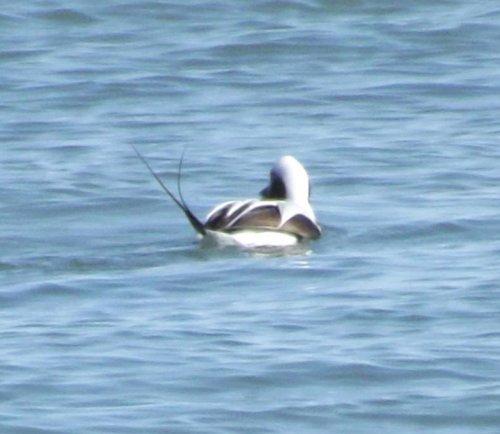 After lunch it was off to feed the Black-capped Chickadees and Red-breasted Nuthatches on the Group Camping Road. I had brought along raw sunflower and safflower seeds and raw peanuts. We heard a rustling in the underbrush and the female Ruffed Grouse that we had spotted last visit was coming closer and closer. On a whim, I squatted down and put out my hand full of seeds and made a squeaky noise. To my astonishment she came right up and started to peck away. Her bill felt like a jack hammer on the palm of my hand.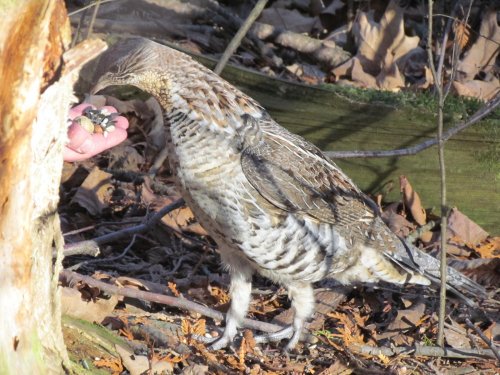 We decided to check out the waters around the Lighthouse and I was quite happy to see a large flock of Mute Swans quite close to shore. These birds are great to try out your photography skills as they don?t startle easily and just glide along slowly in the icy waters. This flock included both mature and immature swans. We watched as they went "bottoms up? to feed, and one swan had her feathers all fluffed out as she moved through the water.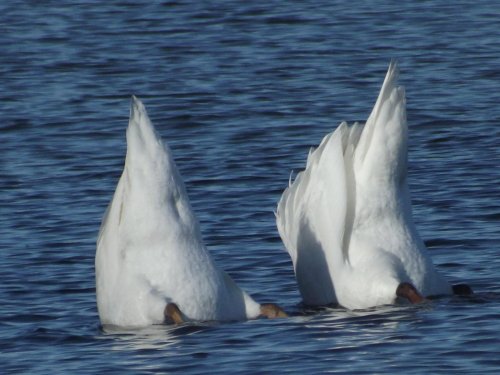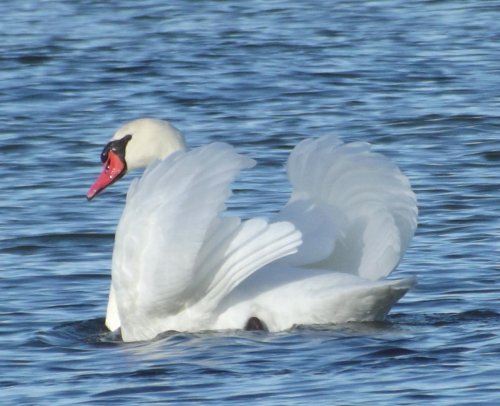 Finishing up our Lighthouse walk we came upon these lush red berries. I?ve always wondered why the birds never ate them, like they do the Mountain Ash berries in our backyard. I?ve since found out that they are the European form of the High Bush Cranberry and apparently birds tend not to like them, so can last well into the winter.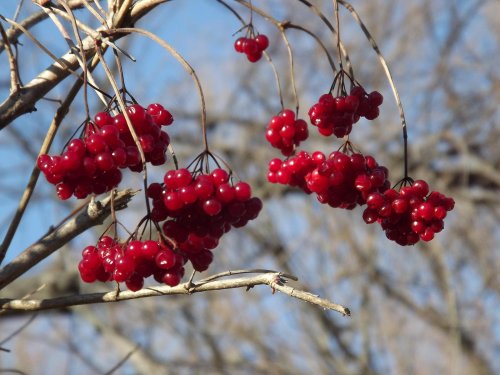 Our last walk of the day was Jobe?s Wood Trail and like the beach shoreline, the woods were very quiet today. We found some Puffball Fungi that would still "blow out smoke? when touched. This was a favorite pastime of my children when they were younger. Bright green mossy logs and ferns lined the boardwalk and added a splash of color to the forest. Large caches of pine cones gathered by Red Squirrels seemed to be under every pine tree. We looked in vain for any sign of Barred Owls, as we have seen them on this trail in past years.
Though I missed using my snowshoes, looking for animal tracks in the snow, and even watching for Snow Fleas, we had a great day and were quite happy to head home when the sun started to dip down.