Monday, April 02, 2012
Karen Anderson
March 18th and 22nd 2012
I visited the Park twice this past week, and certainly enjoyed the warmer, sunnier weather. Spring is all about "firsts? no matter what your love of nature is: first warbler, wildflower, dragonfly, first butterfly. ???
Walking the trails I was hoping to discover a Mourning Cloak Butterfly, usually the earliest one to be found at Presqu'ile. And, I wasn't disappointed, finding several gracefully flying about on Jobes' Woods Trail, right around marker #2. This beautiful woodland butterfly has cream colored outer margins, dark purplish maroon upper sides and beautifully detailed shiny blue dots around the edge of the wing. I am always amazed how different butterflies look, all depending on whether their wings are up or down. Mourning Cloak's are easily photographed because they don't seem to startle the way other species do.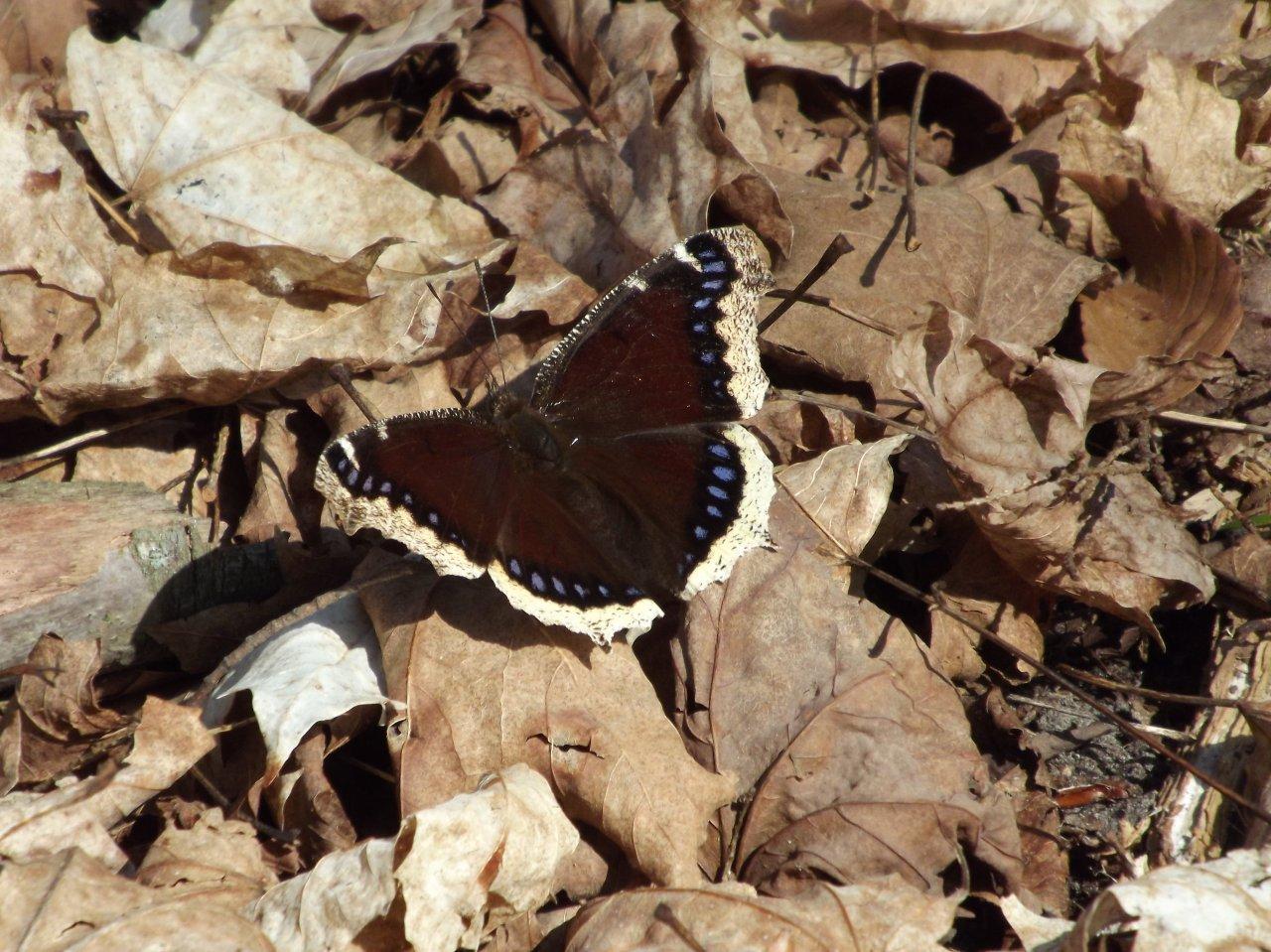 Shortly down the same trail, just before marker #4, there is a large tree across the path that children will love climbing over or ducking under. It was here that I discovered three Comma Butterflies, all flitting about in the sunshine. One had part of a wing missing, but that didn't seem to stop it from flying with precision. If you purchase the "Butterflies of Presqu'ile Provincial Park? interpretive guide at the Lighthouse Gift Shop, it explains how this Butterfly got its name. This guide is always in my backpack for quick and easy reference.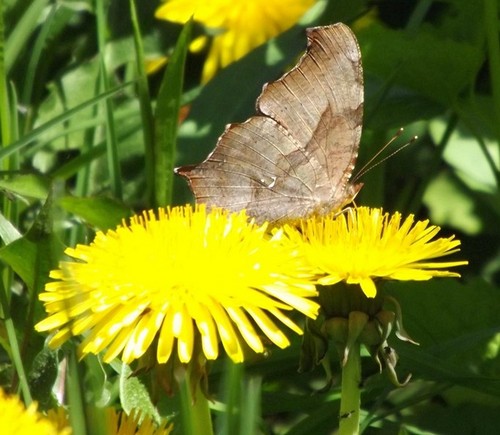 The woods were full of birds on both walks. One small area had a group of Hairy Woodpeckers all "squabbling?. I don't know whether the males were trying to impress the females, or whether they were establishing their territory, but the action was quite loud. Several times I heard the Pileated Woodpecker drumming, and came across a few holes with fresh woodchips littering the ground below. The distinctive sound of the White-throated Sparrows were throughout the park, along with numerous clusters of Slate-colored Juncos and my first Northern Flicker for 2012.
Finding my first wildflower of the year is always great. Coltsfoot reminds me of a small dandelion, same brilliant yellow but much shorter. I've always had luck finding it behind the spit at the Atkin's Lane viewing platform.
Quite often I walk through the campgrounds, just following the winding roadways. The picnic benches are always handy for a quick break or lunch, and I always find something to interest me. Brushing away the top layer of leaves on the forest floor showed the first shoots coming up for the Sharp-lobed Hepatica, one of the prettiest wildflowers to be found in the springtime.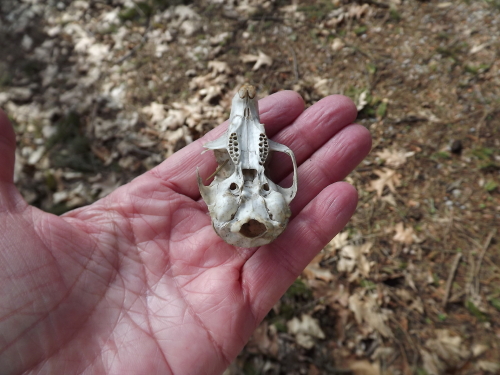 In one of the campsites, something white caught my eye, and I discovered part of a skull, and can only wonder if it was a squirrel or other small creature. I put it back where I found it, and sometime this year other campers will have the fun of "discovery?.
As always, I can hardly wait to come back to Presqu'ile to see what I can see, hear, touch, discover, photograph, and identify!