Saturday, May 26, 2012
Karen Anderson
May is one of my favorite times of the year to visit Presqu?ile with migrating birds and butterflies arriving daily, and the emergence of wildflowers in every nook and cranny of the Park.

Many of you may have heard about the huge migration of Red Admiral Butterflies to Southern Ontario in late April, with hundreds arriving at Presqu?ile. Early in May on a sunny walk, I counted close to 400 of these stunning black butterflies with bright orange wing stripes. On the same day I think that every dandelion at the Park had either a Red Admiral, Painted Lady or Question Mark Butterfly on it.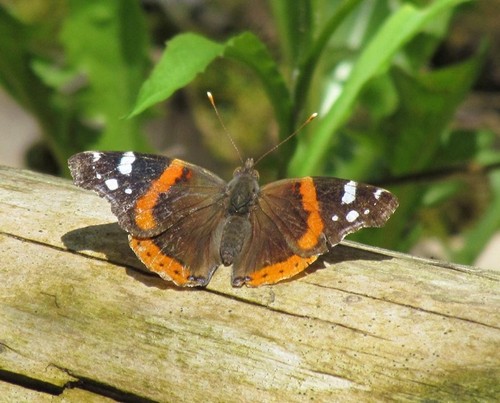 Walking the "Swimming Beach Trail?, is usually my first walk of the day. This trail runs from the Owens Point parking lot straight through to Beach One. At this time of year, week-ends will find the trail full of campers and visitors hiking or biking down to the long stretches of sandy beach. One of my favorite warblers, the Common Yellowthroat hangs out right at the start of the trail. Its distinctive "witchity-witchity-witchity" song, black mask and bright yellow underparts makes it easy to spot even for the beginning birdwatcher.
Walking along the trail recently, I watched the tree swallows swooping and diving with precision for insects. It didn?t take me long to discover trees with multiple holes in their trunks had become "apartment complexes? for the swallows. Brown Thrashers, Cedar Waxwings and Killdeers love this area of the Park. Twice now, I have seen a Turkey strolling down the path ahead of me, until it senses my presence and scurries into the thick underbrush.
I love the way that park visitors help each other out. In the midst of a cluster of Black-Capped Chickadees, I discovered a small bird that I could not identify and visitors from Peterborough told me that it was an American Redstart, a new species for me. Park staff are always great to ask questions as I discovered when I took a photograph of a small, drab looking butterfly on the trail this past month. It turned out to be an Eastern Pine Elfin and has never been recorded at the Park before, so a great find!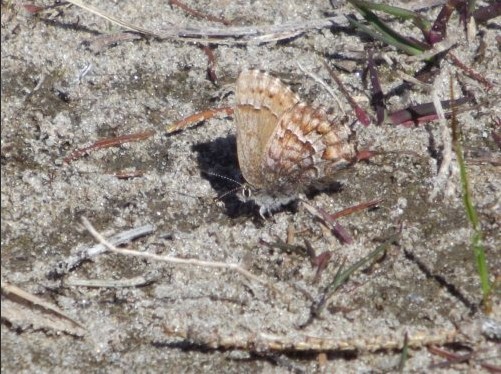 Presqu?ile has some of the most stunning wildflowers in bloom during May. To help with identifying them I always bring along a small magnifying glass in my backpack and take a photograph of both the bloom, stem and leaves. Starry-eyed Solomon Seal, bright orange scarlet Wild Columbine, and delicate Foam Flower are some of my favorites that are in bloom right now. Check out the Jack-in-the-Pulpit, as I discovered this year that some of the "jacks? are burgundy and some are a greenish white.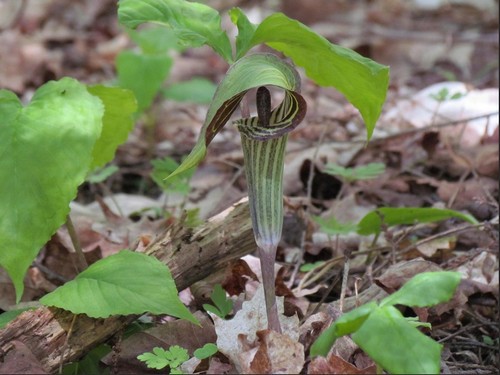 As I returned back to the Owen Point parking lot yesterday, I came across the biggest snail I had even seen before. He was gliding or is it sliding across the path ever so slowly until he bumped into a dead leaf. I watched in fascination as he tried numerous attempts to circumvent the leaf until I finally couldn?t stand it any longer and gently picked him up and put him out of harms way.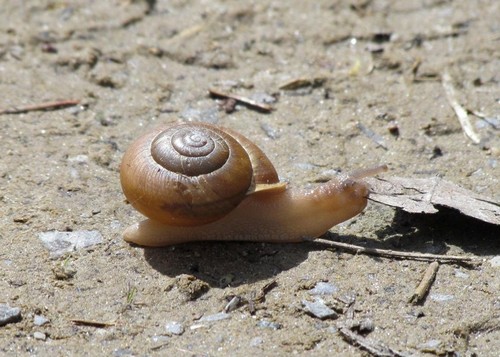 A great end to a month full of discoveries.

?xml:namespace>

?xml:namespace>?xml:namespace>?xml:namespace>?xml:namespace>?xml:namespace>?xml:namespace>?xml:namespace>?xml:namespace>?xml:namespace>?xml:namespace>?xml:namespace>?xml:namespace>