Tuesday, February 05, 2013
January Jaunt
Karen Anderson
Our most recent walk through Presqu'ile ProvincialPark was the most perfect of days with no wind to contend with, and a bright blue sunny sky.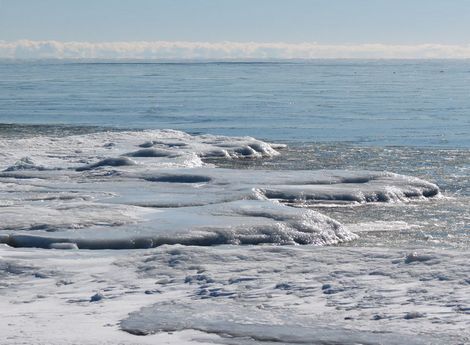 We started the day off walking out onto Beach Three, hoping to find a glimpse of the Snowy Owl that has been spotted recently hunting close to Gull island. The walking was a bit challenging, one minute you were on sand, the next on crunchy ice that had formed. Mini mountain formations dotted the shoreline, including a number of "volcanoes". Today, due to the lack of wind, the waves weren't being forced under and up through the top, Sometimes causing spectacular displays of water shooting up.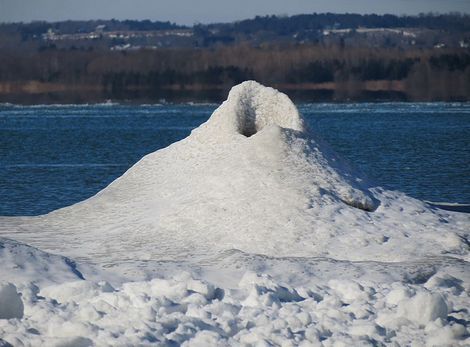 However, the ice formations along the shoreline were interesting to photograph. We didn't hear too many birds along the way, but the cracking of the ice, and sounds of the ice shifting and banging together made up for it.
Looking down, I could see hundreds of tiny bird "footprints" on the exposed sand sections and areas where the snow was smooth. I was curious as to what species would have made them.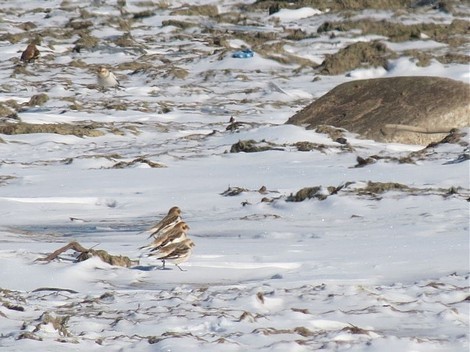 All of a sudden a flock of about 50 Snow Buntings darted down and around us, finally landing a short distance away. They scuttled around the exposed vegetation, and when we came too close for comfort, would rise up in a single flock and move down the shoreline.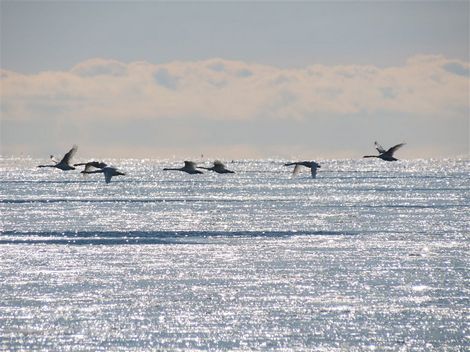 Many avid birders come to Presqu'ile for the variety of waterfowl to be found in the icy waters. The sheer numbers of species can be overwhelming for the amateur birder, but handy photographs and descriptions can be found at the Lighthouse, or Aitken's Lane viewing platforms.
We found a large gathering of Mute Swans close to the Bluff's and spent time watching small groups fly in. The sound of their wings in the air is indescribable, almost a rhythmic, whirring noise.
Mixed in with the Mute Swans were Canada Geese that had the shortest necks we had ever seen.At first we thought they might be Cackling Geese, however, they turned out to be a western form of the Canada Goose.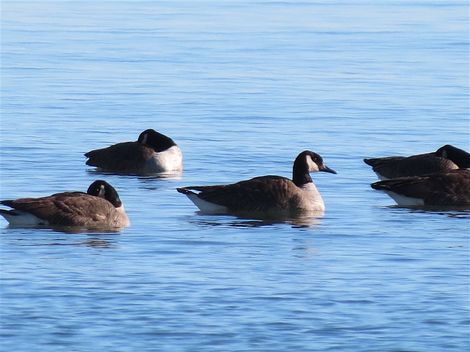 We finished up our day strolling down the Group Camping Road, stopping to hand feed some Red-breasted Nuthatches, and Black-capped Chickadees. Always close at hand are White-breasted Nuthatches making their distinctive "ank ank ank" call, but we have never had any luck enticing them with our sunflower seeds and shelled peanuts. By this time the clouds had rolled in and the temperature took a sudden plunge.
Time to head home.