Tuesday, January 07, 2014
Winter Walks
Coming to Presqu'ile Provincial Park in the deep of winter takes some planning. Layers of clothing, "hot paws" to insert into our mitts and boots, thick scarves to protect our face from bitterly cold off-shore winds, removable cleats for the bottom of our boots, sunscreen, picnic lunch and of course a piping hot thermos of hot chocolate are all necessities.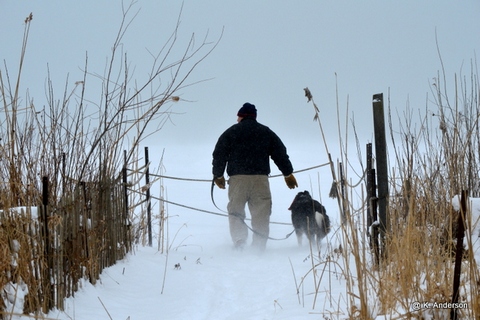 We recently enjoyed two winter walks despite discovering upon arrival that the main loop was closed both times due to the recent ice storm damage. Our main goal was to photograph Snowy Owls that have been spotted recently along the shoreline near Owen's Point Trail and Gull Island. We braved zero visibility from snow squalls coming in off of the Lake and icy, treacherous footing as we traipsed along Beach Three hoping to catch a glimpse of the elusive owls who like to perch on snow hummocks or ice formations that jut out into the water. Unfortunately, we struck out both days.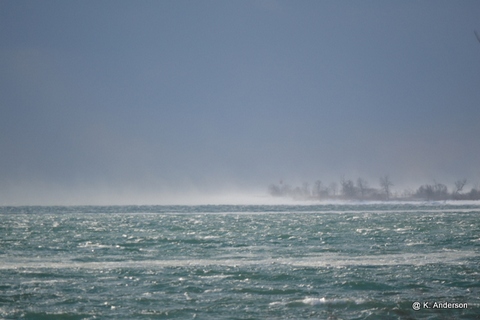 After such bone chilling jaunts, lunch was definitely in order and we stayed cozy warm inside of our vehicle parked facing a very active bird feeder at the Park Campground Office parking lot. This is the most amazing birdfeeder with a variety of perches and food, and I want one for my home!!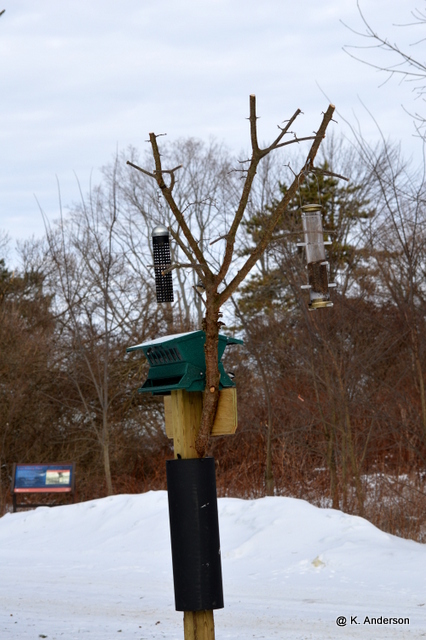 While we munched on our sandwiches, Black-capped Chickadees along with Red and White Breasted Nuthatches flew in with precision snatching a sunflower seed before dashing off within seconds. Both Hairy and Downey Woodpeckers snacked away more leisurely with both visits having a good showing of the brightly colored Northern Cardinals. We didn't even have to leave the comfort of our car; my husband just rolled down the window and took his pictures.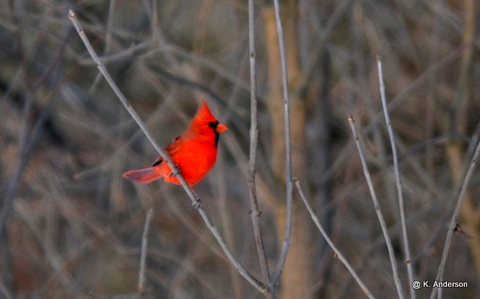 After lunch both days we hiked through somewhat slippery trails through the campground hugging close to the shoreline. Tree branches and limbs littered the snow and we were very aware of taking care of our own safety, especially with the winds whistling through the trees causing loud creaking, squeaking and cracking sounds. The swell of the waves coming in were stunning. I have never seen them so fierce. When they hit the shoreline, chunks of ice flew up everywhere along with the icy spray. You could hear this crashing of waves from all areas of the Park. We watched in fascination as Long-tailed Ducks struggled to fly into the headwinds. Once they landed they were almost swallowed up inside of the churning water only to pop back up once the wave was over them.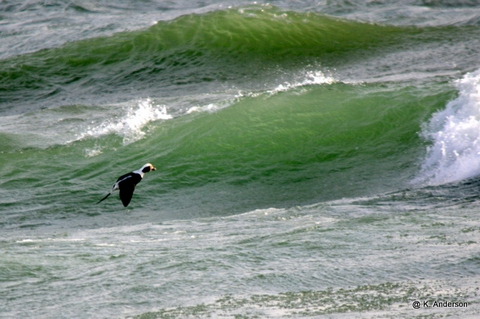 In a quieter area, a flock of about 35 Mute Swans bobbed up and down preening away, seemingly oblivious to the stormy waters around them.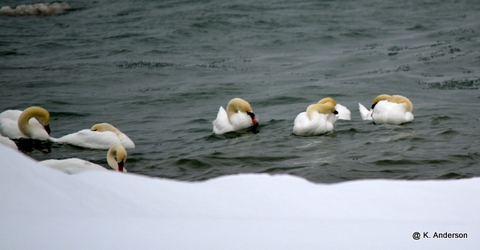 Taking photographs in the winter months is always rewarding.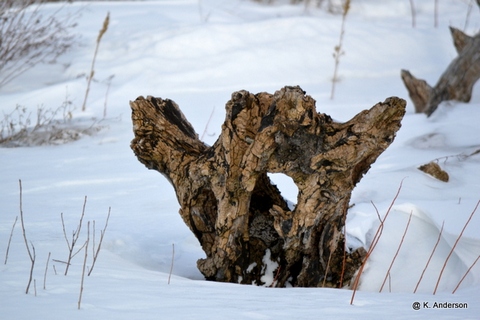 Though the Monarch Butterflies, Green Darner Dragonflies and vibrant Baltimore Orioles are nowhere to be seen, your eye catches a different beauty; the stark contrast between snow and driftwood, colors of the sky against the snowy landscape and bright green ferns nestled against a log under a canopy of ice.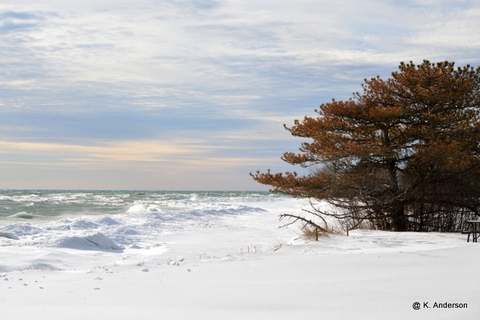 Though we didn't get to see everything on our "wish list", we'll be back soon enough and who knows…..perhaps a Snowy Owl will be waiting for us!!