Monday, July 28, 2014
Lighthouse July 4
Hello folks,
Well it's been a long hard winter and spring, but the summer is finally here and I'm glad to be back at the park...painting.The weather for the first session at the Lighthouse started out to be a bit drizzly, but the sun finally came out and I was able to get a few quick watercolour sketches in. I had about 20 to 25 visitors drop by to say hello and to watch me paint.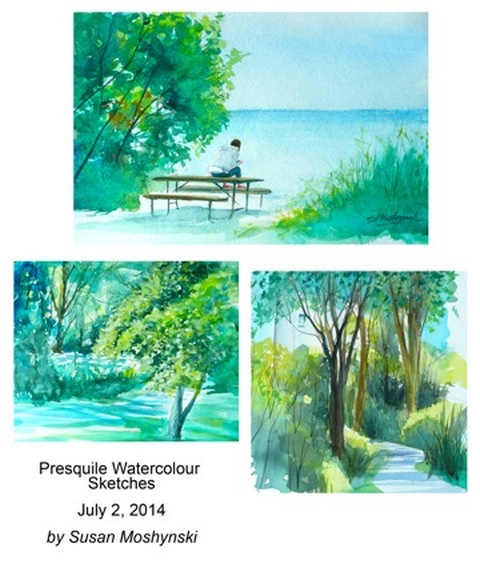 You can always bring your own equipment and paint along with me if you want...it's fun! Just warming up for a larger piece(s) at the boardwalk next week.
At the Boardwalk July 9/14
It was a pleasant day, not too hot or windy. I set up my easel right on the boardwalk to face the south. Another artist who had been camping joined me. Her view was to the east, one that I painted last year.
I would have loved to set up near the "horse trees" but I realized it was far to buggy due to the rain the night before, perhaps next time I'm at the boardwalk.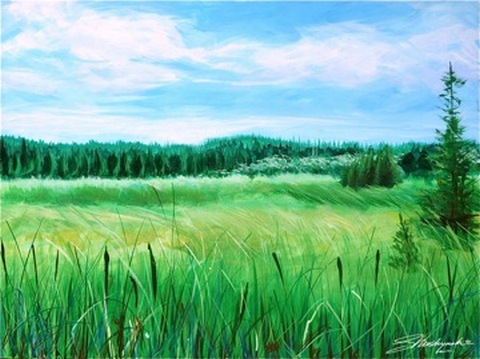 Here's what I came up with...2 small acrylic paintings.
The first "Marsh in the Morning" is 12"x16" and the other is a fast study of the ever changing clouds that day "Cloud Study" is 8.5"x10.5".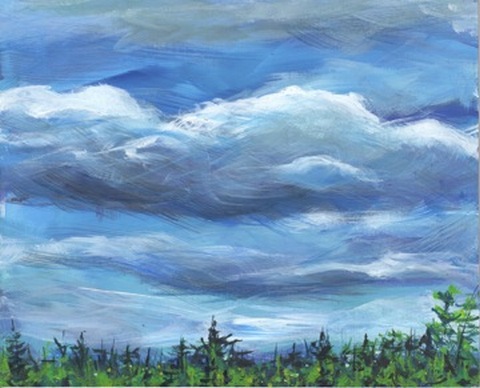 Calf Pasture July 16
I had about 12 people stop by today at the Calf Pasture. I also had an artist paint with me. It was a lovely area to admire and paint the view. No swans, but a duck with lots of babies, and terns diving for fish.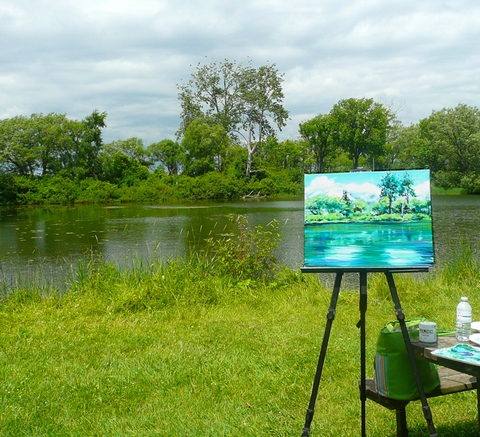 I started a 16x20 canvas in acrylic and did not finish. Time just flew by and before you know it, it was past 2pm.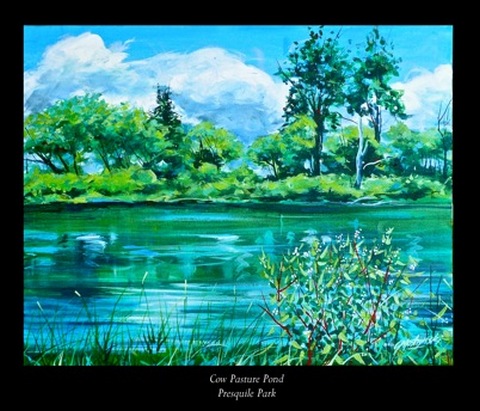 Here's what I've started, and will finish in my studio (from photos taken at the time).
Nature Centre July 23/14
It was a dull day to begin with, but with a little imagination I managed to create this watercolour/acrylic in my "loose landscape style" It's roughly 9"x13". Sometimes even a dull day can result in something colourful.