Sunday, May 17, 2015
Karen Anderson
After such a long and cold winter, I was definitely ready for any signs of spring at Presqu'ile Provincial Park. The Waterfowl Festival held March 14th and 15th this year was the perfect time to celebrate the end of winter and welcome thousands of migrating birds to the Park. My husband and I usually volunteer on the Sunday and this year were stationed at the Lighthouse. I have to admit, the wind was bitterly cold, but the sun was shining and we enjoyed chatting to the steady stream of visitors of all ages at the viewing station. Though many brought along their own binoculars, quite a few people took advantage of the telescopes set up for public use. Visitors were delighted to see the striking Redhead Ducks, elegant Long-tailed Ducks and rafts of both Lesser and Great Scaups.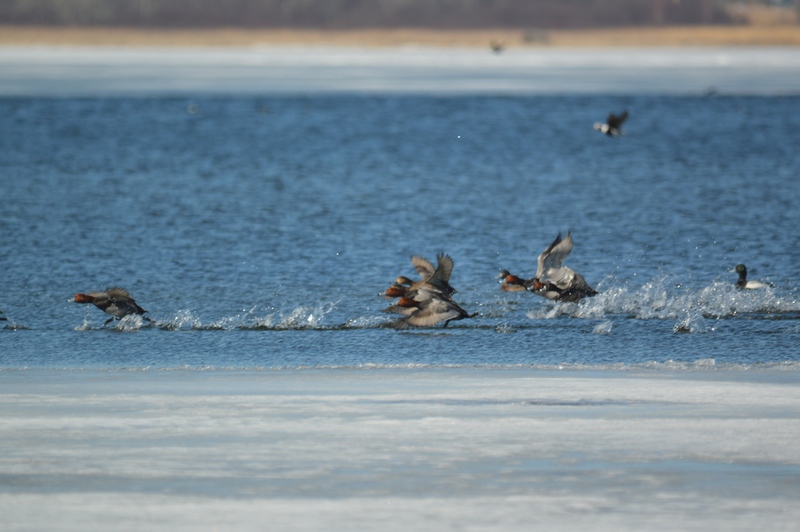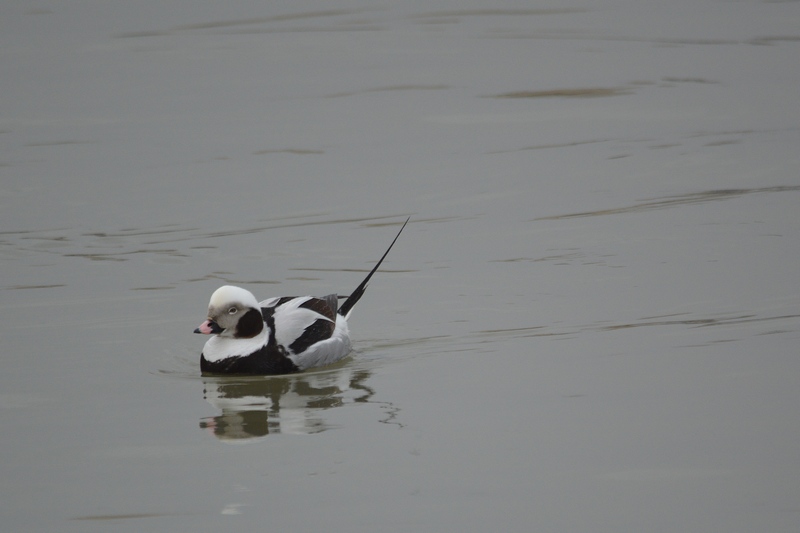 Early spring can pose some tricky walking situations. The trails can be either deep, boot sucking mud, or extremely slippery where the snow has melted leaving behind a thick layer of ice hardened over the winter. It's always wise to wear several layers as the temperature can change quickly depending on whether you are walking the scenic shoreline trails or head deep into the woods. Walking along the shoreline in the Bluff's campground is a favorite walk in early spring. There are still fingers of ice going out into Lake Ontario creating a mosaic of patterns and shapes. On one March walk, I happened to find a Herring Gull attempting to swallow a large piece of something. After many failed attempts and fending off other Gulls he finally managed to have his treat.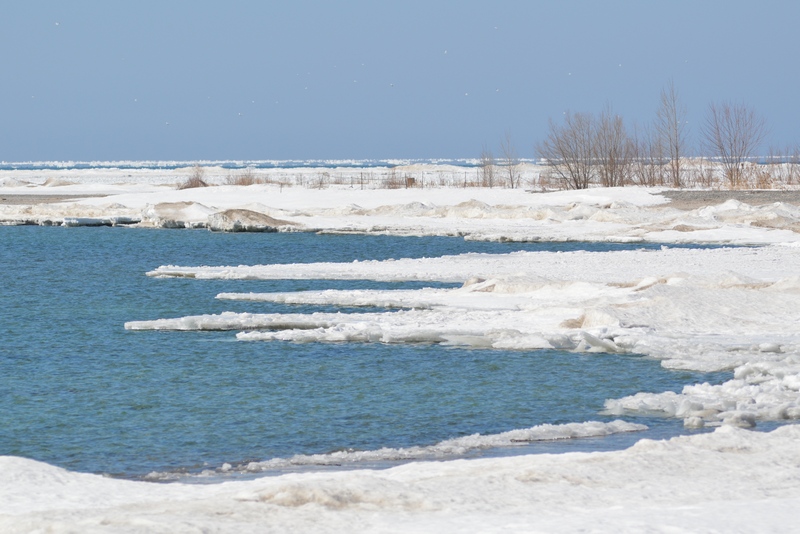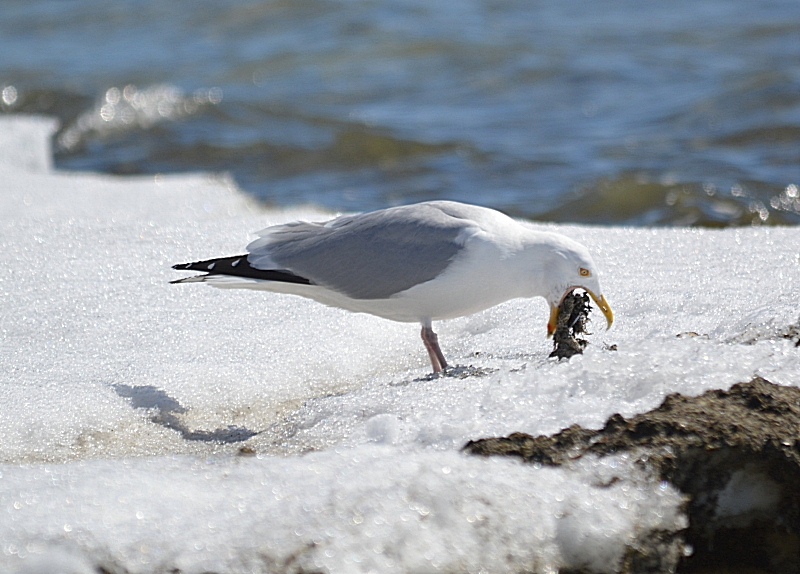 I found the woods strangely quiet in late March and even into early April this year. Parking my vehicle at the Camp Office birdfeeder set up by the Friends of Presqu'ile is the most enjoyable place to eat my lunch and enjoy the "live show" of chattering birds. While munching on my sandwich and sipping some steaming hot tea, I am mesmerized by cheery Common Redpolls darting back and forth between the tall pine trees and birdfeeder. Saucy little Red Squirrels scrounge around for any available sunflower seeds that happen to fall down to the ground and I'm always sure to see a Downey Woodpecker.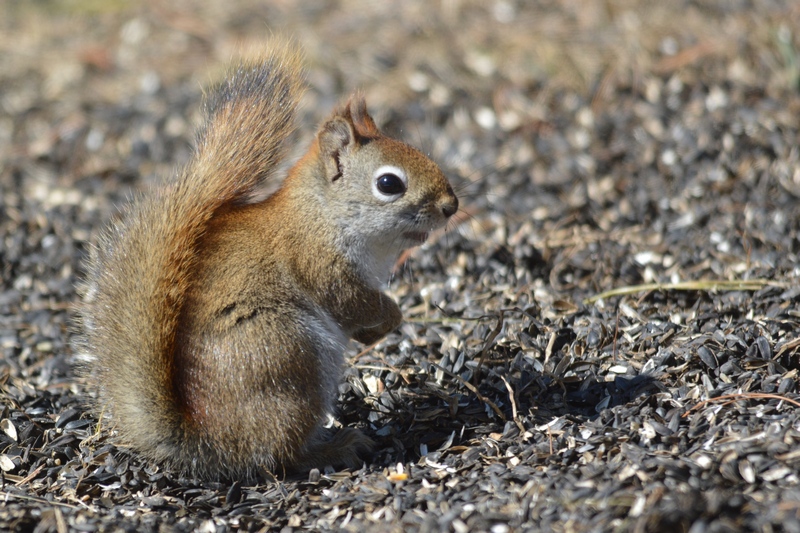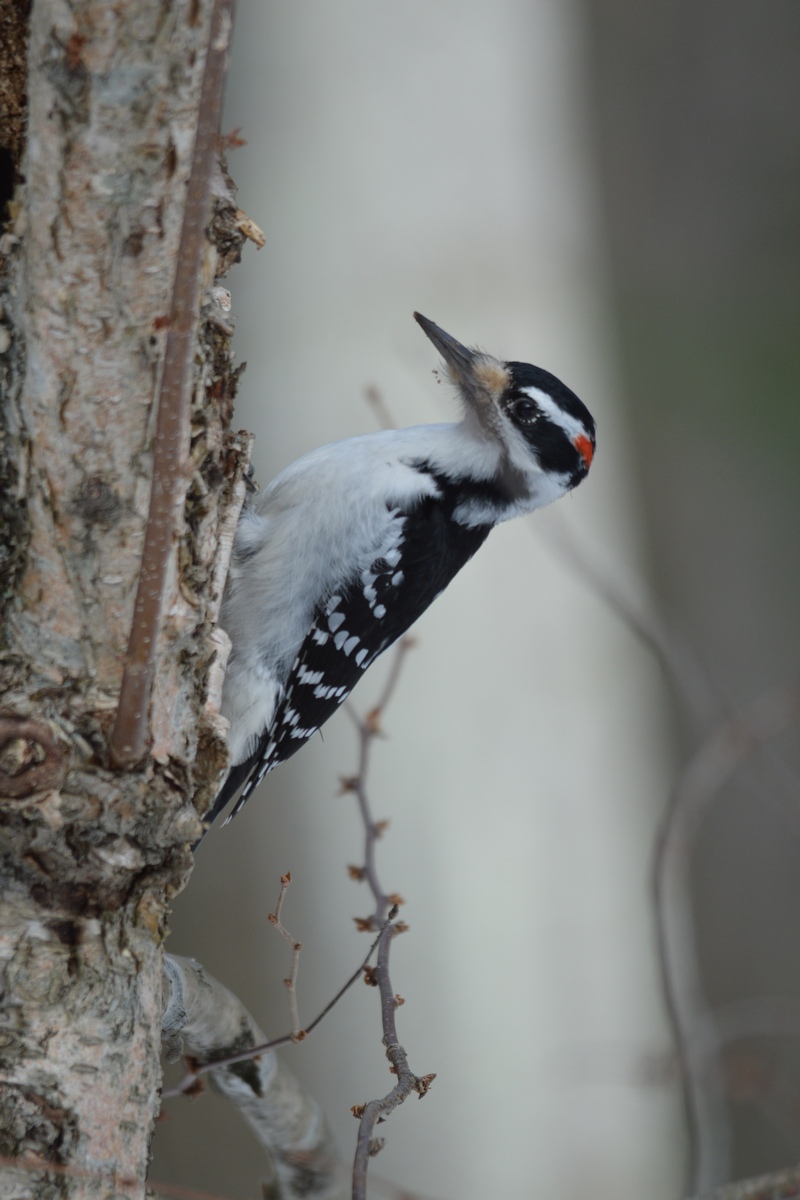 One of the most touching photographs I took this year was on April 1st. There is a place along the main road where people hand feed the birds. I always have some seeds tucked away in my pocket throughout the colder months….Standing out in the cold, I psheeshed and psheeshed…and I was soon rewarded by a bush full of hungry Black-capped Chickadees. To my surprise, one of them was one-legged. There was the tiniest bit of a leg showing and I'm not sure whether he was born this way or lost it in an accident. However, he balanced perfectly, hopped on and off my fingers without a worry, stealing my peanuts and my heart in the process.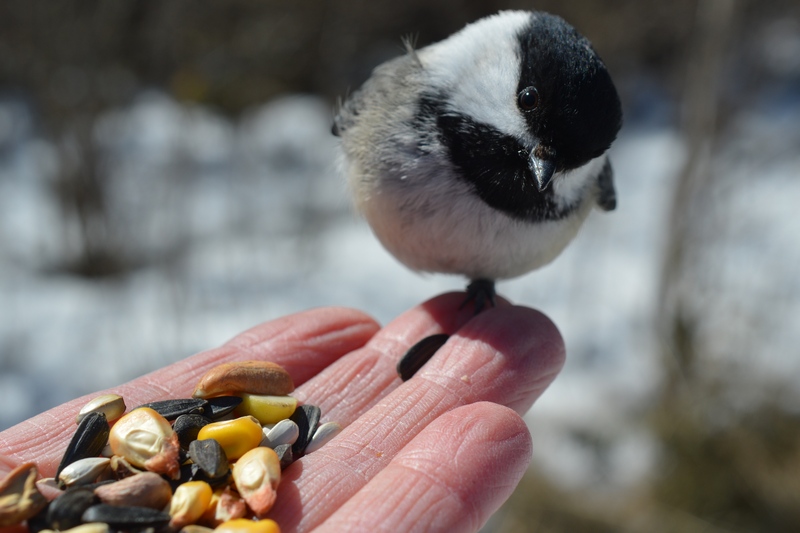 Early spring is always full of surprises and if you have the patience to allow nature to discover you……your walks at Presqu'ile Provincial Park will always be rewarding.