Tuesday, June 23, 2015
PARK BLOG # 14 – Warblers and Whimbrels Week-end 2015
It was a picture perfect week-end at Presqu'ile Provincial Park on May 16th and 17th for the annual "Warblers and Whimbrels Week-end". There is always a sense of excitement in the air as nature lovers, avid birders and campers descend upon the park.
For once, the gusty winds normally blowing off of Lake Ontario stayed calm, allowing for strolls along the scenic shoreline without fear of one's hat blowing off. While walking, the witchety-witchety-witchety-witch of the Common Yellowthroat Warbler and squeaks, warbles and mews of the Gray Catbird had me looking into every shrub and bush along the paths hoping to get a glimpse and perhaps a photograph or two.
The highlight for me was heading down to Owen's Point and watching the bird-banding display on Saturday morning. Elizabeth Kellogg and Roger Frost, assisted by Katsu Sakuma and Pat and Colin King gave hands on demonstrations on the entire bird banding process from start to finish. Pat has been coming to the banding demonstrations for 18 years and keeps a log.
Elizabeth is absolutely fascinating to watch as she carefully handles a wide variety of birds that have been caught in special netting called mist nets I watched in awe as Elizabeth expertly banded eight species of birds including a vibrant Blackburian Warbler, and a very wiggly Lincoln's Sparrow both new species for me.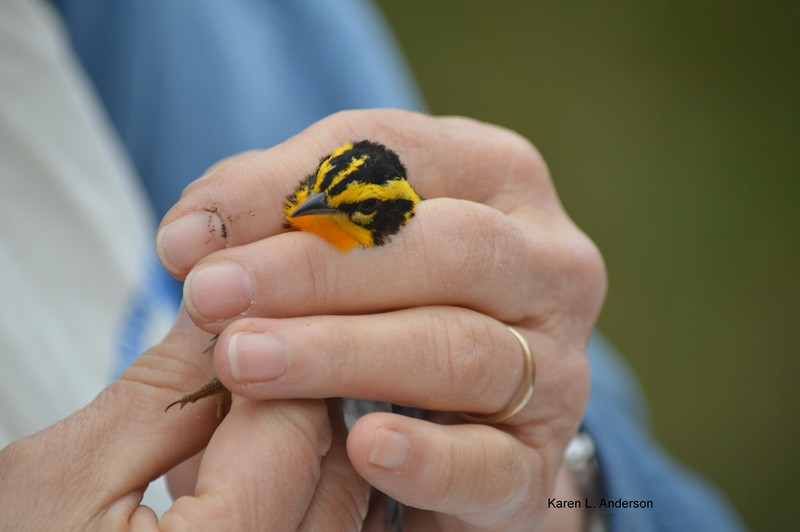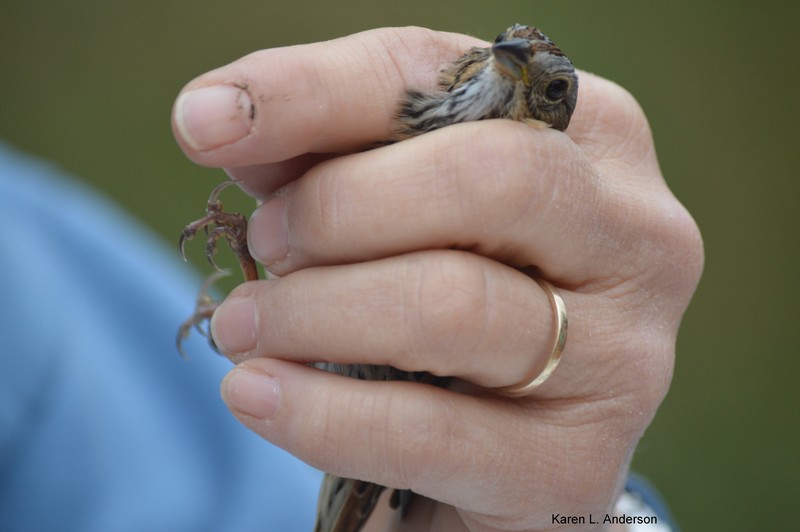 After gently removing a Black and White Warbler from the soft draw string bag it was placed in after being caught, Elizabeth holds the bird so as to secure it firmly without risk of injury. There are a variety of checks, such as identifying whether the bird is male or female and its physical condition. You can see that a small metal band geared to the size of the bird is then placed on its leg and the corresponding number is marked down in a log that is kept with a record of each bird banded. Putting on the band did not discomfort the little Warbler at all.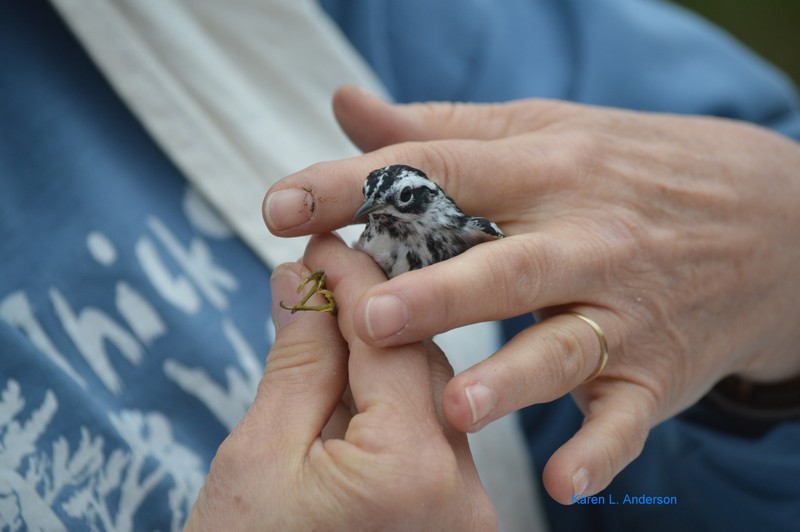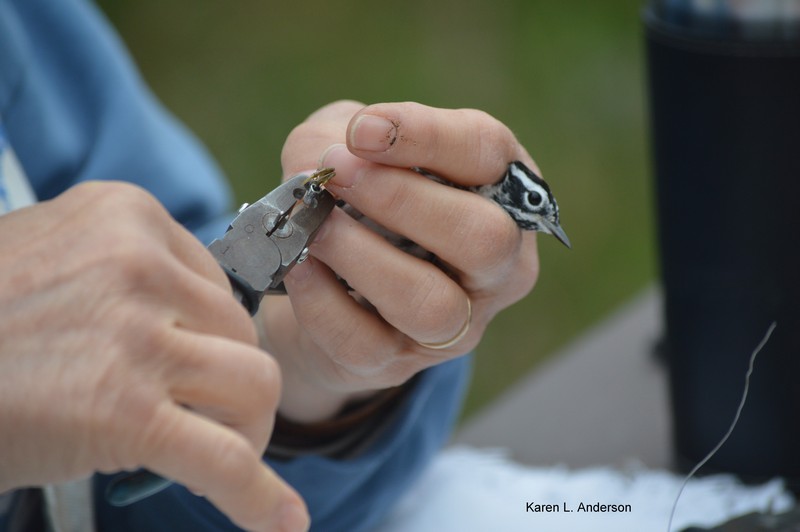 I found it quite humorous to watch Elizabeth as she turned the Black and White Warbler over and blew gently on the underside. Everyone watching the demonstration wanted to know what she was doing and why? It was explained to the very curious group that this allowed her to determine the fat content of each bird banded, an important statistic. (fat is deposited in the crop area and can be seen under the feathers as a blob of yellow. If there is not much fat it has to eat a lot to build it up before heading north. If it has lots of fat it is probably ready to continue north. ) Finally, Elizabeth checked out the flight feathers and a very happy Black and White Warbler was allowed to fly off with his dignity intact.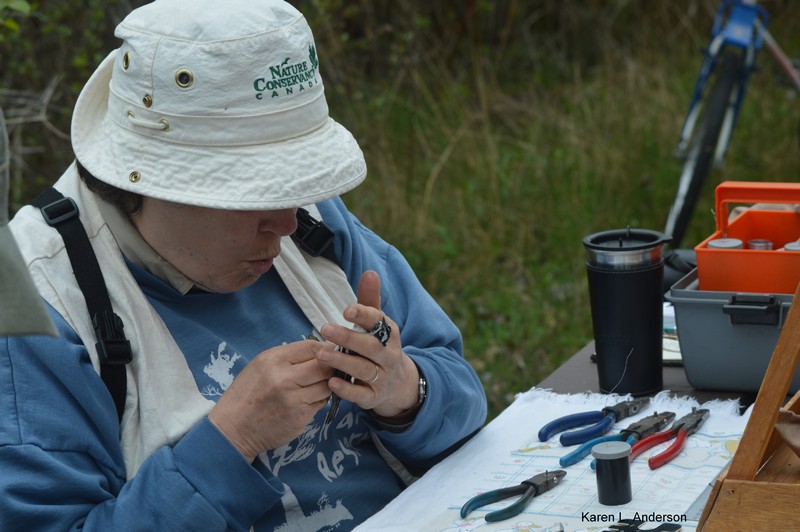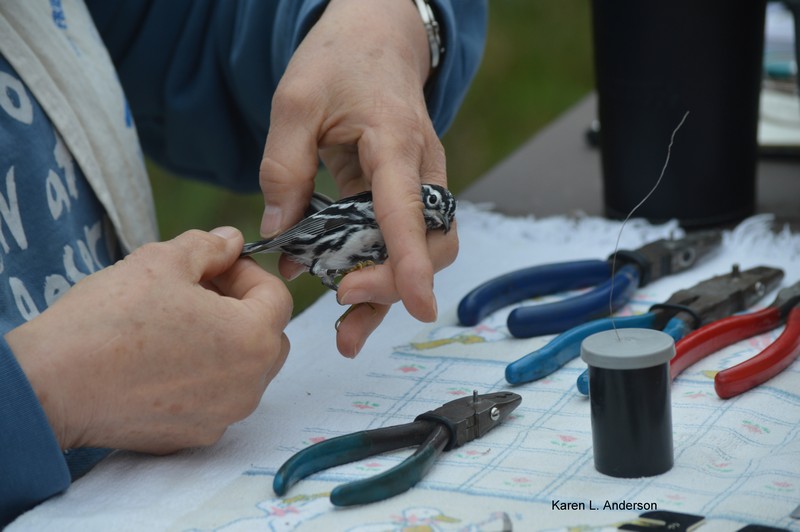 After such an interesting morning, it was time for a good walk at Owen's Point to check out any sightings of the Whimbrels which migrate through Presqu'ile Provincial Park at this time of year. Some of my favorite spring flowers including the delicate white blossoms of the Toothwort and the incredibly delicate Foamflower were in full bloom. Catching my eye with their vivid orange coloring were several Red Admiral Butterflies, a regular in the Owen's Point area.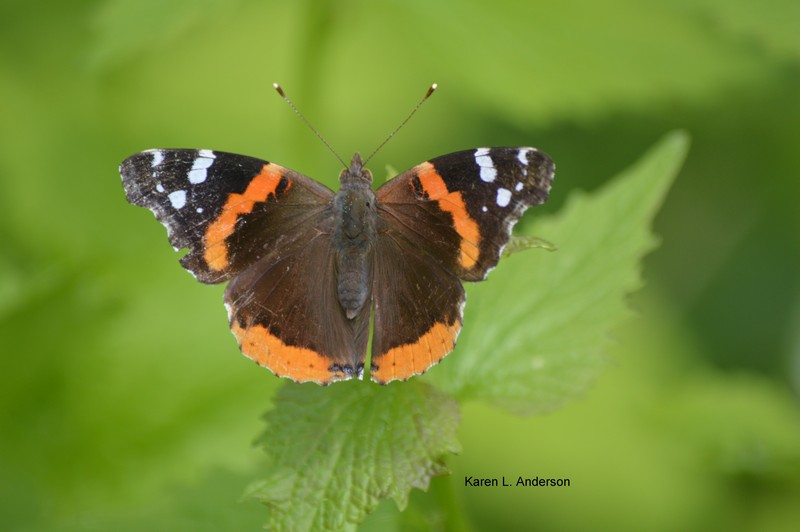 Sadly, the Whimbrels were a "no show" that week-end, however I was lucky enough to spot these three Short-billed Dowitchers marching along the shoreline, drilling their long beaks into the muck for delicious tidbits.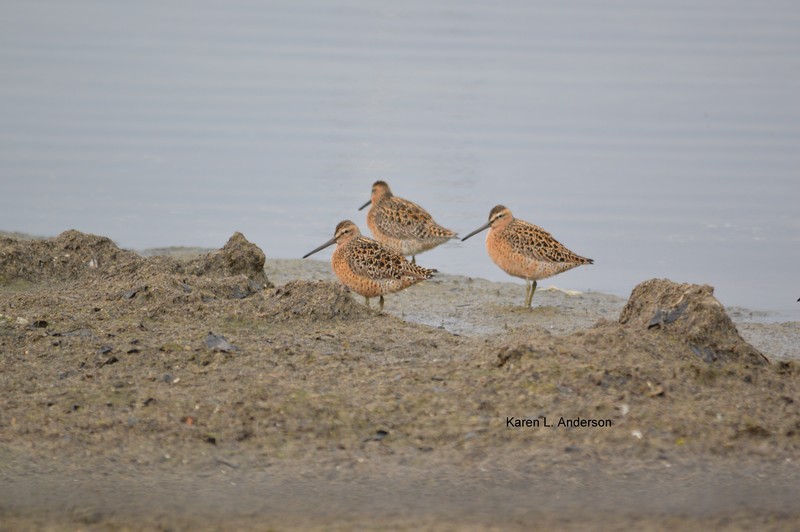 Further explore the Friends website to discover more special event week-ends coming in 2015. It's always a great time to learn, discover and show that you care about our environment.