Wednesday, May 25, 2011
I decided to go for a walk on the beach after a long day of interviews today. Rather amazingly the grey, windy, rainy day had turned into a bright, sunny, breezy evening during my time indoors! The beach was stunningly beautiful with the sun shinning and the blue waves rolling in. The breeze was just strong enough to keep the bugs away. With the
high lake level and recent rain the beach had an number of pools on it that some Ring-billed Gulls were using to bathe in.
A few other gulls and Canada Geese were loafing about on the beach as is normal. What struck me at once however were the swallows. Purple Martins, Tree Swallows, Barn Swallows and Bank Swallows were all swooping over the sand like fighter planes on strafing runs. The image was further strengthened by the call of the Bank Swallows which sounds somewhat like, what Hollywood at least, would have us think machine guns sound like - a dry "ack-ack-ack". I was particularly pleased to see this species as I find it the most difficult of all the swallow species to find and all aerial insect hunters seem to be in decline right now for reasons not understood.

This is the time of year when shorebirds move through our area and the beach did not disappoint , 4 Semipalmated Plovers, 1 Black-bellied Plover, and a herd of 30 Dunlin were seen along Beach 2-3. The Dunlins were moving from the lake edge, to the beach pools, and back again to feed.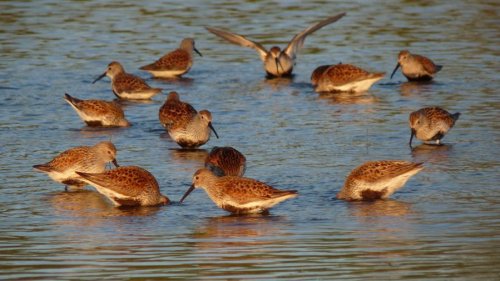 Owen Point was equally beautiful and in addition to the usual loafing gulls and terns had 9 resting Whimbrel. These large shorebirds move through southern Ontario in a very narrow range of days centred on the 24th of May, so these birds were right on schedule. Most Whimbrels seem to fly along the north shore of Lake Ontario before heading north to the arctic -see http://www.seaturtle.org/tracking /?project_id69 and go to the Whimbrel page for satellite tracking maps of this species. Unlike many of our other shorebirds Whimbrels rarely feed when they are at Presqu'ile in spring, but rather a few of the passing birds just put down to rest for a short while.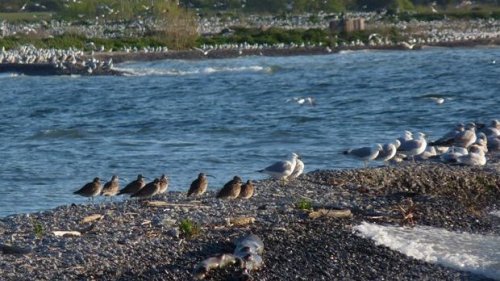 The sun was nearing the horizon by this time and I started back down the beach. The swallows and most of the other birds had gone by then but I did see a couple of Killdeer with fuzzy babies hiding in the vegetation and I was serenaded by the Grey Treefrogs calling from the pannes as I walked into the sun after a most enjoyable stroll on the beach.