Sunday, November 29, 2015
PARK BLOG # 16 – Early October Walk 2015
Cool autumn breezes, the sound of crispy, crunchy leaves as you walk, and the incredible sight of Canada Geese migrating by the 1,000's all make October the perfect time to visit Presqu'ile Provincial Park. Tthe winds blowing off of Lake Ontario can be strong enough to take your breath away, so it is always better to be prepared with a warm scarf handy and perhaps a pair of mittens tucked into your pockets.
The beach area of Presqu'ile is wide open in October and if you are lucky, like I was today, there wasn't another human in sight. The sand was still pretty squishy and mucky down by the water's edge, so I was grateful that I had decided to wear my rubber boots. As I walked the beach, the Ring-billed Gulls were soaring and swooping above my head ever alert for tasty tidbits or Sharp-shinned Hawks that hunt the beach.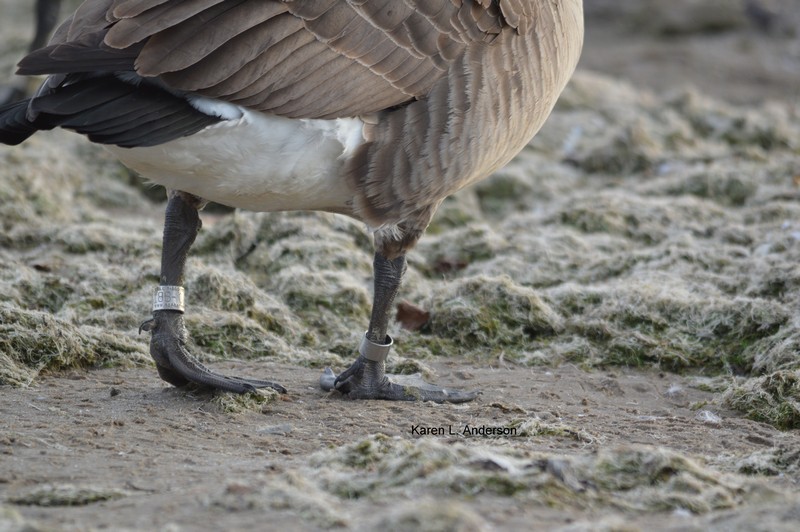 Canada Geese who were soaking up the sun, sensed my presence, and quickly started honking and waddling to the safety of the water. I was amazed at how many Canada Geese were banded this day and was able to get a few close up shots, so that I could send in a report to the North American Bird Banding Program.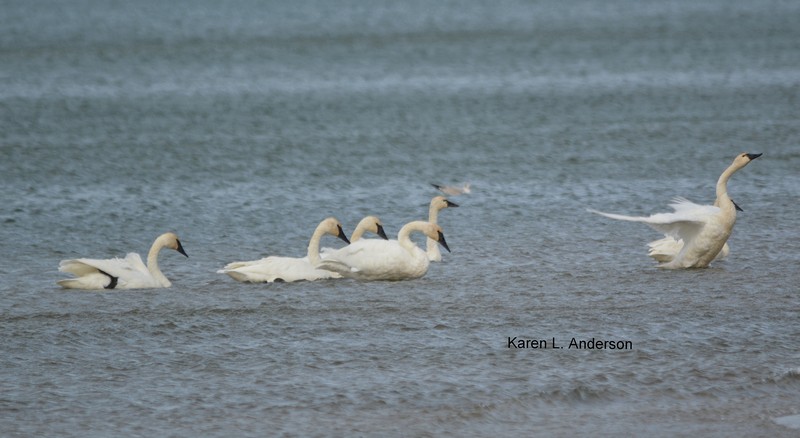 A bit further along the beach I saw a group of seven Swans just off the shoreline, and immediately knew that they were not the more common Mute Swans, as these ones had jet black bills. I later found out that they were a combination of Tundra and Trumpeter Swans.
Walking away from the beach, I entered the sandy, dune area where quite often there are tall grasses waving in the wind. This is a good area to find the tiny Least Skipper Butterfly or the larger Common Buckeye with it's wing pattern of eye catching circles. Today, it wasn't a Butterfly that caught my eye, but an elegantly patterned Snake curled up amongst the grasses.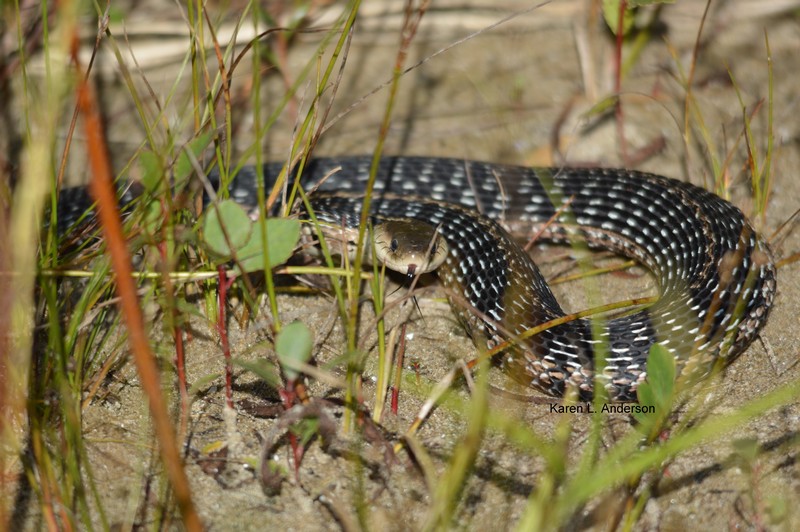 I had no idea as to what type of species I was seeing but I can tell you that it was not impressed with me. On full alert, it shot out it's tongue multiple times. After sending images to staff at the Park, it was determined to be a near Melanistic Garter Snake, not too common a sight to visitors.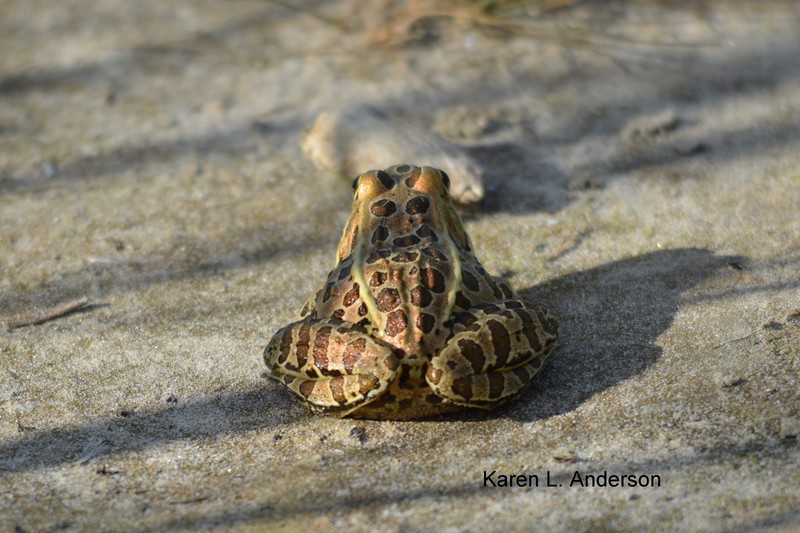 A short distance away a rather plump Leopard Frog was very lucky not to be the Garter Snake's dinner that afternoon!
After enjoying my picnic lunch and steaming hot thermos of tea, I decided to make the trek across the shoal to Gull Island. Water levels and wave action between Owen's Point and the Island, can determine whether or not you receive a major soaker, even wearing rubber boots. It is not unusual to see people wearing hip waders slogging across with telescopes or cameras slung over their shoulders. Walking the perimeter of the Island I could feel the Zebra Mussels crunching noisily under my boots, and I had to be careful not to slip on the algae-covered rocks that dot the shoreline. A bright, quickly moving object caught my eye in amongst the pebbles, driftwood and debris. It was a Zebra Moth Caterpillar, one of three that I eventually saw. The markings were vivid yellow and bold black stripes. I loved it's orange face with matching orange feet. You can see by the video here https://www.youtube.com/watch?v=AbL152WSJP4&feature=youtu.be how intently this Caterpillar moved to get out of the elements.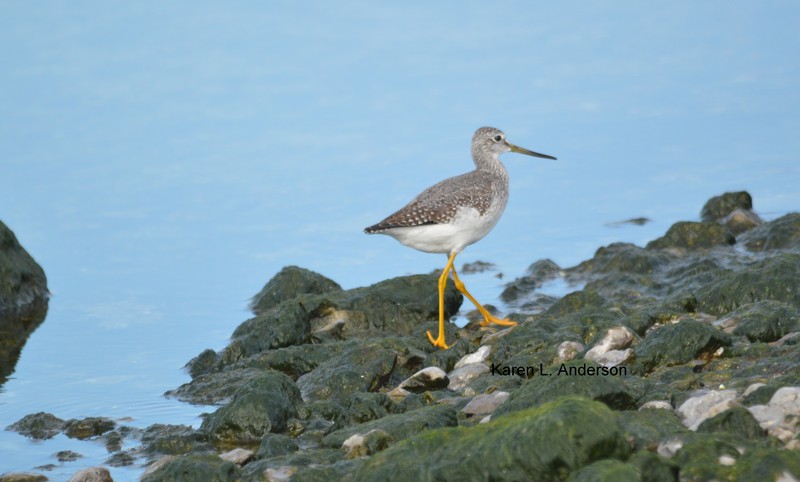 I was glad when I finally reach the North side of Gull Island, just to get a break from the wind. With the calmer waters, it was easy to spot a favorite shore bird of mine, the Greater Yellowlegs, with his ever so long yellow legs. Plunking myself down on a large log that had been washed up, I watched in fascination as he waded almost up to his underside, constantly dunking his bill down into the waters for a morsel.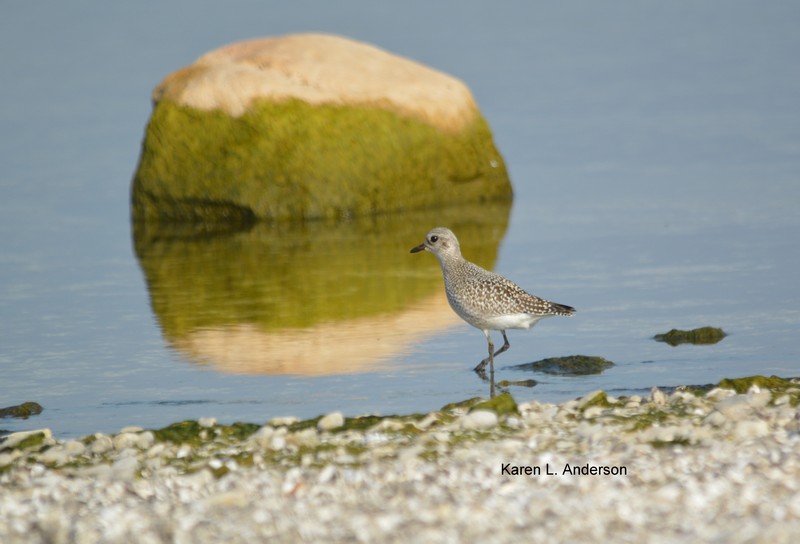 Just a bit further along the shoreline, a Black-bellied Plover watched me cautiously for a few minutes before flying off.
As always I had a great day at the Park. It's a wonderful way to de-stress, unwind and get some fresh outdoors exercise. And, of course, take lots and lots of photographs to share with family, friends and readers of this blog.