Wednesday, January 20, 2016
Park Blog # 18 – January 2016 – Shorebirds and Snowy Owl
Starting off the New Year with a trek to Presqu'ile Provincial Park was the easiest 2016 resolution that I've ever kept. January 3rd was a cold and blustery day, causing my husband and myself to bundle up but I got to test out my new heated battery operated scarf that was a Christmas gift. Walking the trails required our cleats as recent rain had frozen into solid sheets of ice in some areas. Our Border Collie Jesse could have used cleats himself as all four paws slid off into four directions as soon as he tried to negotiate the slippery conditions.
The first walk of the day included the Beach Walking Trail and we were surprised to hear an American Robin soon joined by a second, cheerfully chirping away. A quick tour of the beach area revealed several Greater Black-backed Gulls filling the air with their loud kyow sound. While watching the Gulls we discovered this interesting pattern in the sand, and wondered what could possible make the spotty indentations.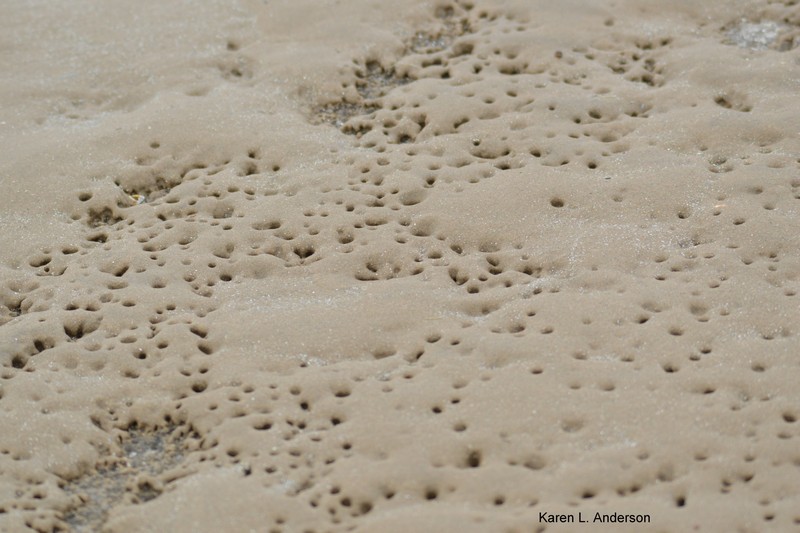 I later learned from Park staff that when sand is over ice and the ice is melting underneath and collapses, the spotty patterns are formed.
After a quick lunch, spent watching the Red-breasted Nuthatches swooping in to snatch sunflower seeds at the campground office bird feeder, we left Jesse to nap while we headed out to Gull Island. Thankfully, the weather had warmed up enough to soften the icy layer, so cleats were not needed. Walking the shoal from Owen's Point over to Gull Island we spotted a gathering of Mallards, with their green heads iridescent in the afternoon sun. A small group of Bonaparte Gulls were hanging out and mixed in was a single male Northern Pintail. As we inched in closer to take a photo, he flew up, showing off the beautiful white plumage on his breast and neck. Once on Gull Island, we were delighted to discover a small group of shorebirds https://www.youtube.com/watch?v=-9_gS25N3nI&feature=youtu.be which included: five Purple Sandpipers, one Dunlin and one Sanderling.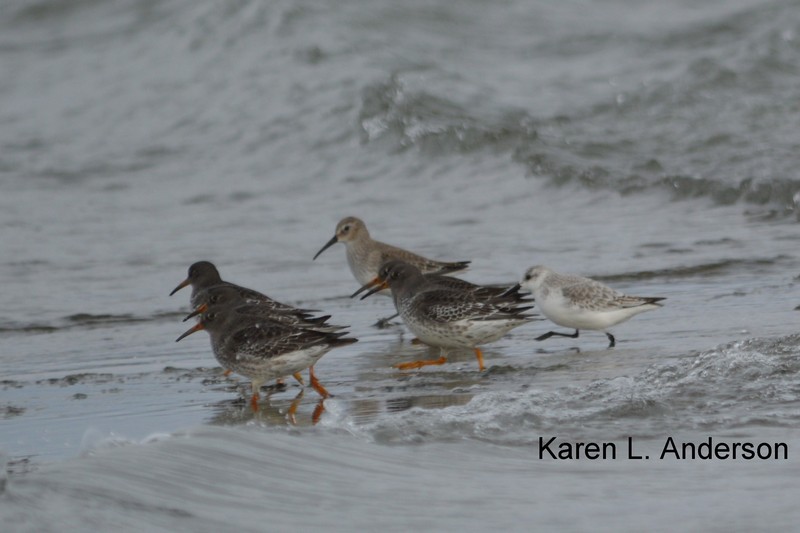 The one species I hoped to see was a Snowy Owl, and we weren't disappointed. She was sound asleep, warmed by the full sunshine, on top of one of the hunters huts that dot Gull Island. We thought that was a funny perch considering its usage. It didn't take long however, for us to be receiving a intense glare, the Owl obviously alerted by the crunching of our footsteps on crispy vegetation. We tried to get close enough for a great photo, but not too close as to upset or disturb her. Eventually she flew off settling on the skinniest of metal poles. A close at hand hunters hut provided us with some protection so that we could take more photographs. On the bench inside of the hut were the rather gruesome remains of a Long-tailed Duck head. And, just outside we discovered two rather large Snowy Owl Pellets. If you look closely, you can see bits of bone. So now we know why she favored the hut as a resting spot after a delicious lunch of Duck.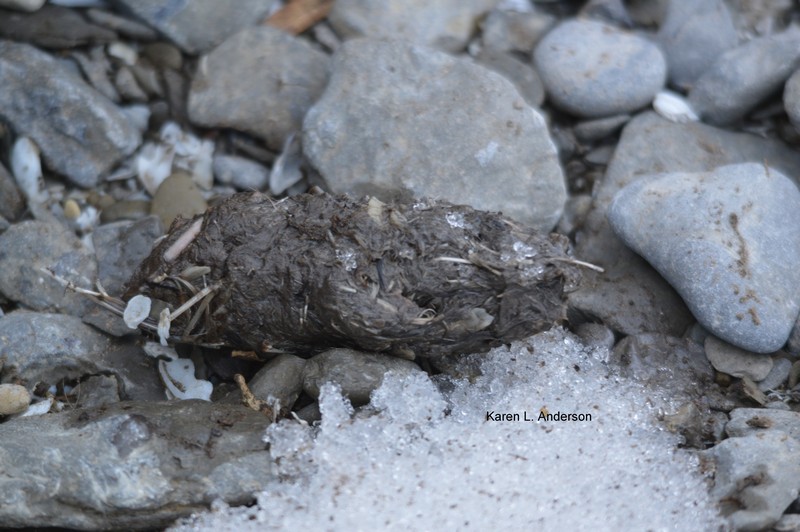 As we made our way around the perimeter of Gull Island, a small flock of American Tree Sparrows darted in and out of the brush, taking care to stay out of the range of the Snowy Owl. Two American Pipits were scurrying about the rocks, shells and debris at the shoreline easily identifiable by their wagging tails. The Snowy Owl, keeping slightly ahead of us, eventually settled down on the tiniest hump of snow close to the edge of the shoal with the waves crashing at her back. The sheer size of her talons were breathtaking, and we could see how quickly and deadly those talons might be to an unsuspecting Duck.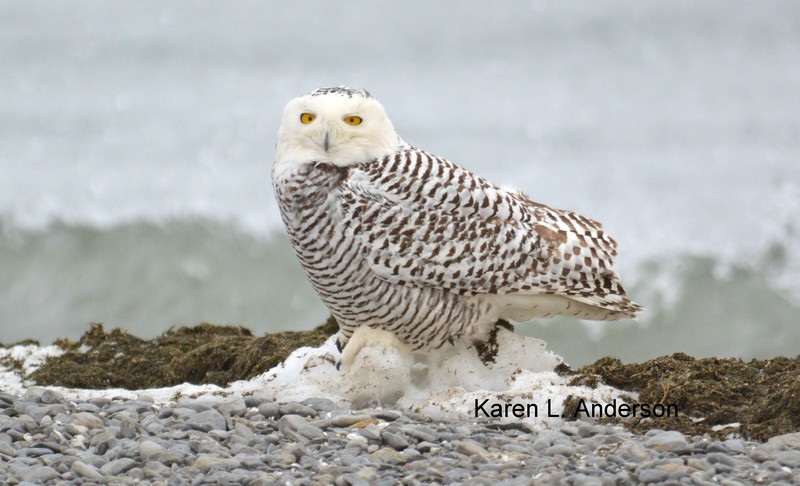 Walking back across the shoal, the wind had come up once again causing some good size waves. I received an icy cold double soaker, while my husband somehow managed to stay perfectly dry.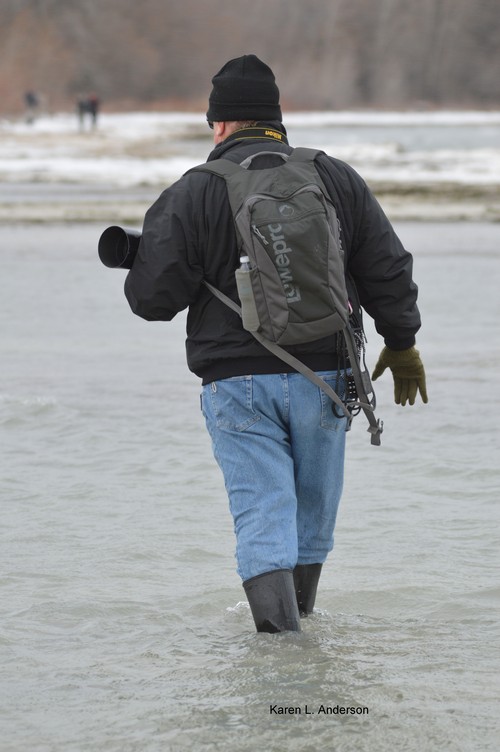 Once I was warm and into dry footwear, we made a final stop to see what birds could be tempted by a handful of sunflower, safflower seeds and peanuts. The best place is on the road to the Group Camping area. It only took a few pheesh…pheesh…pheeshes before I had a group of dainty Black-capped Chickadees landing on my hand, cleaning out my supply of food in no time.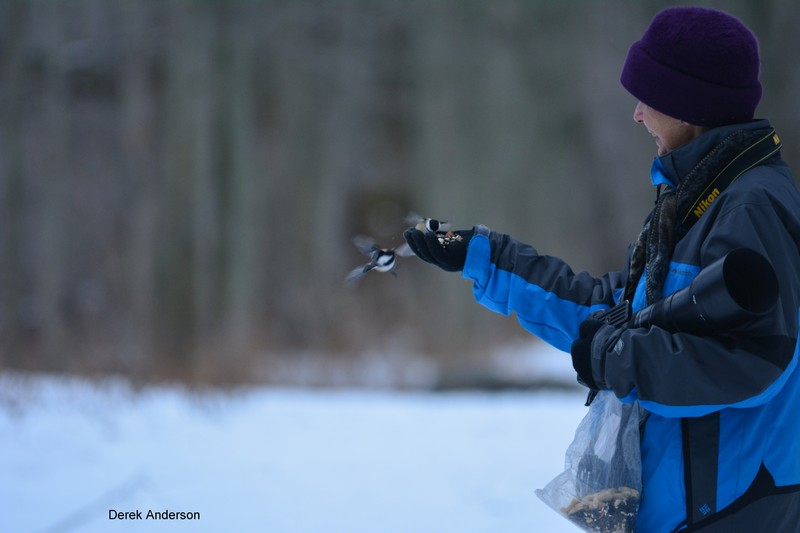 It was the perfect way to end the day at Presqu'ile Provincial Park.