Raise the Boardwalk Campaign
Help us restore the Marsh Boardwalk - Donate through Canada Helps via the form below.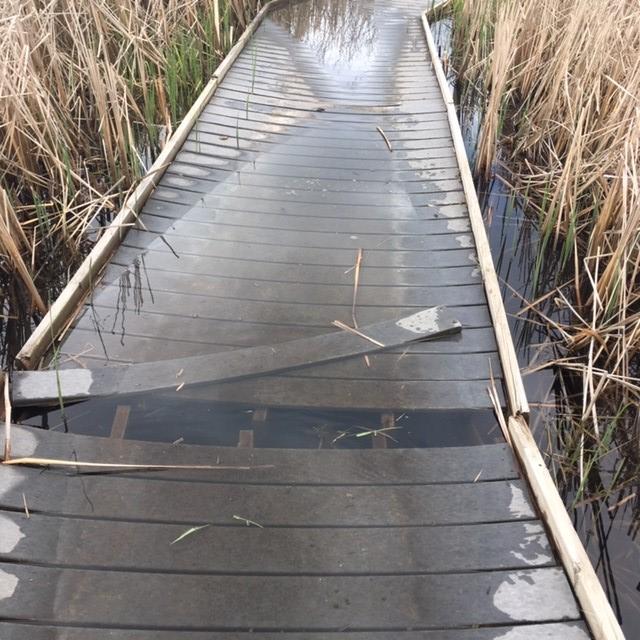 The Marsh Boardwalk is Presqu'ile's most popular trail so it's disappointing for visitors when signs are posted that the Boardwalk is closed. That's the situation right now. High water levels have submerged sections of the boardwalk making it impassible and causing structural damage. Unless something is done, that will be the new reality.
This summer, to ensure safe public access to the boardwalk and minimize future damage, low lying areas of the boardwalk will be elevated. The Friends of Presqu'ile have committed to raise the necessary capital funds for the project. The estimated cost is $15,000 for materials, with skilled volunteers from the Friends undertaking the construction. The fundraising campaign will run from June 1st through 30th, 2020 in conjunction with the Great Canadian Giving Challenge sponsored by Canada Helps.
We know it's a difficult time for Ontarians as we all struggle to deal with COVID-19 and the economic fallout. We're no different at The Friends of Presqu'ile Park. Revenue from our annual fundraising activities, which support education programs, conservation, and other vital park projects will be severely reduced.
Our hope is that supporters and visitors alike who enjoy Presqu'ile Provincial Park and the Marsh Boardwalk will join us in this fundraising effort by making a tax deductible donation to the campaign. Please give what you can by scrolling down and filling out the donation form below. Every donation, whatever the amount, helps us achieve our goal!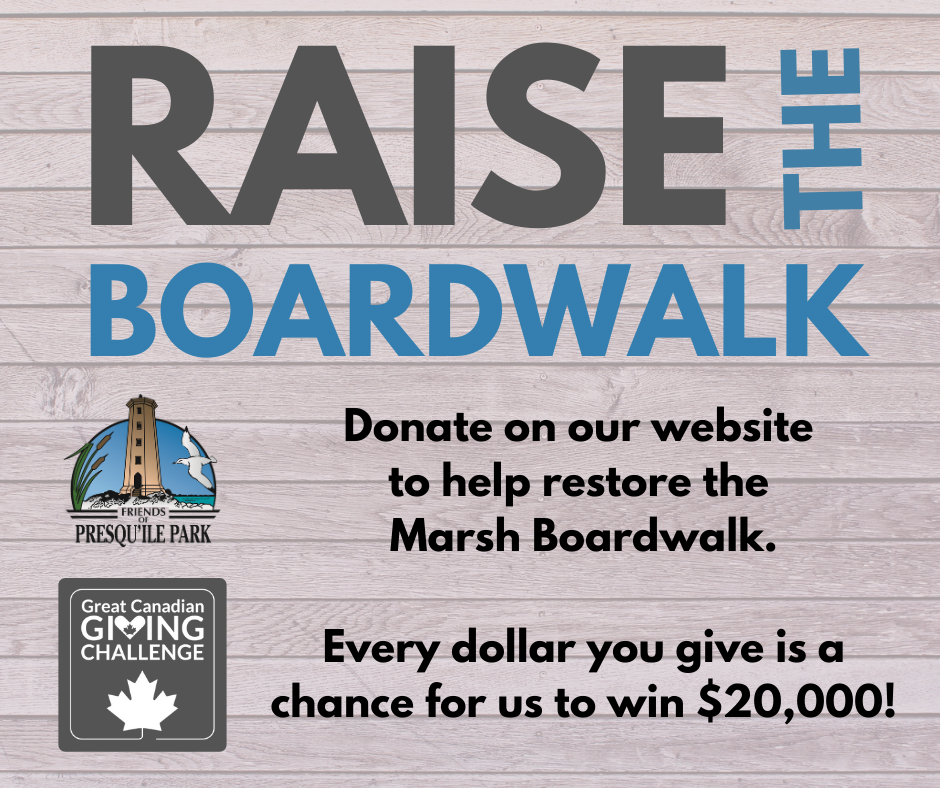 Can you help us spread the word?
Click on the ad on the left to take you to our Facebook page. Share our post about this campaign so we can raise the $15,000 we need to fix the boardwalk. Every dollar we raise gives us a chance to win $20,000 from Canada Helps!
If we win that $20,000 prize, the funds would support our educational outreach programs, ecological restoration work, and facility improvement in the park.
Fundraiser Update - June 22
WE DID IT!!!
Thanks to the generosity of our donors we have reached our goal of $15,000! These funds will be used to purchase materials to fix and raise the boardwalk, once water levels have decreased in the marsh. Our wonderful team of volunteer builders await their chance to restore the boardwalk so that visitors can once enjoy this treasure!
We also await the end of the Great Canadian Giving Challenge on June 30 to see if we are successful at winning the $20,000 prize. Every dollar donated to the Friends of Presqu'ile is another entry into the draw, so donations are still welcomed to any of our funds - Memorial Tree Fund, Environmental Fund or our General Fund.