Counting Birds: the Ontario Breeding Bird Atlas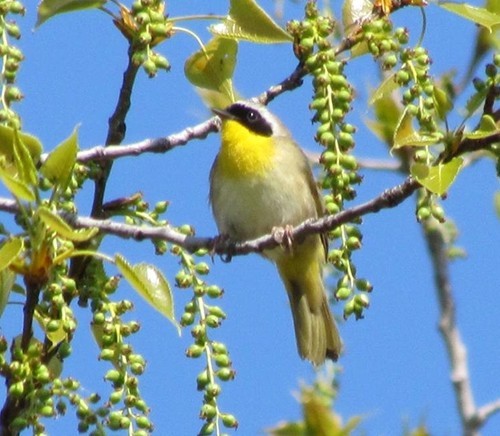 Photo: Common Yellowthroat
What's not on lockdown? The birds! Accordingly, there may never be a better time to head off into the woods and do some bird watching.
And if that's your interest, just maybe you want to go a step further and put your bird identification skills to use by helping with a survey of all Ontario's breeding birds. It's a big job. So if you care about birds and their conservation, perhaps you'd like to join a province-wide effort to count and record breeding birds and then contribute that data to the third edition of the Ontario Breeding Bird Atlas.
It's a five-year project during which volunteer birders will cover the entire province to help provide as complete a picture as possible of the distribution and abundance of all of the species that nest in Ontario. The atlas will help researchers track bird populations and spot signs of species at risk.
The project has five partners including the Ontario Ministry of Natural Resources and Forestry. Comparing results from this Atlas to earlier surveys will provide valuable information about the health of Ontario parks.
During development of the second atlas from 2001 - 2005, more than 3,000 volunteers logged over 150,000 hours of field work. They submitted 1.2 million individual breeding bird records and reported 286 species.
How to help
Organizers have divided the province into a grid of squares measuring 10 kilometres by 10 kilometres. Volunteer birders will cover each of the 2,000 squares stretching from southern Ontario to Sudbury and Sault Ste-Marie. (In other parts of Northern Ontario, a somewhat different system will be used.)
Volunteers –who must have sufficient expertise to accurately identify birds by appearance or song - will work within a specific square and do 'point counts' designed to index the number of birds nesting in a given square. That means in 25 random locations within their square, the volunteer will stand in one spot for five minutes and count the birds that they come across.
Data collection for The Ontario Breeding Bird Atlas started on January 1, 2021. Data will be collected over five years and provide researchers, scientists, and conservationists with information that will guide environmental policies and conservation strategies.
Signing Up
There are several ways to get involved.
Experienced birders can volunteer to do specialized surveys, such as point counts and owl surveys.
Birders who are somewhat comfortable with identifying birds, and who want to contribute more casually, can submit bird sightings and breeding evidence on the website or using the Nature Counts app.
And if you aren't at the point where you feel comfortable contributing, the Ontario Breeding Bird Atlas is a five-year project, so follow along on the website and develop your abilities for the next time around!
To learn more about the Atlas or sign up, go to: www.birdsontario.org