C@P A First Timer's View
The 26th annual Christmas at Presqu'ile Arts and Crafts Show in Presqu'ile Provincial Park, Brighton, has come and gone for another year. The event was a great place to see local artists' work, getting the community together, and starting your Christmas shopping. The show was held on November 4, 5, 8, 11, and 12th.
Goods from about 130 venders were on display, and some of the items attractively presented were: clothing, knitted goods, paintings, photography, candles, soaps, jewelry, jams, jellies, cookies, wooden and stone figurines, stained glass, pet toys, Christmas ornaments, kitchen goods, pottery, and goodies from Brighton's favourite chocolate store, Mrs.B's, were there as well. In addition, 25% from each item sold went towards funding for the programs of the Friends of Presqu'ile Park.
"On average, we tend to get 3,000 to 4,000 people from all around the province every year," stated Linda Collins, Chair of the Christmas at Presqu'ile Committee. "We have many dedicated artists here as well. One of the artists, William R. (Bill) McKee, has lived in Brighton for 14 years." Bill has been making sculptures for 40 years, some of his figurines, or sculptures, take multiple weeks to complete. He had even donated a piece for the draw.
Mark Walas, the Mayor of Brighton, has been coming ever since he was elected Mayor, seven years ago. "It is a great opportunity to see all of the artists and community come together and to see the diversity in all of the hand-crafted items that were beautifully put together by the artists," said Walas.
The crowd was excellent, and people lined up to get in to see the array of goods that were presented in the 'Christmas' Cottage. The pricing was very fair and the diversity of the items for sale was outstanding. An army of volunteers helped make the customers feel welcome and looked after.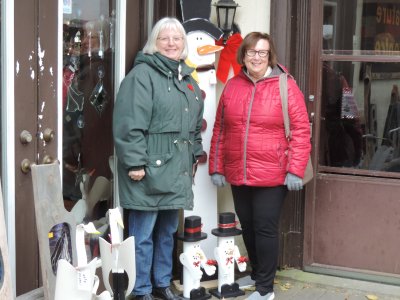 Heather Giffen, Marilyn Callaghan, first visitors, attending 25 years (by Henry Kole)