Discovery Programs
DISCOVERY Programs
75 years in the making
75 years ago (in 1944) Ontario Parks hired its first seasonal park naturalist. Algonquin Provincial Park hired J.R. Dymond, the Director of the Royal Ontario Museum of Zoology at the time, to lead nature hikes within the park and visit children's camps. The second provincial park in Ontario to introduce interpretive programs was Rondeau Provincial Park. Richard "Dick" Davy Ussher, hired in 1955, was the park's first full-time naturalist. Later he went on to set up interpretive programs at Pinery Provincial Park. Locally Bud Guertin was Presqu'ile's first Park Naturalist in 1957.
Today we have roughly 300 Discovery staff stationed in over 70 parks across the province – all endeavoring to engage visitors in exploring the diverse natural and cultural heritage features that make up our vast home. Why? To enhance visitor's enjoyment of these special spaces, encourage appropriate use and protection of them, and cultivate dedicated park stewards to name a few reasons.
Naturally, a few things have changed over the years, as the program grows and evolves to meet the changing interests of visitors. Most recently we have changed the name from Natural Heritage Education to Discovery. But don't be mistaken, the Discovery Program is here to take this 75-year tradition of exploring and discovering parks into a new era. Presqu'ile's "new" Discovery Program will continue to offer a wide range of fun, interactive learning experiences throughout the summer. We routinely offer close to 200 programs a year to nearly 10,000 people. Come join a 75-year tradition in 2019.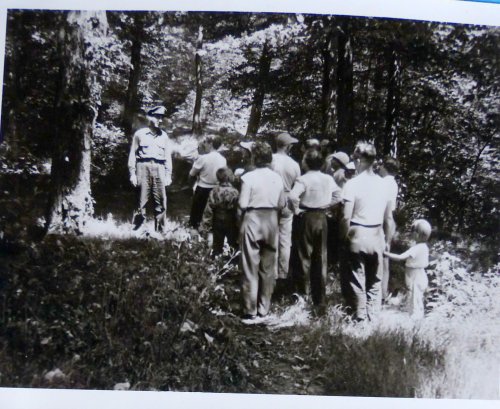 Photo caption: Early Interpretive Walk at the old Indian Point Trail. Is that Bud?