Friends of Presqu'ile collect recipes to raise money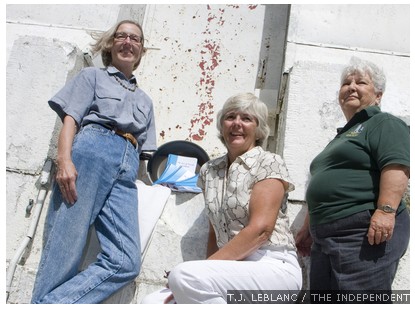 BRIGHTON - Friends of Presqu'ile, Dorothy Fletcher, Jenny Alker, and Ruth Kerr, have announced the arrival of their new fundraising cookbook, The Best of Friends Cookbook, now on sale at several Brighton locations.


Aug 04, 2010 - 04:00 AM
T.J. LeBlanc? Northumberlandnews.com
BRIGHTON -- Three Friends of Presqu'ile Park women have spent months collecting recipes, choosing layouts, and awaiting the arrival of their much anticipated cookbook.
The collection of almost 200 recipes is titled, 'The Best of Friends Cookbook', and it is available for purchase at a number of locations throughout Brighton.
"If you love good food, you'll want a copy of this book," said Friends of Presqu'ile Park chairman, Craig Kerr. "Many of these recipes are specialties of people well known for their wonderful cooking."
According to the Friends of Presqu'ile trio, the idea to publish a cookbook came from Ruth Kerr who wanted to attempt a new way of fundraising.
"I like cookbooks and you can only do so many bake sales and we had never done a cookbook," Ms. Kerr said.
With a price tag of $10, and every penny going towards supporting and enhancing the educational and interpretive programs at Presqu'ile Park, the women are hoping that Brighton residents will find the cookbook an affordable way to contribute to their fundraising efforts.
"We are hoping to sell thousands and thousands," said committee member and caterer Dorothy Fletcher. "We ordered a small number, but we are hoping to reorder more soon."
The cookbook offers a variety of recipes for appetizers, beverages, main courses, desserts, cookies and candy as well as a handful of recipes for spreads and sauces.
According to Ms. Fletcher, there is something in the book for everyone and every skill level.
"There are some easy recipes and some that are quite challenging. There are recipes in this book that you wouldn't get anywhere else," she said.
For more information, or to purchase a copy of the book, visit http://www.friendsofpresquile.on.ca/ or call Ruth Kerr at 613-475-3018.
You can also order at foprecipes@hotmail.com