Natural Heritage Education Program in 2017
NHE was not immune to the high water year but we were not as effected as most. Our spring is mostly preparation time and rebuilding the Nature Centre, so that went on as normal. When summer started we had to adapt a few of our usual programs. Without the Marsh Boardwalk the Marsh Discovery program was moved to Calf Pasture parking lot, which had become a great minnow spawning ground. Our Shipwreck and Pirates Children's Program, usually at Calf Pasture, went to the Campfire Field. The high water was also featured in a walk that showcased the dynamic nature of our park and how it is tied to the lake.
Defenders Prop Talk with Robert Aug 1, 2017
In the end attendance was generally the same as past years for the NHE programs and the visitor centres through the summer. The Nature Centre had 10, 927 visitors in the two months it was open. The Lighthouse Interpretive Centre had 26,678 visitors from weekends in spring and fall and in the summer. As always a big Thank You to the Boucher's who keep that centre open in spring and fall. This provides a great service to our visitors, as well as allowing more opportunity for people to purchase products in the Friends shop! In the summer we offered 165 programs to 8569 people. As is always the case we had a great NHE crew, ably lead by long-time naturalists Allyson Parker and Laura McClintock.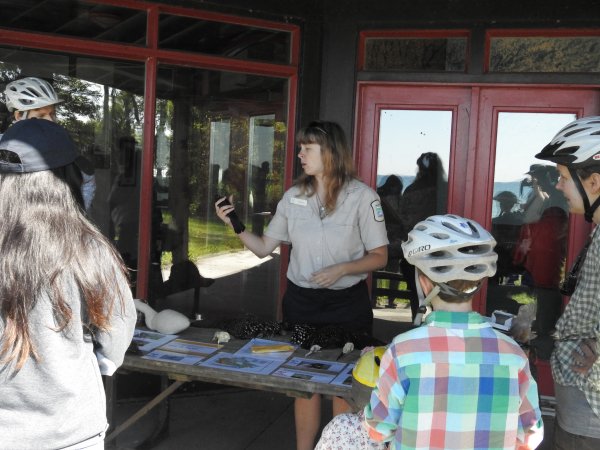 Bird banding with Allyson July 2, 2017
Once again the Friends supported a number of the NHE staff to keep our centres open and to present programs. Kristen Osborne, hired by the Friends for 4 years to run the Nature Centre, did a great job with the displays. New this year was a Smart Table, where visitors could identify fossils, woodpeckers and butterflies, or just finger paint. Kristen also ran one of our most popular programs this year. Our 2-hour, Meet the Turtle program routinely pulled over 100 people in to learn about our captive Painted Turtle. Natasha Lewis, who has been at Presqu'ile for 5 years, was the Lighthouse Centre Coordinator and she introduced a number of popular activities for younger children this year.
Friend's members also help us out by volunteering at the Nature Centre and Lighthouse Centre on Wednesdays to allow the full NHE staff to get together for meetings and training. As always much appreciated!
LIC Award to Mara from Natasha Aug 30, 2017
We wrapped up our year on Labour Day, where long-time volunteer, Don Davis was in for his 31st year to tag Monarchs for us. We also had our NHE Awards. Mara Van Meer won the Lighthouse Award, Breanna Jones got the Nature Centre Award and Robert Ormston received the Wise Owl Award for best score in our weekly training quizzes.
NC Award to Breanna from Kristen Aug 30, 2017
Wise Owl Award to Robert from Laura Aug 30, 2017
Thanks to all the NHE staff for an excellent year and thanks to The Friends of Presqu'ile for their support of our program.