Piping Plover Guardians Needed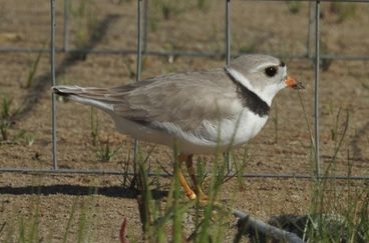 Ontario Parks Piping Plover Biologist Monica Fromberger has informed us that there are two Piping Plovers on Presqu'iles beach who are showing breeding behaviour.
This is exciting news! The last time Piping Plovers nested at Presqu'ile was 2016. That was 100 years after the previous documented nesting. You can read more about the 2016 Presqu'ile plovers here.
These birds are an endangered species. They like to nest on sandy beaches and there within lies the problem. Sandy beaches are the same places that people like to go to play. While it is fun to go to the beach, all that playing disturbs the birds and they stopped nesting in most beaches throughout North America.
To protect the Piping Plovers on Presqu'ile's beach, Ontario Parks is looking for volunteers to act as Piping Plover Guardians. Volunteers would watch over the birds from a safe distance and inform visitors that walk past what is going on. Volunteers are needed to take shifts as soon as this weekend (May 14-15) and potentially over the breeding season, if nesting is successful.
Anyone interested in being a Piping Plover Guardian is encouraged to contact Monica Fromberger by email at monica.fromberger@ontario.ca or by phone at 705-313-5280.
We ask that you refrain from spreading this information on social media, as we want to reduce human activity on the beach to encourage successful nesting.
For more information on Piping Plovers, please read this article from Ontario Parks.