Presqu'ile Piping Plover spotted in Florida
Presqu'ile Piping Plover spotted in Florida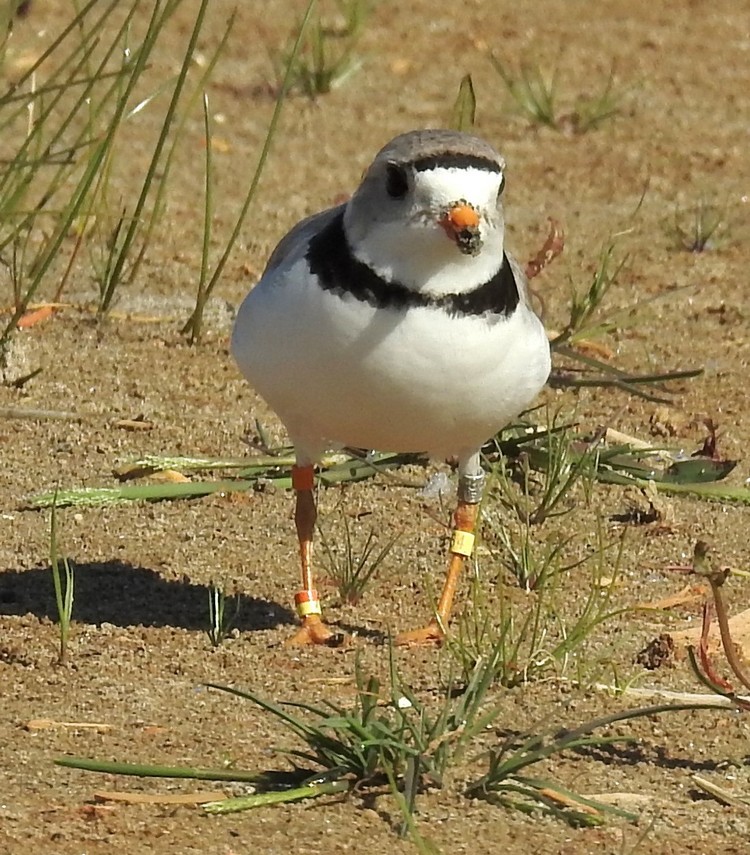 Photo David Bree
The female plover from the pair that nested on Presqu'ile's beach and raised three chicks this summer was photographed in Florida on Nov 3 rd . As you might recall this summer's nesting was the first documented here in 100 years. Piping Plovers are an endangered species and their nesting here caused lots of excitement. The park put up some exclusion fencing and made a request to the community for volunteers to help monitor the family and inform beach goers what was happening on our beach and how we could all work to keep the birds safe.
We had a great response and many Friends members came out to help. Three chicks successfully fledged and flew away on August 16 th . As is normal the parents had left earlier, the female on July 11 th and the male on July 28 th . Normally in these situations that is it, we don't know where our family has gone or how they are doing and we wait anxiously hoping we will see them again next year. But thanks to three dedicated volunteers half a continent apart and today's technology we have been able to make a connection with our family well before spring.
Karina Spence and Anja Croes were two of our Plover Volunteers this summer and since the babies left they have been scouring the internet webpages looking for Piping Plover pictures for birds with our colour combination leg bands. Danny Sauvageau is a bird and photography enthusiast in Florida who specialises in photographing banded birds. On Nov 5 th he posted some pictures on his Facebook page "Florida Banded Bird Resightings" from his trip to Three Rooker Bar and Anja and Karina spotted our lady! Three Rocker Bar is a sand bar Island off the gulf coast of Florida very near Tampa bay, 1845kms from Presqu'ile. Apparently Danny saw her last year as well in that area. This is great news and has made many plover watchers here at home happy. Maybe we will hear more about our birds this winter thanks to our volunteers across two nations.