Smiles and applause greet Friends' Applefest Float
Smiles and applause greet Friends' Applefest Float
The smiling faces, applause, singing, greeting and pointing of Applefest parade watchers showed their pleasure and appreciation for the Friends two-part float which reflected the theme of "education meets recreation at Presqu'ile?.


The main wagon (provided for use by Peter and Ingrid Kapteyn of Brighton RE/MAX) featured Peter Solmes singing songs of Presqu'ile and Applefest waterside in a campfire setting. Brighton accountant Michael Nicholson and his son Carter "toasted? marshmallows among the trees and animals while "birdwatcher? Harold Atkins and fishing sensation Jean Beach brought smiles to the faces of one of the largest crowds in Applefest parade memory.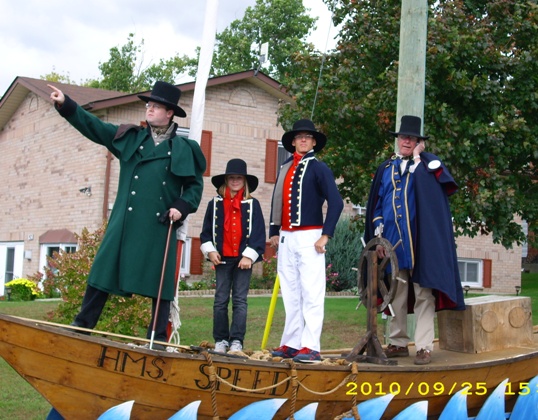 Friends' Chair Craig Kerr drew applause and cheers of recognition along the parade route in his costumed role as commander of the Speedy. His grand daughter Hallie found her sea-legs quickly bringing an enthusiasm that the crowd loved. Students along the parade route shouted their appreciation as ENSS history teacher Jeff Auden expressed his love of history through his role as a magistrate on the famed Speedy. Cheers of "Yea Speedy? by about 10% of the parade route crowd suggested that many will enjoy future History Weekends.
The promotion of Christmas at Presqu'ile in November, and the many other treasures of the park including the marsh boardwalk, lighthouse gallery, the nature center, and the hiking, biking and cross-country ski trails portrayed Presqu'ile as the perfect place where education meets recreation!

The judges were so impressed we won "Best Community Float"

Special acknowledgement goes to Tom Mates and his team for their important contributions which made the floats as well received as they clearly were. Peter Alker (Friends Communications Committee Chair) helped assure that the float reflected the priorities and values that the Friends of Presqu'ile hold dear.


All of this was supported by the BBQ team who downed spatulas to man the stand on Main Street. A crowd estimated over at 30,000 packed the town for the day.
Thank you Carol Loader (Applefest Chair) and other organizers for providing The Friends' with the chance to showcase the gem that our (and everyone's!) Presqu'ile is.