The NHE Summer of 2018
The NHE Summer of 2018 – by David Bree
The summer of 2018 will probably be remembered for the number of hot, humid days that extended from May into September. Such weather certainly encouraged people to come to the park and our attendance was indeed up in 2018! It didn't hurt that the beach was in the best shape it has been for a number of years. The high water last year did a great job of depositing clean sand on the beach.
While the beach and park was busy, the NHE programs had about average attendance and some days seemed very slow, it was just too hot and humid to move at times. Despite the heat the NHE crew never faltered and once again were out there every day providing great fun, educational programs for the public. Veteran Interpreters Allyson Parker (10 years) and Laura McClintock (7 years) once again did a stellar job running the summer program. There was a bittersweet tone to their success this year as both women have indicated that they will be moving on in their careers and will not be back next summer.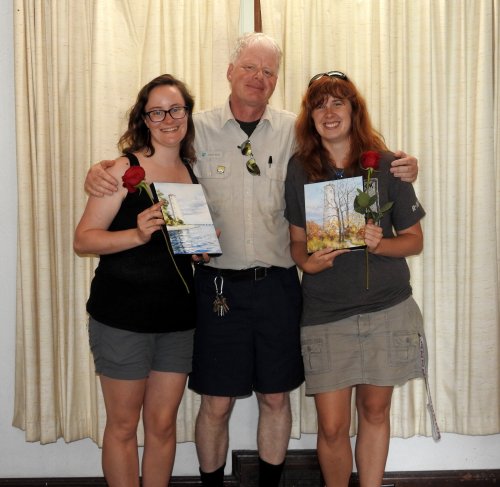 NHE Leader David Bree with Summer Program Leaders Allyson Parker and Laura McClintock. Both women have indicated they will be moving on next year and not be back. (If you look carefully you may notice the tear in David's eye at this news.)
This being the 125th year of Ontario Parks we had a number of special events celebrating the anniversary. These included concerts by David Archibald and the Waikimi Wailers in July and two theme days – Mammal Day in July and Species at Risk Day in August. Both the latter two days featured Fun Fairs with lots of family activities and evening programs featured special guests that brought in live animals. The Soper Valley Wildlife Rescue brought in some mammals and Sciensssational Snakes once again brought in examples of reptiles that are At Risk in Ontario. These were two of our biggest attended events of the year, once again proving that people are drawn to live animals. Of course we had our usual plethora of summer programs, in the end offering 175 programs to 9,108 people.
Our centres had their usual good years. The Nature Centre had 10,406 visitors in the two months it was open. The Lighthouse Interpretive Centre had over 25,000 visitors from summer use as well as weekends in spring and fall. As always a big Thank You to the Bouchers who keep that centre open in spring and fall. This provides a great service to our visitors, as well as allowing more opportunity for people to purchase products in the Friends shop!
Once again the Friends supported a number of the NHE staff to keep our centres open and to present programs. Kristen Osborne, hired by the Friends for a 5th year to run the Nature Centre, did a great job with the displays. New this year in the Forest Room were some up-dated terrariums to hold our forests frogs. The Smart Table had some new educational games added. As always the live animals, particularly our Painted Turtle, were big hits.
Mara Van Meer (Friends' employee) took over as Lighthouse Centre Coordinator and kept that centre ticking over nicely. Friend's members also help us out by volunteering at the Nature Centre and Lighthouse Centre on Wednesdays to allow the full NHE staff to get together for meetings and training. As always much appreciated!
We wrapped up our year on Labour Day, where long-time volunteer, Don Davis was in for his 32nd year to tag Monarchs for us and we were glad that local bird banders, Elizabeth Kellogg and Roger Frost, were able to come and catch some birds for the visitors to see up close.
Our end of season NHE awards were presented in the last week of the summer. Bella Derry won the Nature Centre Award, Ben Hewitt received the Lighthouse Award and Mara Van Meer received the Wise Owl Award for best score in our weekly training quizzes. Thanks to them and the remaining NHE staff Clarissa Duthie, Alicia Zoldy, Robert Ormston (all three Friends' employees), and Baxter Naday, for an excellent year and thanks to The Friends of Presqu'ile for their support of our program.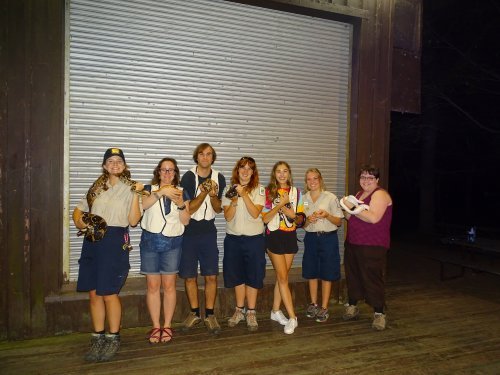 NHE Team with snakes, Sciensational Snakes Show, August 18, 2018