Upcoming Events 2023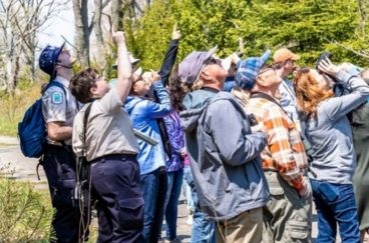 We are gearing up for a busy spring and summer season for the Friends of Presqu'ile Park and Presqu'ile Provincial Park. Here are some highlights:
New Volunteer Database
We have redesigned our volunteer sign-up form to make it easier than ever to get involved. Watch for some special instructions in the coming weeks. We need our volunteers more than ever and want to make sure we have everyone's interests captured. The new Volunteer Coordinator, Michelle Buchkowsky, and our Website Coordinator, Janine McClintock, are hard at work getting everything ready.
Warblers and Whimbrels Weekend - May 20th & 21st
Mark your calendars on May 20th and 21st for Warblers and Whimbrels Weekend. This event celebrates the spring migration of the songbirds, such as warblers, and the shorebirds, like the whimbrels, that annually stop at Presqu'ile on their way north.
There will be naturalist-led bird walks, displays at the Lighthouse Interpretive Centre and bird banding demonstrations. The Friends will have fundraising barbecues and the Lighthouse Gift Shop will be open 10:00 am to 4:00 pm both days. The detailed schedule will be posted on our website.
AGM 2023 – June 3rd
By now, members have received their invitation to the 35th Annual General Meeting which will be held at the Amphitheatre on Saturday, June 3rd, starting at 10:30 a.m. You will hear about our recent accomplishments and learn more about our plans for 2023. You will receive financial reports and elect directors. Afterwards, please stay for our picnic lunch and networking. Please be sure to register in advance on our website.
Fundraising Raffle
We are excited to unveil our 2023 fundraising Raffle – Paddling Around the Waters of Presqu'ile Park. Thanks to a generous donation by Canadian Tire Associate Store 112 in Trenton that subsidized the prizes, we will have three great offerings – a Pelican canoe, a Pelican Stand-up Paddle Board, and an inflatable Kayak, with all the accessories. The Park has also kindly donated park passes for the winners. Tickets will go on sale at our first summer barbecue, July 1st. They will also be available at our Gift Shop. Tickets are only $5.00 each or 3 for $10.00.
Mammal Day – July 15th
Join the park's Discovery staff for the 4th Annual Mammal Day, a day dedicated to the furry creatures of Presqu'ile. There will be games, crafts, and other activities throughout the day. Soper Creek Wildlife Rescue will be giving a presentation at 7pm at the Amphitheatre featuring live Ontario mammals!
35th Anniversary Celebrations – July 29th
The Friends of Presqu'ile Park officially came into being in February 1988, making 2023 our 35th Anniversary. Join us on Saturday, July 29th for our anniversary celebration and outdoor dance in the park. Watch for more details in the coming weeks but mark your calendars now for this fun evening to party in the park.
History Weekend – Aug 5th & 6th
The very popular History Weekend returns to Presqu'ile on the long weekend. Join costumed park staff and volunteers for two days filled with events and activities showcasing some of the history of Presqu'ile. Picnic games, boat building and races, a spirit walk and more!
A full schedule of events will be posted around the park and on our social media pages closer to the event.
Species at Risk Day – August 19th
This is a day dedicated to the species at risk that call Presqu'ile home. Join in the bio blitz in the morning to search for species at risk, followed by games, crafts, and other activities in the afternoon. Finish off the day with a live animal presentation by Sciensational Snakes where you can learn about some of the reptiles that are at risk in our province. You'll be able to touch some live snakes too!
Memorial Tree Planting
The spring Memorial Tree Planting was held on April 15th. It was fully subscribed; 13 donor groups planted over 20 trees to memorialize a special event or someone. This program has become a very popular way to remember a loved one or to celebrate a special occasion such as an anniversary or graduation. In exchange for a donation of $100, a donor can plant a tree in the park. All trees are native species grown in the park nursery. Park staff provide an informative talk on the tree nursery program. For more information, or to donate simply go to our website. The next Memorial Tree Planting will be in October.