Winter in the Park
The New Year certainly started off with a blast of winter weather at Presqu'ile Provincial Park with bone chilling in-your-face winds and frigid temperatures. So with this in mind I ensured that I dressed in a variety of warm layers even though it felt as if I was five years old again and my mother had just stuffed me into a snowsuit. With a thermos of piping hot tea carefully placed in my backpack and a peanut butter sandwich I set off from the Camp Office parking lot to trek out to Owen's Point.
Though the snow wasn't deep, it was a bit challenging in areas where my weight caused me to break through the crusty snow.I found this easier than staying on the existing path because of icy conditions. This certainly was the case walking along the causeway between the Pines Campground and High Bluffs as the winds had blown away the snow leaving a super slippery surface to navigate. Cleats might be an option next time I visit. With bright blue skies and the sun shining I enjoyed watching Long-tailed Ducks bobbing with the waves. Many seem to hang around the crevices that are formed within the ice sculptures close to shore. I was amazed to find an icy "bridge" that had been created, and it highlights the caution for visitors not to walk out onto the ice formations, because you cannot always see what is or isn't under the snow. Wind and waves combined to form twiggy "popsicles" and I thought my grandchildren would have loved to have seen these in person.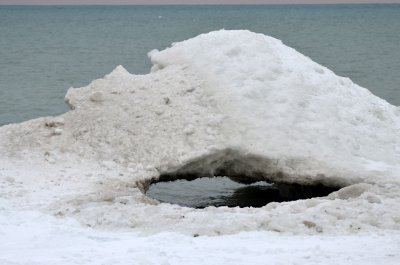 Ice Bridge - Jan 1 2018 K Anderson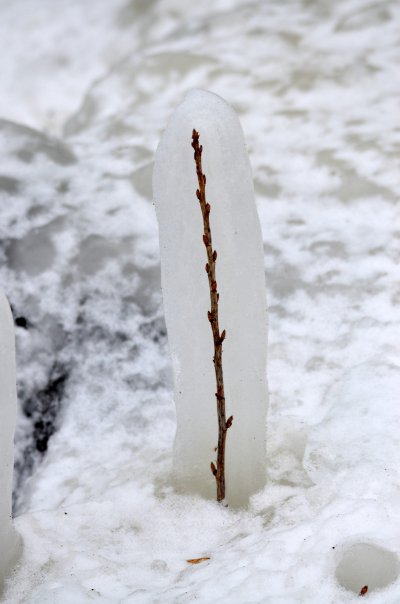 Twig Popsicles - Jan 1 2018 K. Anderson
Since the picnic benches in High Bluffs Campground were clear of snow, I chose a sunny spot to have my lunch and enjoy the view. Several Common Goldeneye flew by just skimming the surface of the waves before landing with a large collective splash. It wasn't long before I continued on my way following the shoreline until I reached the tip of Owen's Point. Using my binoculars I scanned the ice as far as I could for any sign of Snowy Owls, but was disappointed. All of a sudden, a flock of 40+ Snowy Buntings that I had earlier seen on Gull Island flew over and landed right in front of me. I stayed totally still, not wanting to spook them into flight. One little guy had trouble with the ice and almost looked as if he was doing a jig. Two Lapland Longspurs stood out from the flock with their rich brown patterns and I knew that I had found a good birding "find" to report.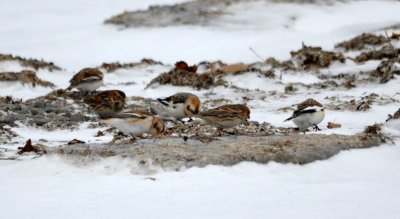 Snow Buntings and Lapland Longspurs - Jan 1 2018 K Anderson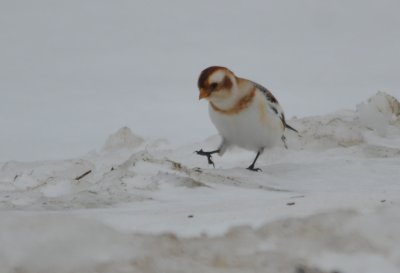 Snow Bunting January 1st 2018 K Anderson
After walking back to my car, I finished off my tea and took a well deserved break. Watching the Campground Office birdfeeder action is one of my favorite activities when I visit in the winter. It is a great place for the novice birder to learn some of the more common species and offers great opportunities for photographers. The splash of vivid red offered by the male Northern Cardinals and the brilliant hues of the Blue Jay are sure to please any visitor. You might also be lucky enough to see a Red Fox tucked away in the underbrush waiting patiently for a tasty treat. Talking about Foxes, be sure to follow "Preston, the friendly Fox" on twitter@PresquilePP and follow his adventures around the Park.
Lunch complete I decided to try my luck with handfeeding the birds on the road leading into Group Camping. Recently, through the Park's twitter link @PresquilePP I learned that this roadway is actually called Jobes' Lane. All it took was a few phish…phish…phishes and I was bombarded by Black-capped Chickadee's and a pair of Red-breasted Nuthatches. Apparently I was too slow attempting to get seed into my hand plus set up my phone to take some photos, as hungry birds were landing on my hat, my shoulders and even my cellphone. I love the sound of the Chickadee's wings as they swoop in and the angry nattering the Nuthatch makes as he lets everyone know that all the peanuts are for him.
Driving slowly through the park heading homeward I came across a Buckthorn berry bush full of American Robins. Though it is not uncommon for this species to winter at Presqu'ile, I always wonder why they didn't migrate like their buddies did. Luckily, they appeared healthy and were gobbling up the dried up berries with gusto. A bit further down the roadway I spotted a Turkey sauntering across the Atkin's Day Area parking lot without a care in the world.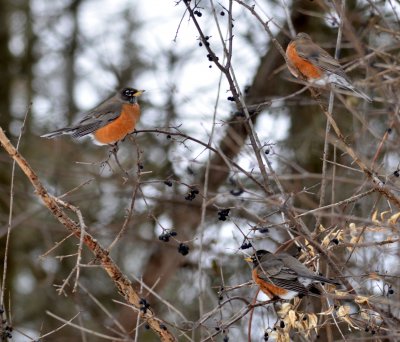 Robins in Buckthorn - January 1st 2018 K Anderson
Turkey in Presqu'ile - January 1st 2018 K. Anderson
Leaving the Park for my long drive home a majestic adult Bald Eagle, flew over the main road giving me the perfect ending to my Presqu'ile jaunt.