33rd Annual Waterfowl Festival
Warning - this news article expired on 2009-03-23. Information may no longer be accurate or applicable
33rd Annual Presqu?ile Waterfowl Festival
The Friends of Presqu?ile Park are pleased to announce that despite what you might think looking out the window, spring is returning! And with spring comes the return of tens of thousands of ducks, geese and swans to Presqu?ile Bay. Waterfowl of up to 25 different species arrive each spring to rest and feed here before moving on to nesting areas further north and west.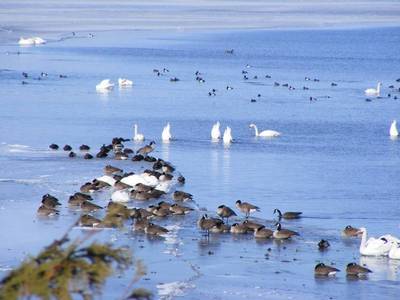 Each year the Friends of Presqu?ile have been happy to sponsor the Presqu?ile Waterfowl Festival to celebrate this natural phenomenon. The tradition continues in 2009 with the 33rd annual festival on the weekends of March 14-15 and 21-22 from 10 am to 4 pm daily.
?This is truly a world-class birding spectacle,? says Park Naturalist David Bree. ?While these birds are present in numbers at various places along the Lake Ontario shoreline, Presqu?ile has some of the greatest concentrations, and has easy access to good viewing locations?.
Bree goes on to say. ?The big advantage to coming to the park during the festival is you have access to spotting scopes to look through and knowledgeable volunteers to help you find and identify the many species present. And of course we have some added attractions people can take advantage of at the Lighthouse Centre, including children?s activities, the Friend?s Gift Shop with hot drinks, snacks, and gifts. The Lighthouse Centre also has indoor washroom facilities, which are important in the cold weather!?
A special feature this year is a birds of late winter walk at 11 am on Sunday, March the 22nd with ornithology student and seasonal park naturalist, Allyson Parker. ?Allyson is a very talented naturalist that has a passion for birds and will take you on a short walk to see what small birds are around and how they are surviving the winter,? comments Bree. ?After this walk through the Group Camping area, people can move on to the waterfowl viewing areas just down the road.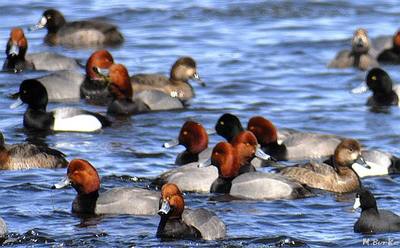 Redheads, Scoup and Coot by M Burk
?Bushnell has been very generous again this year and provided the Friends with optical equipment for our spring raffle.? says Friends? Chairman, Ernie Payette.
The Friends invite everyone out to share in this event. It makes a great outing for those that appreciate nature; families and individuals alike. The only cost involved is a $9.00/vehicle park entrance fee. We hope to see you there.
For more information call David Bree at 613 475 4324, ext. 225.