Wonderful Christmas at Presqu'ile
Wonderful Christmas at Presqu'ile
Sunshine, not too cold, no snow, no rain - what a wonderful Christmas at Presqu'ile we had.
Nearly four thousand people visited the Christmas House over the five days to enjoy the work of the 125 artisans and crafters who contributed to this year's sale. Visitors from as far afield as Toronto and Ottawa took the opportunity to purchase one-of-a-kind Christmas presents and just indulge themselves in the incredible variety of arts and crafts available.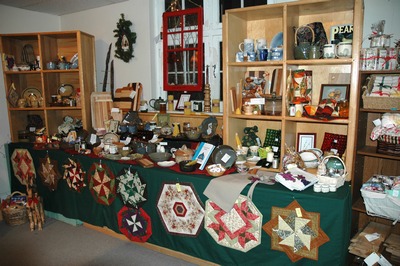 The over two hundred volunteers made sure that it was a special event, one that has people returning year after year. One young lady told me she came with her parents as a child and she was now bringing her own child, and had not missed a year.
Visitors also enjoyed the wonderful exhibition of work presented by artists Linda Barber, Rose Brown and Doug Comeau at the Lighthouse Interpretive Centre. If you appreciate Doug's realism style of work then check out http://thegroupoftwelve.com/index.html and the current exhibition at the J M Parrott Art Gallery in Belleville.
Now, that secret Rum Cake. Someone has blabbed. We sold out, despite making 25% more cakes than last year. This year included a frantic Saturday night baking session to keep up with demand. The word is out, so next year, make sure you come early.
Mark your 2011 calendar for the twentieth Christmas at Presqu'ile Arts and Craft Show which will take place on November 5, 6, 9, 12, and 13.
The winners of our raffles and prizes this year are:
Langford Canoe and Camping Package provided by Langford Canoes, Ontario Parks and The Friends of Presqu'ile
Kevin and Beverley James, Peterborough
Wooden Rocking Horse Jim Crouse, Napanee
Tina Osborne Painting Ann Pumple, Trenton
Bev. Stewart Painting Brenda Courtemanche, Cobourg