THE PARK
Presqu'ile, French for almost an island is a boomerang - shaped spit of land and limestone that juts sharply into Lake Ontario.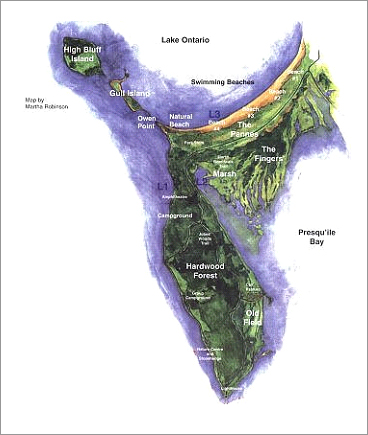 It lies within the Municipality of Brighton south of junction 509 on highway 401.
A visit to Presqu'ile Park offers
Year round day use, walking, trails, wildlife viewing, birding
Spring, summer and autumn camping
Two large, picturesque lakeside picnic area
One of the province's longest sandy beaches

(no dogs allowed at any time)

16 kilometres of nature trails - through wetlands, forests and fields
A major stop over point for migrating birds
Special events such as waterfowl and Monarch butterfly weekends
A comprehensive natural and cultural history interpretive program
A kid-friendly Nature Centre, featuring live fish, frogs, snakes and turtles
A history that includes rumrunners, shipwrecks and pirates - see the cultural history displays at the Lighthouse Interpretive Centre
Friends of Presqu'ile Lighthouse Gift Shop in the Lighthouse Interpretive Centre
Local fishing and boating opportunities
A local area of quaint antique and gift shops
For more information on the park's features, services and facilities, including camping, click on things to do
Presqu'ile has it all. Come and see, stay and enjoy.