Bursary Winners
CONGRATULATIONS 2017 BURSARY WINNERS
This year, The Friends of Presqu'ile Park launched an annual bursary program to recognize the efforts of the fine young people who work as summer student employees in Presqu'ile Park. We received many examples of extraordinary dedication and stellar customer service from the nominations. We are so very proud of our winners.
Career Bursary
The Friends invited student employees to apply for our new $1,000. Career Bursary if they were following a course of study at the post-secondary level that might lead to a career in the Parks system.
Congratulations go to Alyson (Aly) Morris, one of our student Park Wardens. Aly is starting second year in Biological Sciences at Liberty University in Virginia. Aly has a definite career plan in mind – she will bring her research and conservation skills into play as a Park Biologist and hopefully, one day, as a Park Superintendent. Aly has demonstrated solid academic achievements and has excellent leadership skills, a strong work ethic, is a team player willing to lend a hand wherever needed according to her supervisors. Well done, Aly!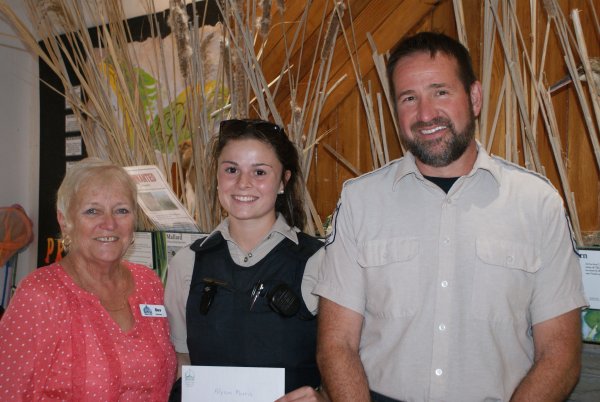 Aly receiving her award from Bev Cook, Chair of the Friends and Rob Cunningham, Park Superintendent
Student Bursary
The second Bursary program awarded four $500.00 bursaries to deserving students in each of the four Park staff areas. Students could be nominated by the public, their peers or a supervisor for demonstrating skills and actions to improve the park experience. We received many nominations for each department, making the job a difficult one for the Awards Committee.
Kristen Wierda is our winner for the store. This remarkable young woman has completed her undergraduate degree in Bio Science and starts her doctoral studies in Pharmacy this fall. According to her supervisor, Kristen is a great leader and role model for new staff. Her dedication to getting the job done right is highly valued by all.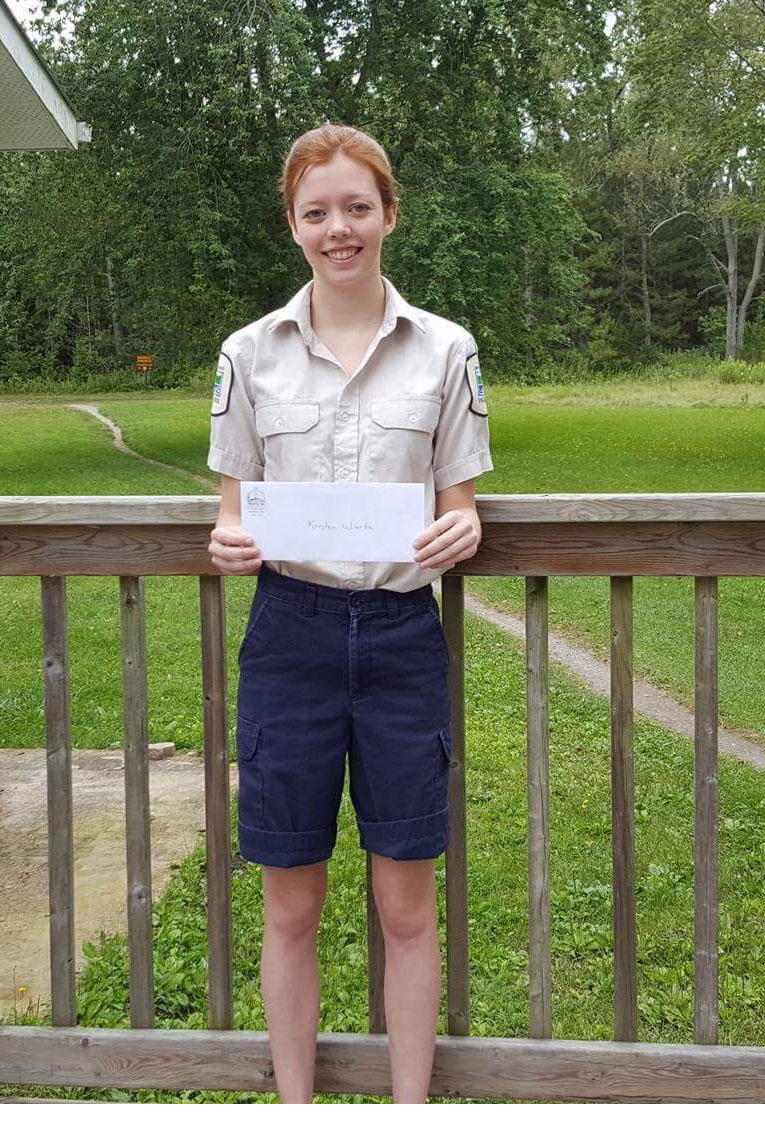 Kristen
Mara Van Meer of the Nature Centre staff received two nominations from members of the public. They noted her enthusiasm and patience dealing with young visitors. She manages to make learning fun! Mara is off to Sir Sanford Fleming College to study Eco Systems Management this fall.
Mara receiving her award from Rob Cunningham, Park Superintendent and Rachel Windsor, Acting Assistant Park Superintendent
Gate employee, Sinead Gibson, also caught the eye of a member of the public who was so impressed with her warm welcome back greetings and efficient check in services. She has been called one of the Park's best employee investments! According to one supervisor, she has also managed to handle difficult situations with aplomb. Sinead will begin her studies in Criminal Justice at the University of Guelph this fall.
Sinead
Quinley Nichols of the Maintenance department is heading off the Ryerson for her second year of studies in Bio-mechanical Engineering. Her supervisors were very impressed with her selflessness and her willingness to help anyone who needed it. Quinley happily took on any task, eager to learn everything about the department.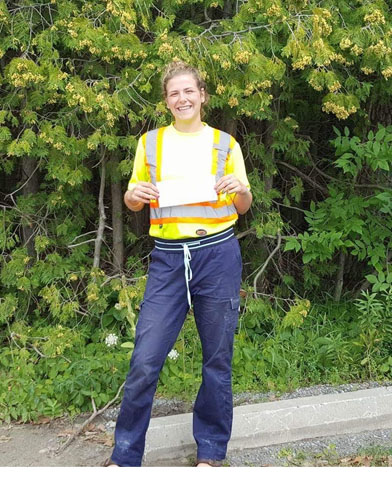 Quinley
The Friends of Presqu'ile Park wish all of our winners a very successful year and we look forward to welcoming them back next season.