Discovery Progarm 2019
The year 2019 was one of transition for the education department at Presqu'ile. As you may have noted from the title, we have officially changed our name from the Natural Heritage Education (NHE) Department to the 'Discovery Department' across Ontario Parks. This rebranding is thought to make us more accessible and appealing to visitors to want to come and discover the park with us. This name change also came with some templates to use for our weekly schedule and special event posters. These provide a consistent look for advertising programs across the province. While there was some confusion on the part of long-time campers not recognizing the new look of the posters and a small tendency of veteran interpreters to slip and say NHE occasionally, the change was mostly painless! After all, we are still doing the same thing… helping people connect with the amazing natural and cultural resources our park has through storytelling and direct contact with those resources.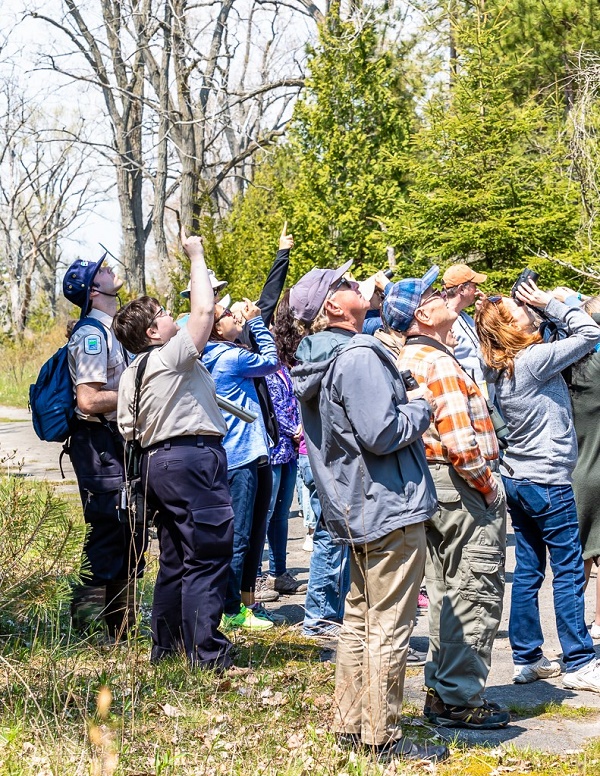 Robert and Kristen leading a Bird Walk at Warblers and Whimbrels Weekend
It was also a big transition year with regards to staff. Only four of ten staff came back from 2018 and three of them were in new positions. Long-time staffer, Kristen Osborne moved from Nature Centre Coordinator to Head Naturalist and did a stellar job of running the summer program, including staff scheduling (my least favourite job—one I'm always ready to pass on). New in the other senior position was Janet Fenton. New doesn't mean inexperienced as Janet comes with a wealth of experience after ten years at Charleston Lake Provincial Park in the NHE, or rather, Discovery Program there. Taking over for Kristen in the Friends' sponsored NC Coordinator position was third year pro, Robert Ormston. In the Lighthouse Centre Coordinator job this year was another returnee, Ben Hewitt. All three did an outstanding job in their new positions. The only other returnee was Carissa Duthie, who was a great asset in helping the new people get settled into the program and shouldered many of the little jobs that makes the department run smoothly. The new staff included Luke Hamilton, Parys Carr, Max Tobey, Colin Bauer, and Grace McDonald. All came with enthusiasm for the job and did well with the steep learning curve a short summer job brings.
After a cool, wet, spring the summer was quite nice and despite the high-water levels of Lake Ontario, our general visitation was still good, though down from 2018. The Discovery program was still able to put on a full slate of activities for campers and day visitors alike. During the summer we presented 136 programs to 5,913 people and special guests did another 11 programs for 1,593 people. We also did 9 programs in the spring (mostly bird walks) to 289 people. Thanks to the Friends and the Park extending Kristen's contract a couple of weeks into the fall and also providing two additional programs the weekend after Labour Day for the first time in many years. As usual the Nature Centre had over 10,000 visitors in two months and the Lighthouse Centre is at 20,000 and still counting with it being open thanks to stalwart volunteers, Joyce and Don Boucher.
We continued the tradition of the last few years of adding a special event day in July (Mammals) and August (Species at Risk) to our always popular History Weekend and Monarchs and Migrant Weekend. The former were highlighted by special guests bringing in live animal displays for our evening programs. Always a hit for guests and staff alike, the latter was highlighted by a good showing of both migrating shorebirds and monarchs. Monarchs figured prominently this year, not only in our usual Nature Centre display, but also out in the wild. It was a great season for Monarchs and many were seen in the park this year. We also tried our first ever Facebook Live Event, talking about Monarch Butterflies and the tagging program started over 65 years ago by Canadian Zoologist, Fred Urquhart and his wife, Norah.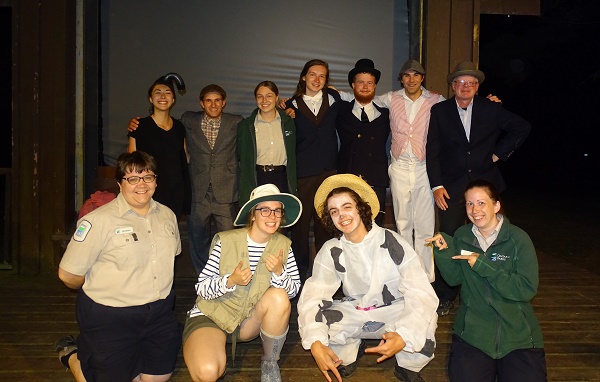 Discovery team History Weekend 2019
Our staff awards were handed out at the end of the summer and Clarissa won the Lighthouse Award and Max pulled off the rare double—winning both the Nature Centre Award and the Wise Owl Award, though the scores were very tight for the latter award, which is based on our weekly staff development quizzes.
I will also remember 2019 as the year of the caterpillar. Usually caterpillars are brought into the Nature Centre by kids. Some we keep for display and some we get them to release back into the wild. That certainly happened again this year but the entire Discovery Staff seemed to be on a lepidopteron (moths and butterflies) mission this year with numerous specimens being discovered, photographed and uploaded to iNaturalist. I certainly have never seen so many species in a summer. Besides the usual Monarchs, Milkweed and Hickory Tussock Moth caterpillars there were White-Tussock Moth, Yellow-collared, Fall Webworm, Black Swallowtail, Giant Swallowtail, numerous Sphinx moths species and we still don't know what some were. Caterpillars remain a fascination to most people interested in nature and this year provided a great bounty of both quantity and quality.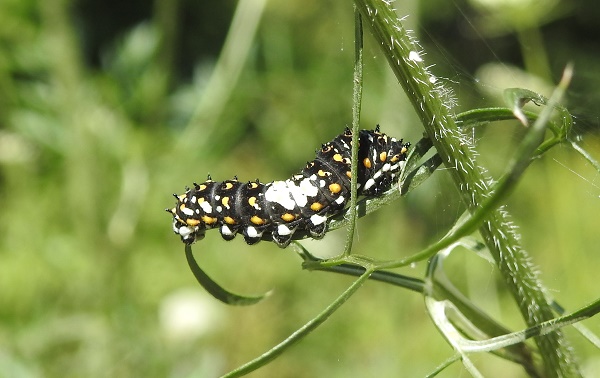 Black Swallowtail Caterpillar hanging out near the Nature Centre
Speaking of iNaturalist, this citizen science webpage has become the go-to resource for both staff and visitors alike to both document by picture the living things we find as well as post those we don't know in the hopes that someone will be able to identify it for us. Presqu'ile Park has its own project and so far, nearly 1,100 species have been documented in the park using this platform. Check out https://www.inaturalist.org/projects/presqu-ile-provincial-park if you would like to see what has been found at the park.
All in all, another successful season and while it is nice to decompress a bit in the quieter fall season, I look forward to having the Discovery Team back again next spring for 2020.