Memorial Tree Planting
Memorial Tree Planting
By Pam Perrault
Saturday, 17th October was a first for The Friends of Presqu'ile Park and for Presqu'ile Provincial Park: It was the inaugural Memorial Tree Planting day, and it was truly lovely.
In a year when the pandemic changed the pattern of our lives, interrupted The Friends of Presqu'ile Park's typical activities, and crimped our fundraising efforts, the success of this day was both rewarding and inspirational.
Ten families planted trees in memory of a beloved family member, my own family included. I'd no idea what to expect and to be honest, I had a few jitters. Needlessly so, as it happens…
When we arrived at the gatehouse, we were directed to this year's planting location which is in that "grassy island" between the marsh lookout deck and the camp office. The site is perfect because the donating families will easily be able to see their trees on the way into and out of the park at every visit. Without even having to exit their vehicles if they so choose.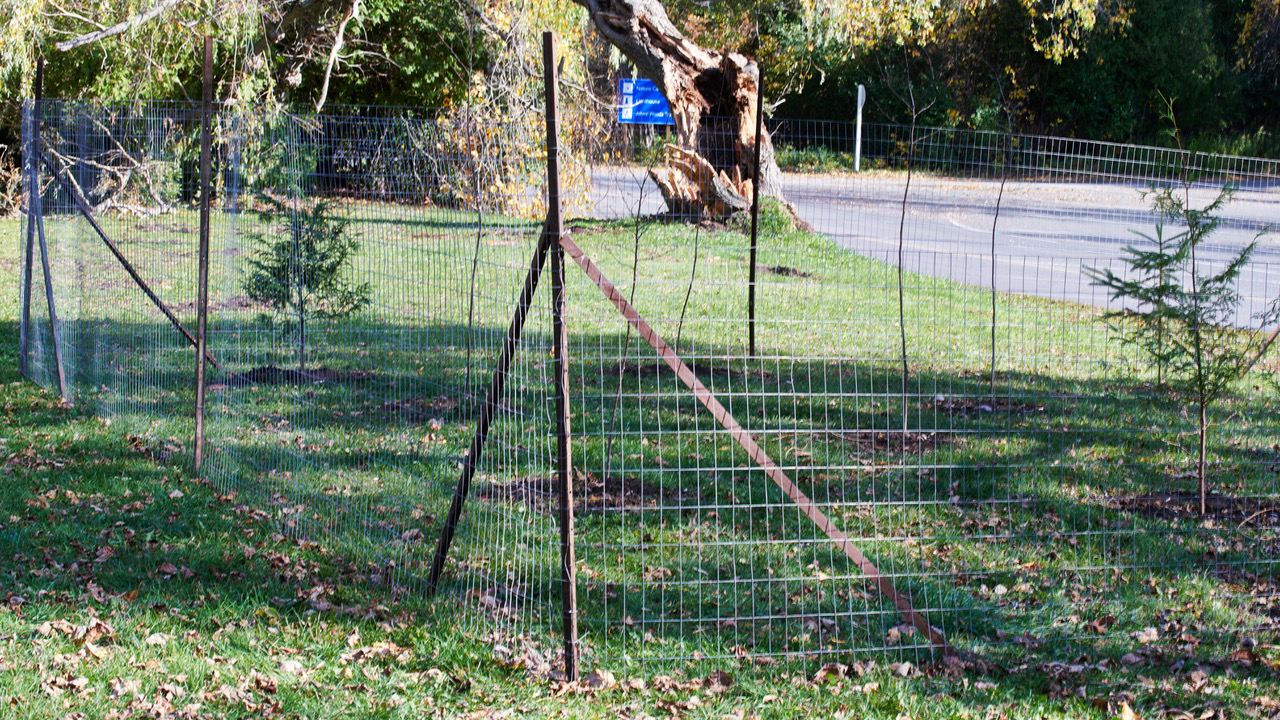 The stewardship of this program rests on the very capable and dedicated shoulders of Mr. Phil McRae. He meticulously arranged every aspect of the day to guarantee the safety, comfort and convenience of the donors. No two families were scheduled to arrive at the same time so that physical distancing was uncomplicated. The moment we stepped out of our vehicle Mr. McRae gave us the warmest possible welcome and explained the planting procedures.
Mr. Don Tyerman of the park's bio team selected the trees and arranged for the necessary holes to be dug in advance of our arrival. That was the end of his obligation, yet he'd taken the time to prepare an interesting and informative presentation for each family scheduled to plant their tree. He described the annual autumn seed collection process; the cleaning and planting of the seeds and he'd even brought some of last year's seedlings along to show off the work that is done by his team and his volunteers. The seedlings were in 4" square pots and will be ready to be transplanted into larger pots in the nursery next spring. He'd also created signage for one of the previous year's planting sites so donors could see how quickly the trees grow and spread (an obvious benefit of cultivating only native species).
At the point of purchase, each donor had chosen between a coniferous or deciduous tree. On October 17th we had the privilege of choosing which species we wanted (our family selected a White Birch), plus we could choose any one of the empty holes. My family chose one at the end of the front row, hoping that such a location means we'll never lose sight of our tree. Decisions made, Mr. McRae sanitized the shovel handle and then allowed us the space, privacy and independence to quietly plant our own tree. A sweet, unexpected honour. Of note, should a tree be purchased by someone unable to do their own planting, both men were at the ready to offer assistance or even to complete the job.
Since that glorious Saturday, a protective fence has been erected to protect this fledgling copse of saplings—the sight of which makes me feel very optimistic about the future of the woods at Presqu'ile.
Sincere gratitude and respect for Mr. McRae, Mr. Tyerman and their teams, all of whom worked like Trojans to make the dream of this day a reality.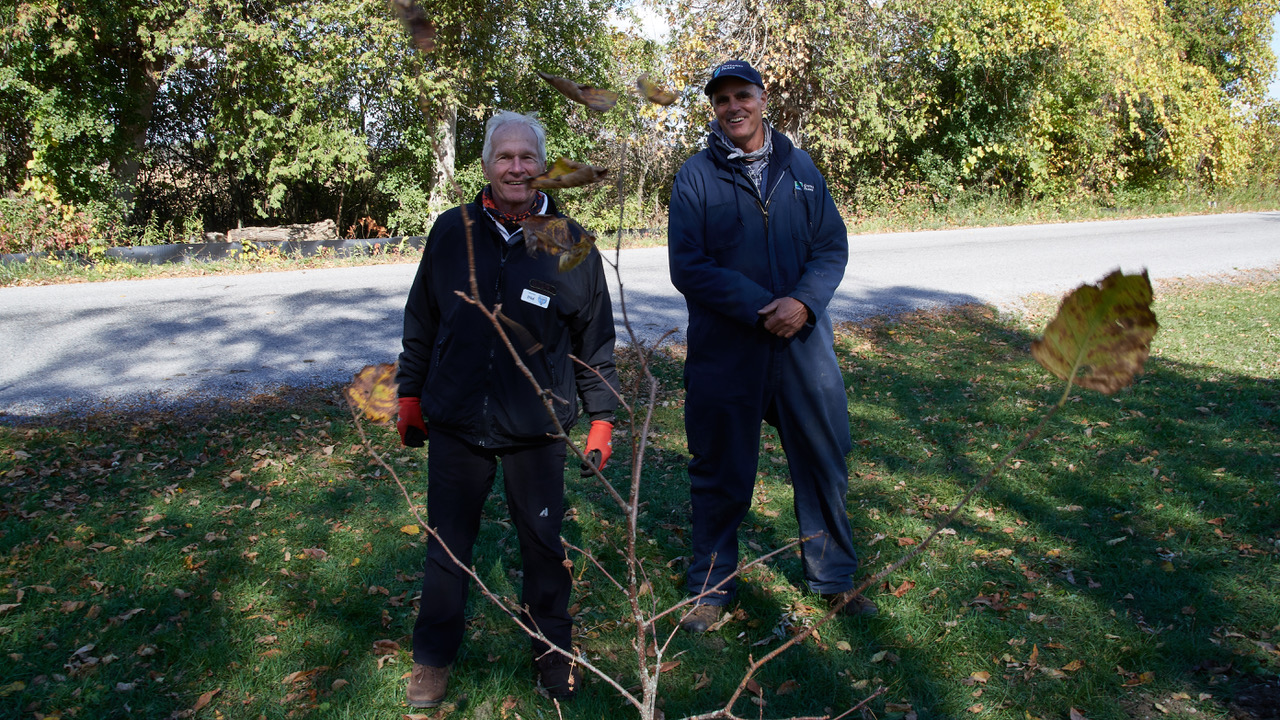 My heartfelt hope is that this programme continues to be a great success for many years to come. Between natural attrition and the decimation of our forest by those dastardly Emerald Ash Borer beetles, many more memorial tree plantings are needed if we're to rehabilitate our tree canopy.
Let trees tell your family's story. There is no better way to honour the special people in our lives than with the enduring majesty and beauty of a park-grown tree. The complexities of life present a multitude of milestones to be celebrated—births, graduations, first jobs, weddings, career advancements, anniversaries, personal accomplishments, retirement, sobriety, or special birthdays—each one most fittingly honoured with a tree.
There are to be two planting days each year, the next taking place in April 2021, however, to guarantee your spot on the schedule, you can purchase a tree at any time, simply by clicking on this link: Memorial Tree Donation