Birdwatching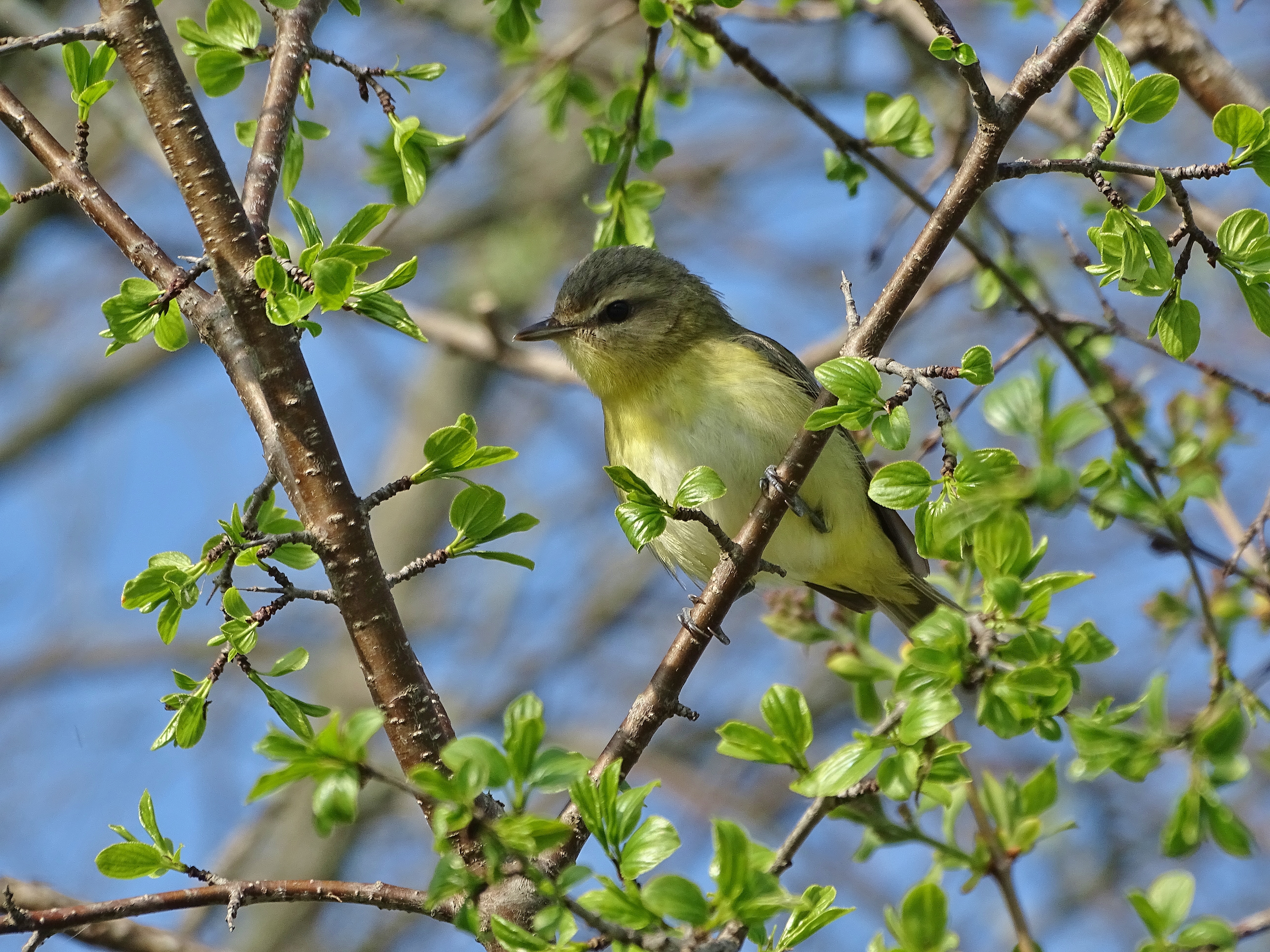 Presqu'ile is one of Ontario's finest birding hotspots. The park is well known for the large numbers and diversity of waterfowl, warblers and shorebirds that migrate through each spring and fall.
There have been 339 bird species recorded at the park and over 120 have been known to breed here. Of those 339 many are vagrant species and not seen every year. Some of these will likely never be seen again, but over 200 species are recorded every year in the park.
Below are links to birding publications that you can download:
When to go birding at Presqu'ile
Different birds may be seen at different seasons and a visit to the park anytime can be rewarding, though many consider spring migration to be the premier event. Spring migration comes in two main waves here.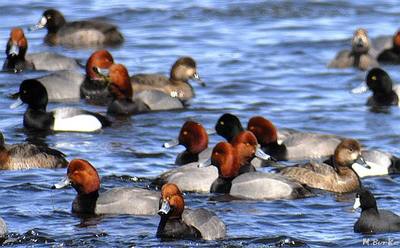 Peak viewing for ducks, geese, and swans is in March as the ice retreats down Presqu'ile Bay. Returning waterfowl tend to concentrate at the ice edge and can provide good viewing at various locations in the park. It is not unusual to see 18-20 species of waterfowl on a single visit and 25+ species over the course of the month. After the ice is gone, the ducks are still around until late April, but they are spread over the bay and marsh and harder to see. The exact timing of the ice retreat down the bay can vary by 2-3 weeks from year to year.
Also in March, we begin to see the return of other birds such as Red-winged Blackbirds, Song Sparrows, and Great Blue Herons. Between late March and early May an additional 20 to 30 additional species will arrive from their wintering grounds.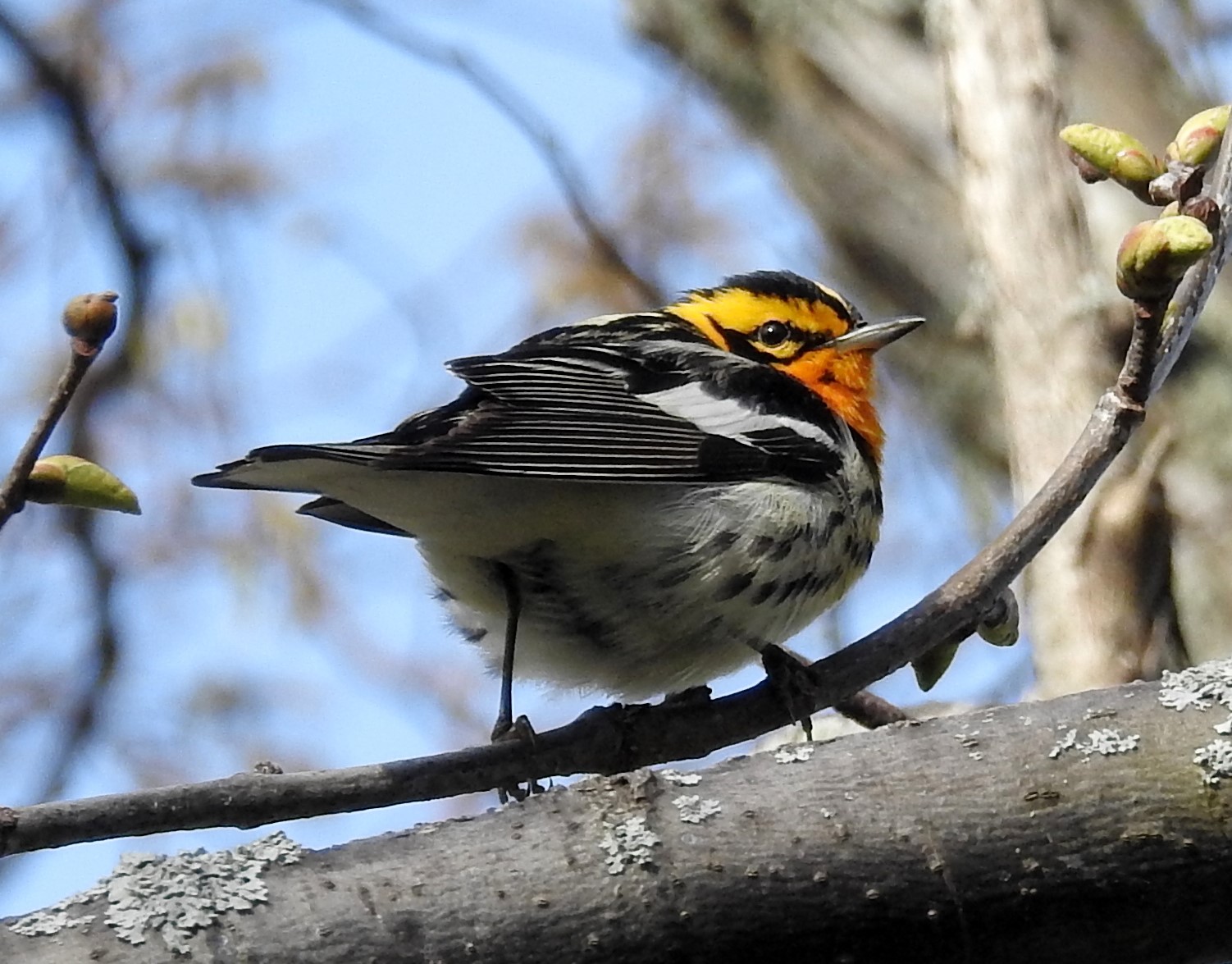 The major influx of birds, including the warblers, tanagers, flycatchers, and shorebirds is in May. A trip to Presqu'ile in mid-May could easily net 100 different species, and counts of over 150 species a day have been obtained by some diligent and lucky birdwatchers.
The advantage of early May birdwatching is that the leaves are not out and small birds are easier to see. After the third week in May leaf-out is pretty well along everywhere in the park except right at the water's edge, the lighthouse area remains a favourite birding location for this reason.
Presqu'ile is perhaps best known for its shorebird migration. This migration is better in fall but can be quite good in spring between mid-May and early June. In the spring grounding events have been recorded where bad weather will cause hundreds of shorebirds to land on the beach.
By the time June arrives, most of the migrants are gone but Presqu'ile still supports a large diversity of breeding birds. A trip here in the summer could yield 70 to 100 species in a couple of days of looking, but birds are harder to find in the summer. Many small birds sing in June and if you know their songs this is the best time of year to detect breeding birds.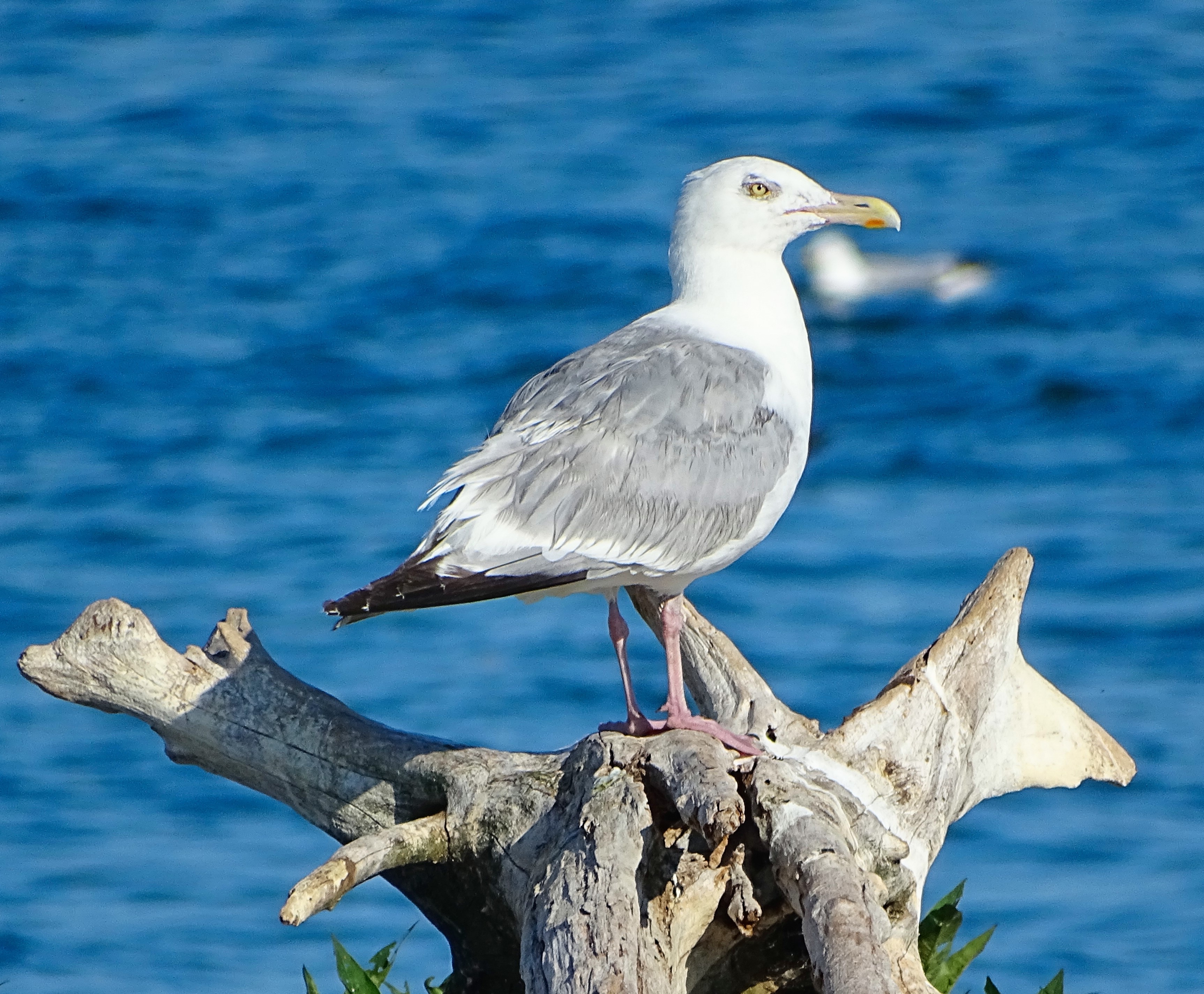 Presqu'ile is also home to a diverse waterbird breeding colony that supports good numbers of Ring-billed Gulls, Herring Gulls, Common and Caspian Terns, Double-crested Cormorants, Great Egrets, and Black-crowned Night-Herons,. This colony is off limits to visitors during the breeding season (March 10 to September 10) to prevent disturbance to the birds but most of these species can be viewed feeding in the local area and the colony itself can be viewed from a distance from Owen Point.
Fall migration is much more extended than spring migration and birds start moving south through Presqu'ile from mid-August to mid-October for the small birds and into early November for waterfowl and shorebirds. Detecting and viewing birds is more difficult in the fall as the leaves are still on the trees, the birds are not singing, and they are mostly in their more sombre non-breeding plumages, yet many birders find this season the most rewarding.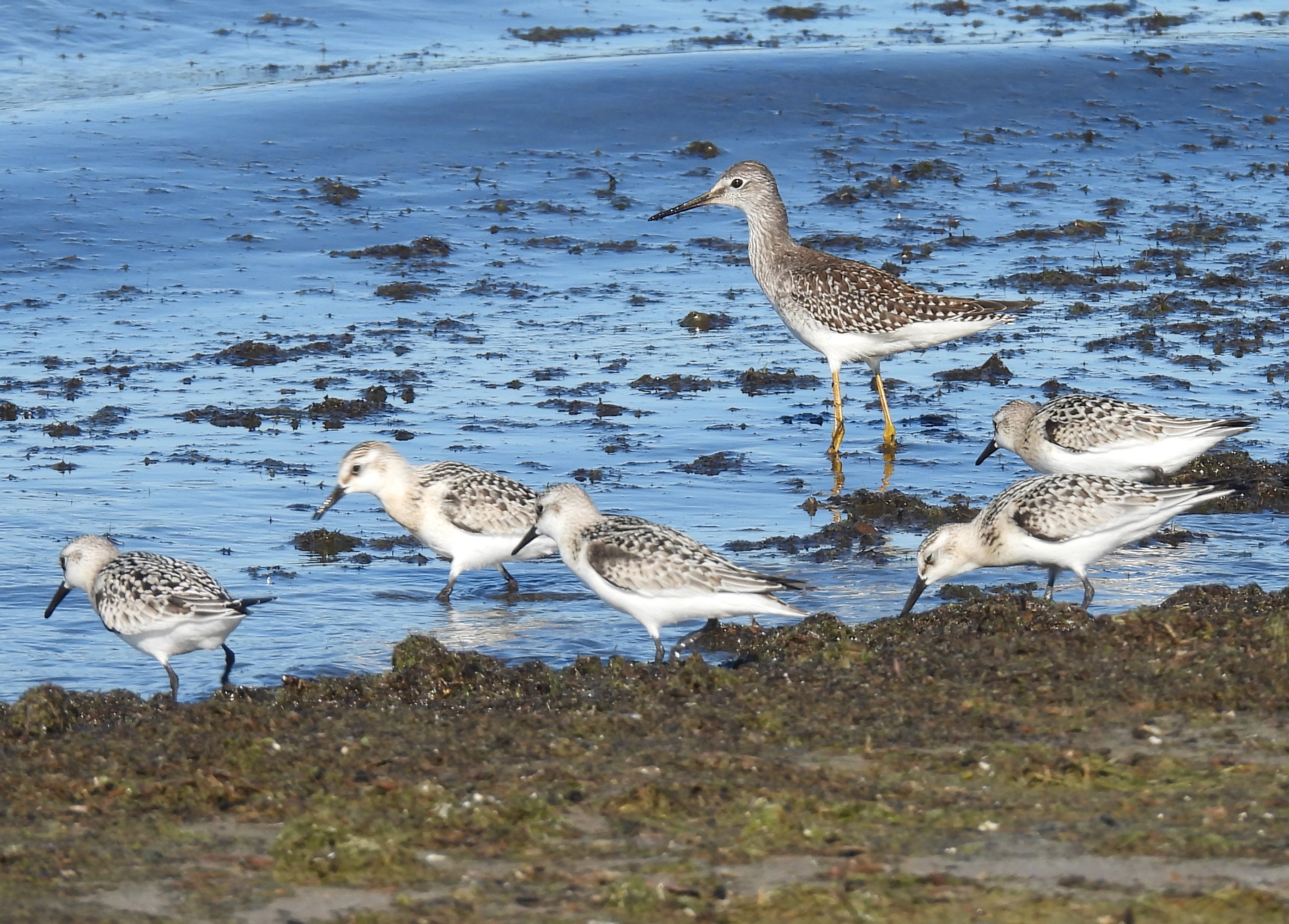 One group of birds that are easier to see in the fall are the shorebirds. They spend their time out in the open and come through in moderate numbers but great diversity from mid-August to early November. Twenty-five species of shorebirds are regularly seen here in the fall and 42 species have been recorded over the years.
While birds are reduced in numbers at Presqu'ile in the winter there are still birds to be found. Ducks of a few species overwinter as long as the water remains open and the deep water of Lake Ontario almost never freezes. A raft of Long-tailed Ducks against the ice cliffs of the Lake Ontario shore is a spectacular sight. In addition to ducks, winter finches and northern owls also appear here from time to time, and almost anything can turn up.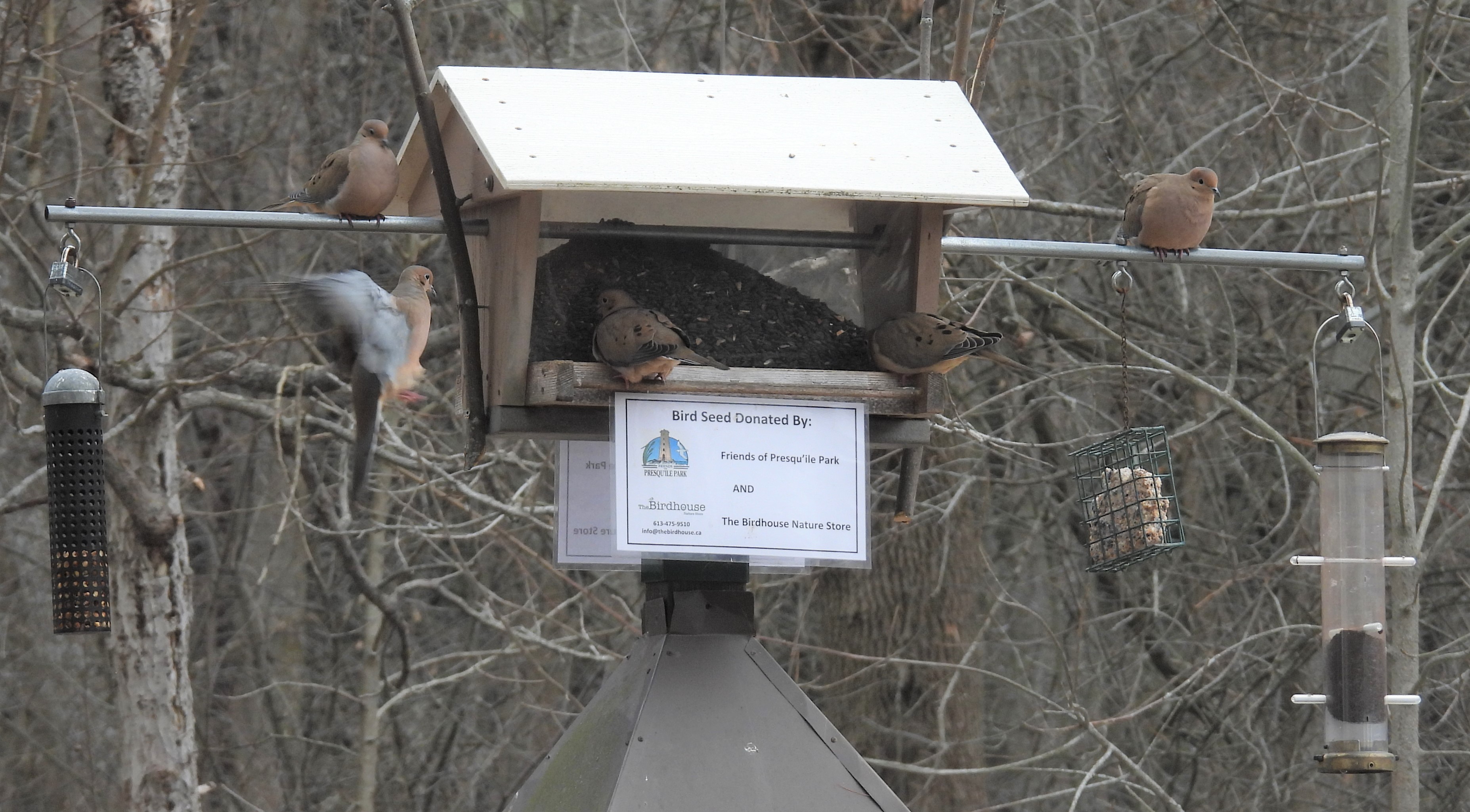 Share your Sightings!
There are a number of ways you can share your bird sightings from the park with us, while also contributing to science!
If you use eBird to track your checklists, then please share your checklists with the username presquilepp
If you take photos of birds you can share your sightings on iNaturalist, all records are automatically added to the Presqu'ile Project.
If you find a rare or unusual bird in the park, please document your sighting and contact the Chief Park Naturalist at 613-475-4324 ext. 225
Bird Reports
​
Presqu'ile is fortunate in having a number of dedicated local birders constantly keeping an eye out for birds in the park. Sightings can be recorded and viewed at the Bird Sightings Board, located in the parking lot at the entrance to the campgrounds.
In the past, a volunteer has recorded sightings on a weekly basis and published them on our website. Due to a lack of volunteers, this service is on hold.
To see archived bird sighting reports, click here: Presqu'ile Bird Reports.
Additional Links and Resources
The Birds of Northumberland County - here you can find more details about bird sightings in Presqu'ile and the surrounding area
Check out the Birds page of our website for more details about birds at Presqu'ile including why Presqu'ile is such a great place for birdwatching.