John Warner Named Volunteer of the Year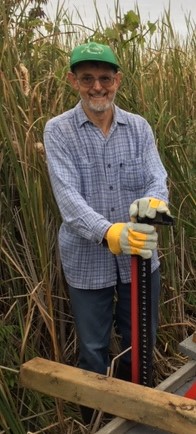 John Warner, head of the Park Improvements team has been named the 2020 Volunteer of the Year by the Friends of Presqu'ile Park. John began his volunteer work with the Friends finishing the original Marsh Boardwalk build back in 2010. Since that time, he has had a hand in designing and building multiple foot bridges, walkways, viewing platforms and even picnic tables—all in an effort to improve the Park for its visitors.
John and his wife, Joan, first moved to Brighton in 1972. John had a long career with the Ontario Ministry of Agriculture and then Agriculture Canada at the Experimental Farm in Smithfield. When that facility closed, they relocated to Southwestern Ontario, but happily returned to Brighton when John retired.
John is a tireless volunteer, always willing to step up, no matter how great the challenge. He is very handy with a hammer and all manner of tools, with a meticulous eye for detail. Skills he claims he acquired while growing up on a farm.
John is playing a lead role in our 2020 marque project – Raise the Marsh Boardwalk. He works every bit as hard as every member of the crew.
The Volunteer of the Year Award is named in honour of John Cole, who was the first Chairman of the Friends of Presqu'ile in 1988. Dr. Cole was a University of Toronto History Professor who retired to Castleton. He loved to visit the park to walk the trails. When the Park Superintendent put out a call for volunteers interested in forming a Friends group at Presqu'ile, John responded. By all accounts, John devoted countless hours to getting the Friends group up and running; he was known for his wonderful sense of humour—a handy trait when volunteering.