Friends of Presqu'ile Student Bursary Program – 2019 Winners
The Friends of Presqu'ile Park sponsors an annual bursary program to recognize the efforts of the fine young people who work as summer student employees in Presqu'ile Park. Without the hard work of these students, the park would not be able to operate in the summer. We received many examples of extraordinary dedication and stellar customer service from the nominations. Here are our 2019 winners.
Career Bursary
The Friends invited student employees to apply for our $1,000 Career Bursary if they were following a course of study at the post-secondary level that might lead to a career in the Parks system. This is a self-nominated award and requires the student to submit proof of enrollment, academic transcripts, letters of support from a supervisor, and a letter from the student describing how they feel their course of study might relate to a future position in Ontario Parks.
This year we had five submissions for the Career Bursary, the most submissions yet during the three years of this program! All five submission packages were of high quality and reflected a great amount of time put into them. Thanks to all who submitted.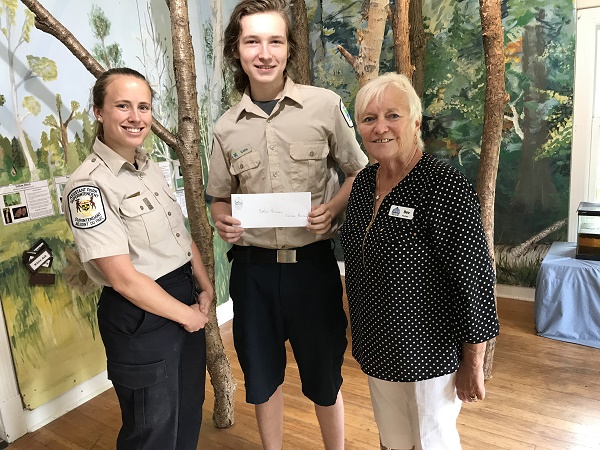 Rachel Windsor, Colin Bauer and Bev Cook
Congratulations this year go to Colin Bauer (Brighton), a first-year student in the Discovery department. As a member of the Discovery department, he spent his days delivering educational programming at the Nature Centre and Lighthouse Interpretive Centre. This fall, he has returned to Fleming College in Peterborough for his second year of the Environmental Technology program.
Colin says:
"To me, the Career Bursary means so much more than the textbooks, tuition, food, and financial stability it affords. The award serves as a reminder that there remain organizations like the Friends of Presqu'ile Park that support public learning and environmental stewardship. As I carry on with my studies in ecology and environmental technology, I continue with the reassurance that the work I do and the career I enter will have a positive impact on our ever-changing world."
For the first time this year, there were no nominations for one of our department bursaries. The $500 that would have been awarded through this bursary was re-allocated to the Career Bursary applicants, and a runner-up Career Bursary was awarded.
Congratulations also go to Lauren Draaistra (Brighton), a second-year student in the Maintenance department, and the Career Bursary runner-up. Lauren is an integral part of the park maintenance program, particularly the facility cleaning. Lauren spent her summer keeping the washrooms throughout the park clean and tidy for all visitors. She has returned to Carleton University in Ottawa this fall, for her second year of school and her first year in the Bachelor of Environmental Studies program, with a double minor in French and Spanish.
Student Bursary
The second Bursary program awarded four $500 bursaries to deserving students in each of the four Park staff areas. Students could be nominated by the public, their peers, or a supervisor for demonstrating skills and actions to improve the park experience. We received many nominations for each department—a good indicator of the calibre of our student team. Congratulations to the following students:
Main Gate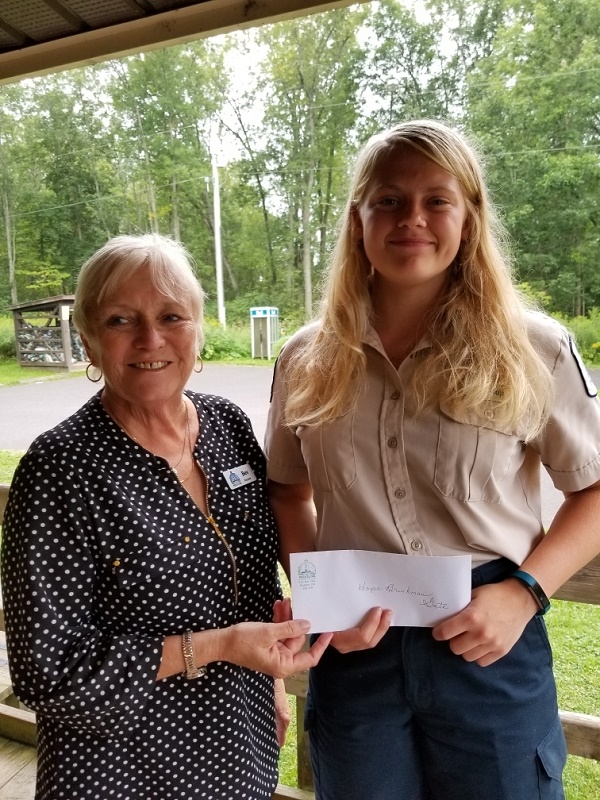 Bev Cook and Hope Brinkman
Hope Brinkman (Colborne) is a first-year Gate Attendant at Presqu'ile. She is attending the University of Ottawa this fall for her first year of the Bachelor of Science in Nursing program. Hope had multiple nominations from members of the public, who were impressed with her positivity and helpfulness during the camping check-in process.
Maintenance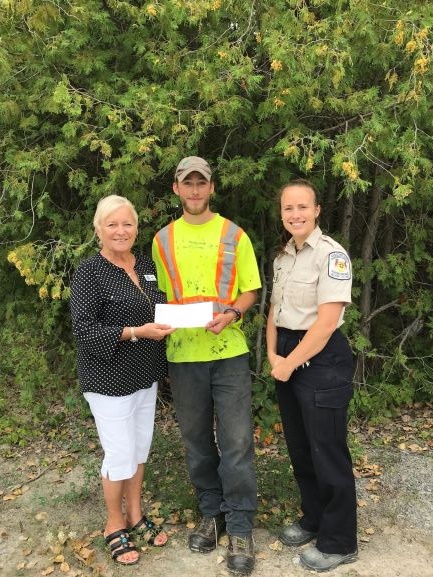 Bev Cook, Ryan Renaud and Rachel Windsor
Ryan Renaud (Brighton) is a third-year Maintenance student at Presqu'ile. He is attending Sault College in Sault Ste. Marie this fall for his first year of the Adventure Recreation and Parks Technician program. Ryan's nomination was from a member of the public, and praises Ryan for his prompt and professional response in assisting the individuals when their trailer fell off the hitch on the Park's main road.
Discovery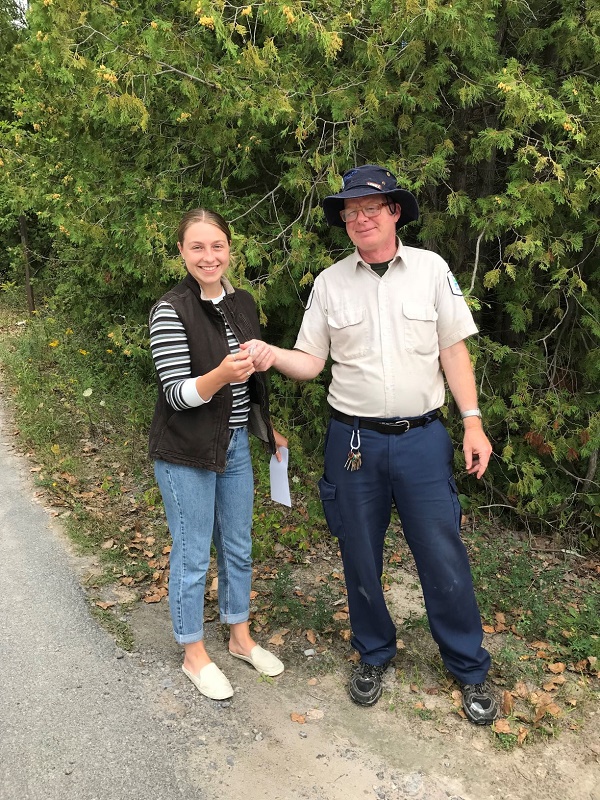 Parys Carr and David Bree
Parys Carr (Cobourg) is a first-year Discovery student at Presqu'ile. She is attending Trent University in Peterborough this fall for her third year of the Honours Bachelor of Environmental Studies program, with a minor in Biology. Parys's nomination was from a member of the public, who mentioned her kind and relatable demeanor with his young grandson, and credits Parys with instilling his grandson with a lifelong appreciation of nature.
Park Store
No winner for 2019