Seasonal Job Opportunities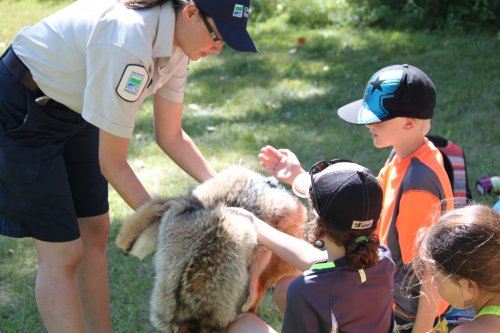 Each year The Friends have a number of job opportunities supporting the educational and environmental initiatives in the park. This year we are welcoming applications for the following positions:
(Click on the listed job to view a PDF of the job description and application instructions. Please contact us if you have any questions.)
Friends of Presqu'ile Employment Opportunities
Educational Outreach Nature Interpreter - application deadline June 17, 2020
Friends of Presqu'ile Volunteer Opportunities
Click here to read about volunteer opportunities.
Ontario Parks Job Opportunities
Careers
For information about careers in Ontario Parks, please visit their website: https://www.ontarioparks.com/careers/explore
Student Positions
Information about applying for Student Park Ranger positions at Presqu'ile is posted by the Government of Ontario in February. Applications MUST be submitted through Ontario Public Service Careers website.
In a Provincial Park environment, there are many types of Park Ranger positions:
Gate Attendant – Welcomes visitors, issues park permits, and responds to customer inquiries. Gate Attendants welcome everyone into a Provincial Park.

Interior Ranger – Maintains remote ""back country"" areas of the parks reaching remote campsites by boat, portaging or hiking.

Administrative Assistant – Assists with clerical work and park administration. This position plays a key role in assisting with finances and scheduling.

GIS Data Technician – Uses Geographic Information Systems (GIS) software to conduct data and spatial trend analysis. This position contributes to vital park development and species management projects.

Trail Maintenance – Ensures trails are accessible and safe for users by removing brush, up keeping trail surfaces and conducting inspections.

Discovery Ranger – Assists in developing and delivering programs to help visitors connect with the natural and cultural resources found within the park. This position supports conservation efforts by monitoring species that are invasive or at risk.

Maintenance Worker – Provides crucial services to the park and visitors, employees work to ensure parks are maintained, pristine, and ready for guests.

Park Planner – Actively assists in the park planning program, enabling the continued growth of Ontario Parks.

Park Store Sales Clerk – Assists in maintaining park stores and gift boutiques. This position involves managing rentals, providing customer service and performing clerical work.