The Friends of Presqu'ile Park
Student Bursary Program
Finding Tomorrow's Leaders Today!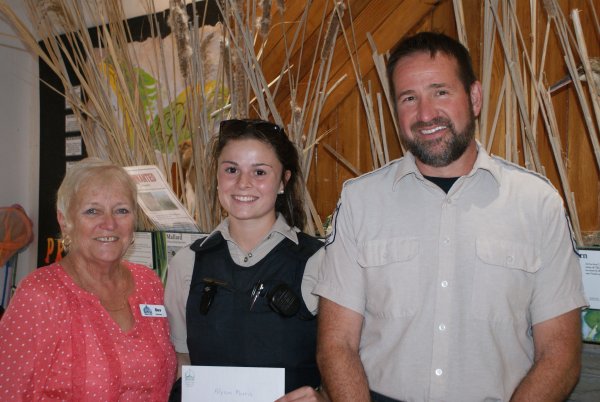 Visitors to Presqu'ile Provincial Park have grown accustomed to seeing the smiling faces of Park Staff, who greet them at the gate, keep the beaches and building safe and clean, run the interpretive programs and the stores and Nature Centre. What many visitors don't realize is that most of the park's employees are summer students.
There are many wonderful young people working as student employees in Presqu'ile Provincial Park. Each summer, Presqu'ile and the Friends of Presqu'ile hire over 60 staff. Their work is crucial to the success of the park and its programs. We wish to recognize their work and encourage them to grow and develop for the future.
The Friends of Presqu'ile Park are pleased to sponsor two Bursary Programs. These Bursaries are open to all students working in Presqu'ile Provincial Park. The bursaries will reward exceptional workers, encourage post secondary education, improve the image of working in all departments of the park and will support our mission, vision and values.
Click here to read about past winners: Awards
Student Employee Bursary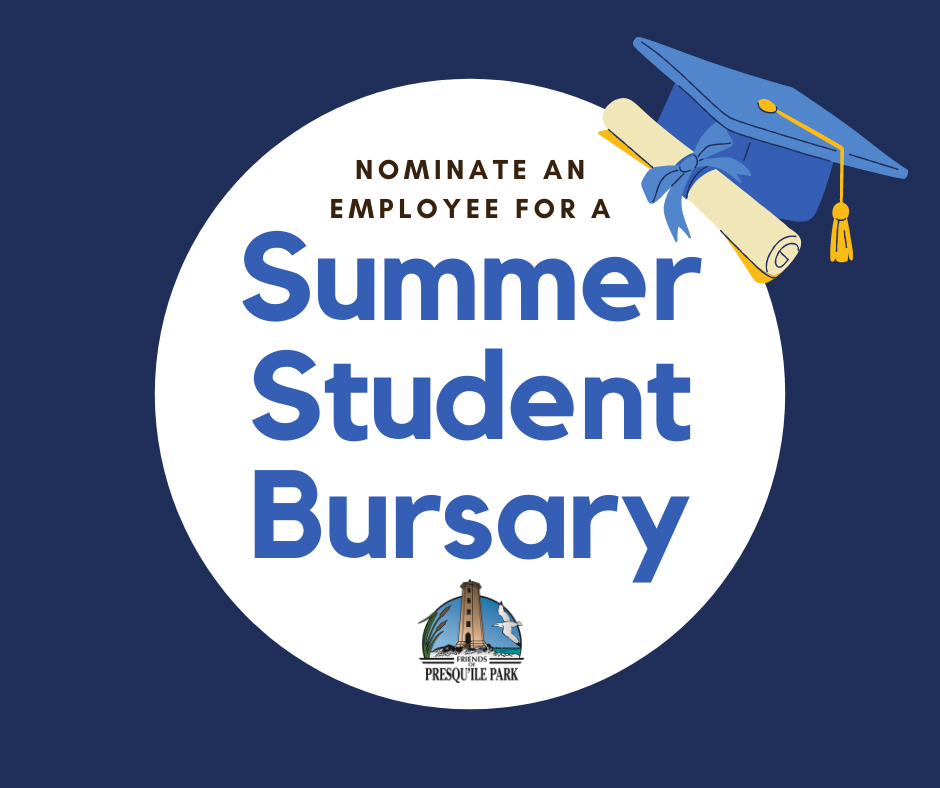 This $1000 bursary will be open to all student employees of the park who intend to return to full-time education or trades training in the fall.
The next time you visit the park, take a look at all the vibrant young people working hard to make your visit a pleasant one. When you see a star performer in action, please let us know by filling out the online nomination form or filling out a form that can be downloaded from the link below!
Click here to download a paper Nomination Form
Students can be nominated for their exemplary service and/or excellent work. Anyone who makes that extra effort could be a winner!! Nominations can come from the public, coworkers, supervisors or senior park staff.
The Awards Committee will select the winning candidate and present them with their bursary before the end of August in time to apply the funds to their fall semester expenses. An extra $1000 will certainly help pay for books or tools. The boost that comes from having your good work recognized should help when motivation flags during the long school season.
Deadline for nomination: August 15
J. Beverlie Cook Career Bursary
We have named the career bursary after dedicated Friends volunteer Bev Cook, who created the bursary program during her time as Chair of The Friends. The purpose of this bursary is to promote careers in parks among our student employees. Eligibility would be limited to those returning post-secondary students in a field of study that would lead to a career in our parks. There are well over 20 possible fields of study with a clear link to a parks career. Students would be expected to explain their program of study and career goals in their application.
Candidates would also require the support of their supervisor who could address the employee's work accomplishments along with their leadership and teamwork skills. Only one bursary is available each year; it is for $3,000.
The Awards Committee will review the applications. If a suitable candidate is found, the bursary will be given out before the end of August.
Click here for your Career Bursary application!
Deadline for application: August 15
Finding Tomorrow's Leaders Today – The Friends of Presqu'ile Park Bursary Program!
Please use this form to nominate a student park employee by submitting your contact information, the employee's name and your observations of this employee's commitment to customer service in the park. Park visitors, coworkers, park staff, and park volunteers are welcome to submit nominations. Recommendations from family and friends do not count.
Nominator's Contact Information