Volunteering
We Welcome Volunteers...You Should Be One!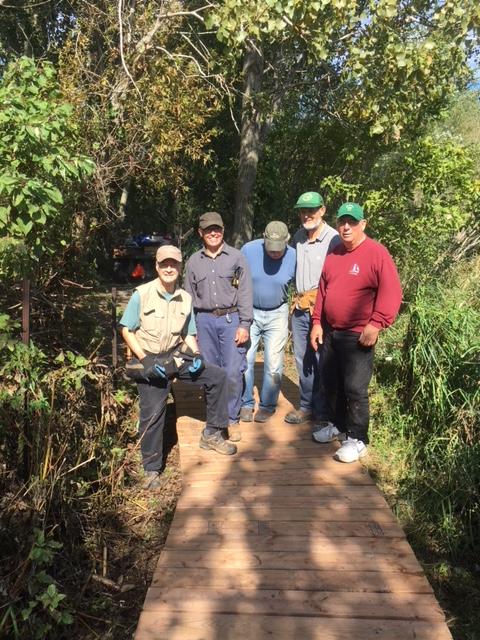 Volunteers are the key to The Friends of Presqu'ile Park. Our association is totally run by volunteers and, as such, we rely on our members and friends to help with projects, committees, and fund-raising events.

Much of what you see in Presqu'ile Park has been funded or built by the Friends. According to Ontario Parks, since the Friends were formed in 1988, we have contributed over $5 million into the Park. This is a remarkable achievement, made possible by each and every one of our volunteers.
Guess what? We can always use more help. How great would it feel to build a trail that thousands of visitors will enjoy every year? Or work a special event that raises funds for the education and environment programs we run? There are so many ways you can help as a volunteer – from getting down and dirty in the park to attending team meetings. And we appreciate every hour.
Volunteers can participate in opportunities such as:
Special Event Weekends in the Park: Waterfowl Weekend, Warblers and Whimbrels Weekend, History Weekend, Monarchs and Migrants Weekend
Fundraising Activities: raffle ticket sales and weekend barbecues
Community Events: History Day and Canada Day
Working in the Park: trail monitoring, trail building and environmental initiatives
Interpreting in the Nature Centre or Lighthouse Interpretive Centre
Staffing the Lighthouse Gift Shop
Joining a Committee: Membership, Volunteer, Finance and Fund-raising, Education and Interpretation, Communications and Public Relations, Board of Directors
Click on the descriptions below for specific positions available:
Ready to Sign Up to Volunteer?
Choose an option:
1) Fill out our general online form.
2) Download a paper copy of the volunteer application. Please print the form, fill it in, and mail it to us.
Our Volunteer Committee works hard to find just the right volunteer for each task at our many events. They will contact those who are willing to volunteer and will fit them into the roles that suit.

If you want more information about volunteering with The Friends of Presqu'ile, please go to contact us.

Want to Become a Member of the Friends of Presqu'ile Park?
You don't have to be member of the Friends to be a volunteer, but if you are interested in membership,
or
click here
to sign up on our
'How to Join Us'
webpage.
Friends of Presqu'ile Volunteer Signup

Please complete the form below to select what areas in which you wish to volunteer or if you are presently a volunteer and you wish to update your form with either new contact information or a change in areas in which you wish to volunteer.